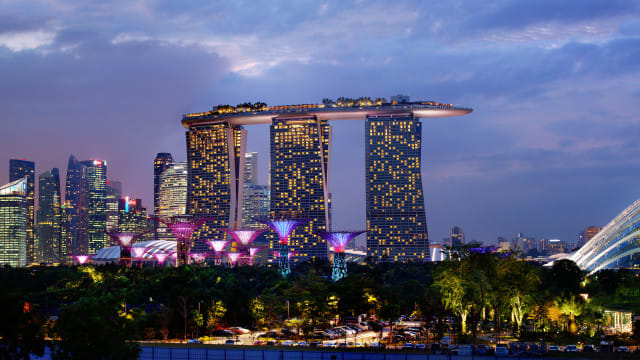 Geo Connect Asia 2021 pilot breaks new ground in Singapore
Following on from the success of TravelRevive in November 2020 – Asia Pacific's first international travel trade show to take place during the Covid-19 pandemic – Singapore has continued to break new ground in pioneering safer event solutions with its second large-scale pilot
The destination hosted Geo Connect Asia 2021, the keystone event for the ASEAN geospatial community in a prototype hybrid format in March. Themed "Mapping the data-driven future economy", GCA Asia 2021 provided a strategic and collaborative platform for industry professionals, government agencies, start-ups and more, through a diverse agenda of keynote addresses, plenary sessions, and roundtables.
Taking place at the Marina Bay Sands Expo & Convention Centre on 24-25th March 2021, the hybrid event welcomed close to 1,000 business visitors, delegates and speakers onsite, with around 1,200 additional delegates attending virtually.
Event organiser Montgomery Asia worked closely with the Singapore Tourism Board (STB) to ensure the health and safety of attendees at GCA 2021 through the implementation of Safe Management Measures (SMM) such as safe distancing, crowd density control, the use of TraceTogether to facilitate contact tracing for international visitors, as well as pre-event Antigen Rapid Tests for attendees.
GCA 2021 also featured a range of new formats, processes and digital enablers to ensure the safety of its attendees. These mark another step forward in Singapore's efforts to reimagine the future of MICE events, and ability to host such events safely and effectively through rigorous protocols and the use of technology.
Innovative solutions
The Safe Event platform, a new technology solution created by local tech companies Viatick and Trackomatic was trialled at the event. The Safe Event Platform uses geospatial technology to monitor attendees' movements throughout the event via an app and temperature tracking wearables. It also allows automated check-in through facial recognition.
Given the positive take-up of meeting pods at TravelRevive, which enabled one-to-one meetings to safely take place between exhibitors, representatives and attendees, GCA 2021 featured the same meeting pods. There were also larger pods available – double the size of the ones at TravelRevive – to accommodate four people, so two representatives from each company to facilitate more productive discussion. These meeting pods featured plexiglass separating the exhibitor and buyer, and microphones on both sides for a better auditory experience.
In addition to meeting pods, GCA 2021 featured Geo Suites, which are ballrooms converted into "exhibition booths". Each Geo Suite catered to a single exhibitor, enabling them to display their products and provide demonstrations on a stage, as well as hold business meetings in pods located within the Suite. Geo Suites replace a typical trade show floor as the main mode of interaction and help to minimise intermingling between cohorts of attendees.
© Geo Connect Asia 2021
By adopting a hybrid format that provides both interactivity and a robust level of safety, the resumption of events like Geo Connect Asia 2021 could prove a turning point for the region's MICE industry as it recovers from the impact of the pandemic.
Andrew Phua, Executive Director of Exhibitions & Conferences at the Singapore Tourism Board, said: "As Singapore's first large-scale hybrid event of the year, Geo Connect Asia 2021 underlines our continued role as a key hub for international trade events. It also pushes new boundaries in innovation and safe events, marking an important next step for Singapore as we continue to test and scale such hybrid formats. We look forward to hosting more of such events in Singapore, and to provide a safe and fulfilling experience for all our visitors."