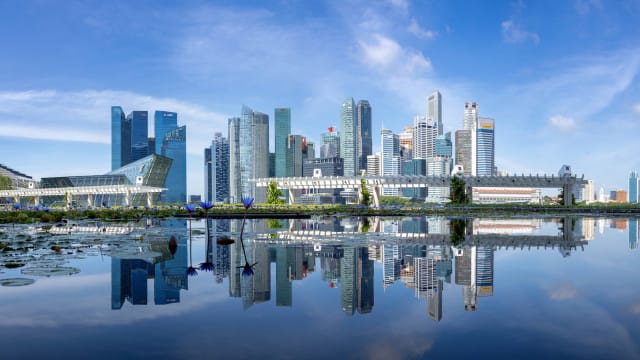 Singapore: A global MICE hub for innovation and tech
Singapore has become a powerhouse of innovation and technology. Coupled with top-notch facilities and infrastructure, it provides a vibrant and stimulating business events destination.
To attract more international events and drive economic growth, the Singapore Tourism Board has identified a plethora of key global industries, ranging from innovation, research and development to fintech, healthcare technology and ICT.
Here is a breakdown of those industries and the opportunities on offer for business events.
An epicentre for innovation
Over the past few decades, Singapore has positioned itself as a centre of innovation and research and development. To fulfil an ambition to become the world's first Smart Nation, the modern metropolis has been harnessing digital and smart technologies in a variety of ways to transform the way people live, work and play.
Many global indices of innovation and digital competitiveness have already ranked Singapore among the top countries in Asia and around the world. In the eyes of the World Economic Forum in 2019, the country was recognised as the most competitive globally, with the strength of the innovation ecosystem among key criteria.
Beyond the accolades, the strong presence of multinational tech companies in Singapore is a testament to its focus and leadership in this area. Impressively, 80 of the world's top tech companies have built offices and research facilities there, including Google, Amazon, Intel and Alibaba, as well as more than 4,000 start-ups. In total, Singapore's digital economy is valued at £8.7 billion ($12 billion).
This has led to a growing number of thought-leadership events in Singapore on technopreneurial best practices, showcases of emerging technologies and forums on business re-invention and innovation, including Smart Nation Innovations Week, Echelon Asia Summit and EmTech Asia by MIT Technology Review.
Singapore's strengths in this sector make it the perfect destination for tech and innovation events. Organisers gain a stimulating and entrepreneurial environment to connect with forward-thinking leaders and access new ideas, knowledge, content and business connections.
Global centre for FinTech
Building on its eminence in financial services, Singapore is emerging as a global focal point for FinTech. This was confirmed when the city-state island triumphed in the Global FinTech Index City Rankings 2020 in the Asia Pacific region.
In pursuit of FinTech-related progress, the destination became the first in Asia to introduce e-payments enabled by near field communication (NFC) across all major mobile device platforms.
TransferWise, PolicyPal, Kyber Network and many other international FinTech organisations have chosen to set up offices in Singapore. Significant events in the sector include Money20/20 Asia, Singapore FinTech Festival and Seamless Asia.
Singapore's FinTech credentials make it a highly relevant destination for events in this sector and particularly ones that cater to the various verticals of the FinTech value chain from start-ups, banking and insurance, to trading and capability building. The country is also perfectly aligned for events that showcase technology infrastructure projects, which in turn drive innovation, boost market efficiency and enhance customer service.
Healthcare tech hub
Healthcare tech is a huge focus for the Singapore Tourism Board, too. With outstanding research capabilities and facilities, it has become Asia's fastest-growing bio-cluster base.
The healthcare technology sector is valued at £9.6 billion ($13.3 billion) and comprises 250 homegrown enterprises and 60 multinationals. Seven of the world's top 10 pharmaceutical companies – namely Merck, Sanofi, Roche, GlaxoSmithKline, Johnson & Johnson and Abbott – have located their regional headquarters in Singapore, as well as all of the top 10 medical technology providers.
Unsurprisingly, the major players in healthcare regularly convene in Singapore at events such as BioPharma Asia Convention, Medical Fair Asia and MEDLAB Asia Pacific.
As this industry develops, there is rising demand and market relevance for healthcare thought-leadership conferences. There is also a captive regional audience for trade conferences and exhibitions on chronic and infectious diseases, cardiology, aging and rehabilitation, healthcare technology, nutriceutical and medical sub-specialties.
A hotbed for ICT
Another growing industry in Singapore is ICT. It has attracted £2.3 billion ($3.2 billion) worth of investments by large ICT corporations and £149 billion ($206 billion) in total revenue. Vodafone, Cisco and Verizon Media are among the 7,000 media companies to have set up shop in the country. Cutting-edge ICT projects are being pioneered by P&G, Unilever and Siemens, too.
The sector is supported by research facilities, such as the state-of-the-art Fusionopolis, a hotbed for scientists, researchers and companies to collaborate, as well as digital media hub, Mediapolis.
Singapore was acknowledged for ICT excellence when the World Economic Forum awarded it second in the world for network readiness. It also ranked 6th worldwide, and #1 in Asia, in the Telecommunications Unions' Global Cybersecurity Index in 2018.
These awards help to establish Singapore as a fitting location for ICT events. What's more, the nation boasts a robust digital infrastructure, as well as a multi-cultural and digitally sophisticated population with a global outlook. The Republic's close proximity to the Asia Pacific consumer market is also fuelling the growth of media and digital content. These factors provide exhibitors, delegates and buyers with an ideal platform to capture the growing base of Asian and global consumers with internationally-competitive content.
Large-scale ICT events to date include ConnecTechAsia and Singapore Media Festival. Key interest areas for events range from advertising, online gaming and transmedia development, to intellectual property management and licensing, as well as digital media.