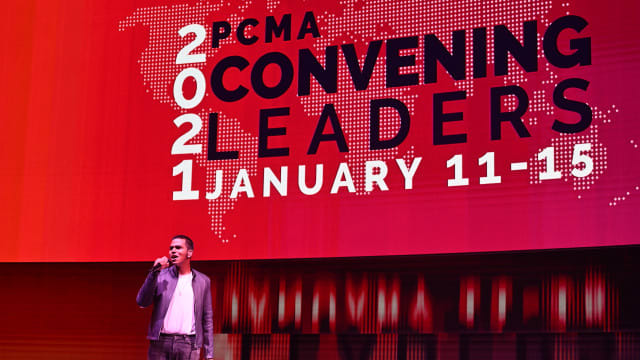 How a large-scale international hybrid event won
For the first time in 64 years PCMA's Convening Leaders 2021 conference was held outside of North America at Marina Bay Sands, famed for its iconic rooftop infinity pool.
PCMA (Professional Convention Management Association) is an organisation for the business events community with more than 7,000 members in 37 countries and its annual flagship event, Convening Leaders, is one of the world's biggest gatherings of meeting professionals and suppliers. It typically attracts more than 4,000 delegates to discuss the latest innovations in event technology, meeting design and business event strategy.
For this year's meeting, which took place from 11-15 January, PCMA opted for a hybrid event model and partnered with the Singapore Tourism Board (STB) and Marina Bay Sands to create a Global Broadcast Centre to host keynote speakers, expert panels and face-to-face experiences and local cultural tours. The experiences were delivered as 'Safe Itineraries' enabling guests to enjoy the full Singapore experience while adhering to safety protocols.
The educational programme was organised into four learning studios each rooted in research, reskilling, event experimentation and education. Interactions between attendees took place in each session's chat boxes, dedicated Slack channels and on social media.
On registration, delegates were asked questions about their professional interests and organisation to help planners divide them into groups to aid networking. Delegates were also able to have their own 1:1 video chat to connect personally with other attendees.
More than 300 delegates attended Convening Leaders in-person at Marina Bay Sands, while a further 3,000 tuned in virtually.
The partnership was testament to the international MICE industry's confidence in Singapore. It not only positioned the destination as a global centre for business in Asia, but also demonstrated its ability to host events safely and effectively through expert use of technology and Covid-safe protocols under STB's Safe Business Framework.
The framework outlines Safe Management Measures, which the PCMA organising team had to implement in order to meet a set of health and safety outcomes. The measures included infection control for every stage of an event attendee's journey from arrival to departure; limits on crowd density; social distancing; ensuring a safe and clean environment; and preparing for emergencies relating to Covid-19.
Other measures to ensure the safety and wellbeing of attendees included negative Covid tests results for all participants before departure and upon arrival, and Antigen Rapid Tests, which were taken on-site at the event before entry. Tight protocols enabled STB to facilitate entry of short-term international MICE travellers on a pilot basis.
The event programme also featured local cultural tours, delivered as 'Safe Itineraries', so guests could enjoy the full Singapore experience while adhering to safety guidelines.
Because an event of this scale was made possible, it brought hope to audiences around the world about the future and showed how the MICE industry can and will adapt and thrive in a post-Covid world.
Singapore's first trade show during Covid-19
Travel Revive, Asia Pacific's first international travel trade show to take place during Covid-19, was held as a hybrid event in November at Singapore's Sands Expo & Convention Centre.
Across two days, close to 1,000 in-person delegates, both local and international, gathered to exchange ideas, bridge knowledge gaps and reimagine the future of travel.
Organised by ITB Asia and Singapore Tourism Board (STB), the trade show implemented rigorous protocols and innovative solutions for the end-to-end visitor journey to ensure the safety and well-being of participants.
Safety measures also focused on crowd density control, cohorting of attendees, contact tracing, meeting booths with plexi-glass and a diary mobile app to safely book meetings between buyers and exhibitors. The event served as a prototype for safe business events, safe itineraries and digital enablers in Singapore.