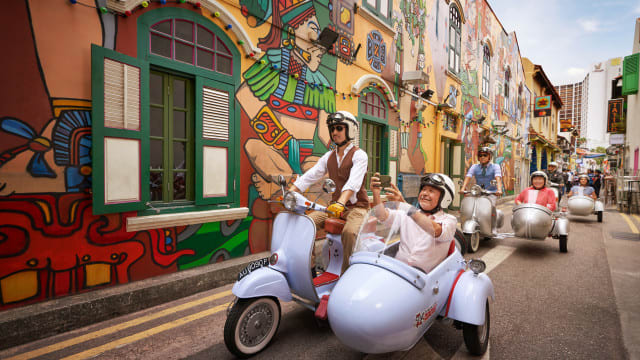 Six ways Singapore is reimagining the future of travel
Singapore has surged ahead on a journey to reimagine travel in a Covid-19 world. As part of SingapoReimagine, an initiative from the Singapore Tourism Board (STB), the destination is rethinking and redesigning tourism to provide safe and enriching experiences for all.
With meetings and incentive groups in mind, here are six ways the city-state island is transforming and restoring confidence for incentive travel.
#1 Making flying safer, cleaner and more comfortable
Changi Airport has become a zero-contact terminal. Innovative technologies have been introduced, such as cleaning robots and a new biometric system with face and iris recognition tech for auto-clearance through immigration. Proximity sensors have been added to check-in kiosks and bag-drop machines to create a touch-free process. Ultraviolet-C LEDs to disinfect handrails are being tested, as well as contactless infrared technology in passenger lifts.
Singapore Airlines has introduced contactless initiatives using its app, too. Travellers can use the app on their own personal mobile device to control inflight entertainment, view their boarding pass and meal menus, and pre-order items in the airline's shop.
#2 Face-to-face meetings – with a difference
Marina Bay Sands, one of the country's leading meeting and convention space, has made meetings possible by building a hybrid event studio, which offers broadcast-quality live-streaming with holograms and mixed reality functions, and an immersive 3D backdrop for a variety of events.
For the in-person element, Safe Management Measures are in place to protect the safety and wellbeing of attendees. Measures include ensuring a safe and clean environment, infection control at every stage of an attendee's journey, social distancing and crowd density limits.
Recent hybrid events include the PCMA's Convening Leaders 2021 conference, Singapore International Energy Week, and Travel Revive, the first major physical international travel trade show to take place in Singapore since the Covid outbreak.
#3 Itineraries to protect and delight
To reimagine incentive trips, Singapore devised Safe Itineraries, a prototype for small groups. This pilot welcomed international visitors who, divided into groups of four or five people, enjoyed customised itineraries tailored to their risk profiles. Itineraries have been designed to meet the evolving needs of planners and their visitors, while also ensuring that every aspect of the experience is safe, fun and meaningful.
Private transport is provided for group sightseeing excursions to Kampong Gelam, Little India and Chinatown, and Trishaw Rides and Vespa tours are a unique way to get around town. Of course, virtual tours and experiences are available, too. For instance, planners can book a personalised interaction with animals and keepers at Singapore Wildlife Reserves.
#4 Exclusive and safe dining experiences
Aqua Gastronomy at the SEA Aquarium at Resorts World Sentosa is a memorable dining experience for groups. The attraction has created an immersive and multi-sensory 'underwater' dinner experience in a stunning – and socially-distanced – setting.
For after-dinner drinks and entertaining, groups can head to The Ratio Cafe and Cocktail Lounge for a contact-free experience where robotic baristas and mixologists can serve up to 50 customisable cocktails and coffees for guests. For organisers looking for an entertaining, cultural and foodie experience virtually, inspiring Singaporean chefs can be booked to host live masterclasses.
#5 Reassurance on Covid safety and hygiene
Safe Management Measures have been rolled out to all tours, venues, hotels, attractions, and retail and food and beverage establishments to ensure they comply with the latest Covid regulations and to offer assurance to organisers and their guests. Singapore has also initiated SG Clean certification, a national quality mark awarded to businesses that adopt and maintain cleaning, sanitisation and hygiene standards, and commit to helping keep the destination clean and safe beyond the pandemic.
As of 31 December 2020, more than 29,000 individual premises across Singapore have obtained the SG Clean certification.
#6 Experiences rooted in the outdoors and nature
After prolonged lockdowns for many nations, there will be a growing trend for activities in nature and the great outdoors. Singapore has been developing a number of nature-based concepts, such as Jewel Changi Airport and Gardens By the Bay, as part of its ambitions to be the world's most sustainable urban destination and also a 'City In Nature', where nature is further restored into the urban landscape. Upcoming projects include the reimagining of the Mandai Precinct as an eco-themed nature cluster with the introduction of wildlife attractions and eco-friendly accommodation.