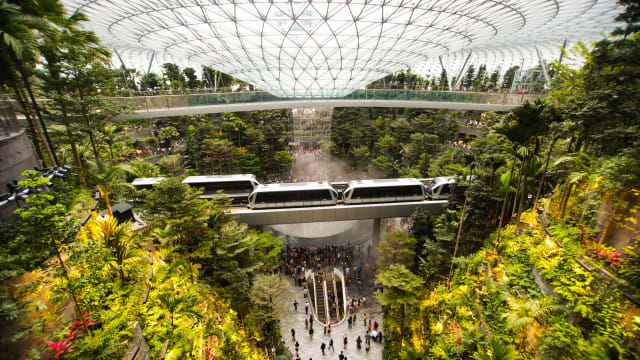 How technology is reawakening travel post-pandemic
Technology is playing a crucial role in reviving the MICE sector. Innovative uses of technology are helping to create Covid-safe experiences and travel but also opening a new horizon of possibilities and opportunities for event planners.
Going digital
One of the major new opportunities to arise from the disruption of 2020 is digital events. The rapid emergence of new event tech platforms and specialist studios is now making it possible to plan sophisticated online and hybrid experiences. Leading the charge is virtual and augmented reality. Organisers can create captivating bespoke virtual environments that are immersive, interactive and personalised, and go way beyond the novelty factor to boost engagement, memorability and value for all stakeholders.
This type of tech has been embraced by Singapore's renowned meeting and convention space, Marina Bay Sands. The iconic venue has built a hybrid event studio boasting broadcast-quality live-streaming with a range of 3D backdrops, mixed reality functions and holograms. The venue has already hosted multiple hybrid events, including the PCMA's Convening Leaders 2021 conference in January, which attracted 300 attendees in-person. The destination also offers a range of virtual tours of key attractions and hands-on activities that delegates can participate in from their hotel rooms.
Robotic innovation
Robotic technology, powered by Artificial Intelligence, is changing the way we work, live and play. There are a wealth of benefits for MICE, too, which Singapore perfectly illustrates. The city-state island has the second-highest density of robots in the world and is using them to create fun and Covid-safe visitor experiences. For instance, a crew of cleaning LeoBots scrub, mop and vacuum at Jewel Changi Airport and The National Gallery Singapore has a robot tour guide. Delegates can wind down after a day of meetings at the Ratio Cafe and Lounge, where a robotic barista serves coffee and cocktails, providing a low-contact experience.
Contactless tech
Contactless technology can transform the airport experience, too, which will help the MICE sector to bounce back safer and more efficiently. For example, airports can install proximity sensors at check-in and bag drop, infra-red tech to operate lifts, and facial and iris recognition for auto-clearance at immigration.
These technologies have been adopted in Singapore to transform Changi Airport into a zero-contact terminal. This experience continues onboard with Singapore Airlines, which has designed an app to enable flyers to operate in-flight entertainment, order food and drink, and purchase duty-free items from their own mobile device.
Travellers can also go online before departure to book Covid tests, submit their health declaration and apply for their SG Arrival Card, which is required on entry. Hotels in Singapore can participate in the E-Visitor Authentication (EVA) System initiative, which leverages facial recognition technology to authenticate guests' identities and speed up check-in.
Contact tracing
To reduce Covid infections, contact tracing apps have become a chief priority for event planners. Singapore has developed TraceTogether, available as both a mobile app and as a wearable token. The tech has been trialled and tested at several events, including Travel Revive, an international travel trade show that attracted close to 1,000 attendees in-person in November 2020.
Apps can be very useful in other ways to provide a contact-free, personalised and better visitor journey. The Singapore Tourism Board (STB), for example, has piloted the Visit Singapore Pass that eliminates the need for physical tickets across many tourist attractions and can provide itinerary suggestions. Data collected via the app will be used to strengthen tourism businesses by helping them to better understand visitor movement, behaviour and spend patterns, enabling them to develop new products and partnerships. This will ensure the overall experience for business travellers and international delegates in Singapore is safe, seamless and one to remember.