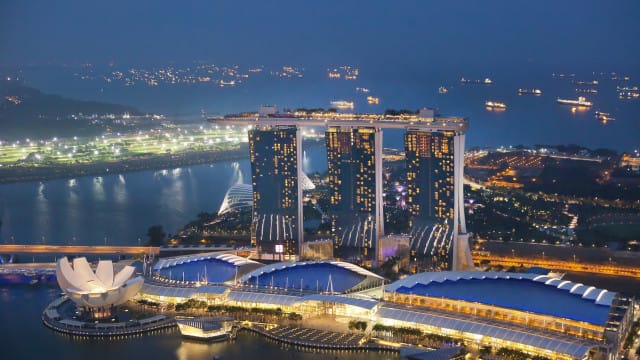 Roadmap to recovery: the post-pandemic best practice guide for events
Main image: Marina Bay Sands
Uncertain times, in any sector, call for strong leadership and guidance, rooted in logic, experience, expertise and data to navigate the challenges and opportunities ahead.
The Event Industry Resilience Roadmap (IRR), a toolkit recently developed by Singapore, describes the destination's strategy for re-opening to the events industry, but does so with a level of detail and advice that makes it relevant and applicable to anyone, anywhere.
Here are three highlights from the first edition…
The best of all worlds: hybridisation
The global events community has accelerated towards its digital future with years' worth of transformation occurring in less than 10 months. In response, this new roadmap – a joint project from Singapore Tourism Board (STB), Singapore Association of Convention & Exhibition Organizers & Suppliers (SACEOS) and Enterprise Singapore (ESG) – delivers a timely, thought-provoking and informative playbook dedicated to what will become the hottest topic for event professionals in 2021: hybrid events.
Whether readers are new to hybridisation or already experimenting in the virtual and hybrid space, this guide is jam-packed with innovative ideas, inspiration, solutions and practical tools for successful 'blended' events. The basics are covered in the first few pages before the focus shifts to a concise breakdown of the challenges and opportunities for speakers, sponsors and attendees.
When you're new to hybrid events, there are usually some unexpected surprises that you may not have thought of or prepared for, but these can now be avoided with this publication's essential checklist for planners.
A plethora of insights are shared on community building, digital engagement, learning opportunities, defining practical outcomes and commerce as part of the 'Five Pillars of Hybridisation'. For example, on communities, the feature expertly observes: "Hybrid events allow for the creation of non-localised communities that gather around a shared purpose or value. It is the responsibility of the organiser to build and nurture this virtual community, ensuring it is as inclusive as possible.
"It's crucial to co-create activities and crowdsource ideas. There is also an opportunity to leverage existing platforms like WhatsApp, LinkedIn, Slack or Facebook to create sub-groups and foster ongoing collaboration."
There's plenty of tech tips, too, covering everything from selecting a digital event platform and streaming tools to cybersecurity and data protection. Future editions promise to delve deeper into monetising hybrid events.
Setting the standards: safety first
For the events sector, Covid-safety measures are paramount for restoring confidence and getting back to business. To overcome this hurdle, Singapore has launched the 'SG Clean' campaign to rally businesses to adopt and adhere to sanitation and hygiene standards, and to help keep the island city-state clean and safe beyond the pandemic.
To elevate these practices to a nationwide level, the campaign has been rolled out to an array of sectors with a 'SG Clean' quality mark. Specifically for the events industry, there is a SG SafeEvent Standard, a mark of assurance for events that meet the necessary requirements for safety, compliance and well-being in a Covid-19 world.
These initiatives are featured in the IRR in great detail, along with a universal framework and checklist to help organisers, suppliers and venues implement safe events. Illustrated examples are given on mapping a 'Covid-safe' delegate journey, from arrival at the airport to the event itself through to departure. Plus, there are useful step-by-step guides on infection control measures, hygiene and sanitation, social distancing, emergency management and contact tracing.
Ultimately, Singapore's SG SafeEvent Standard, combined with the IRR, has helped to augment the 'SG Clean' crusade to deliver a safe environment where delegates and organizers can host their events with peace of mind.
Innovation, innovation, innovation
For MICE to continue fuelling economic growth, organisations cannot return to a business-as-usual approach. The Covid crisis has altered the way consumers behave forever and, to emerge stronger, everyone in the events ecosystem must adapt, too. This is the focus for the roadmap's final chapter, which offers a nine-step methodology for organisations to capture and deliver value moving forward.
As the report rightly recommends, organisations must take a customer-centric approach and begin by defining their value proposition and clarifying which business problems they can solve. The customer mix should be segmented and their differing needs identified and catered for through your events. Communication channels must be strategically chosen, along with partners or 'allies' to enhance your value proposition. This methodology also touches upon metrics and KPIs, revenue streams, flexibility, adaptability and scalability. This approach, if embraced wholeheartedly, will help to galvanise the industry in future-proofing itself for generations to come.
To learn more, you can read the Event Industry Resilience Roadmap in full here