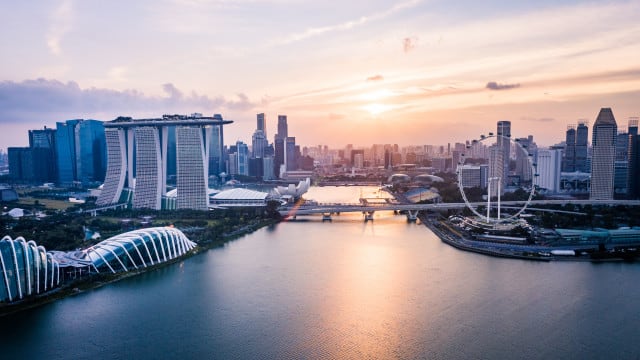 Five things not to miss at Singapore's MICE Virtual Show
The pioneering MICE destination of Singapore will host SingapoReimagine MICE Virtual Show, an immersive and engaging virtual exhibition for event organisers to discover what the vibrant country has to offer.
Connect one-to-one with up to 40 prominent suppliers in the region, from convention centres and hotels to tour operators, and discover reimagined MICE experiences, live virtual tours and culinary masterclasses, as well as the latest updates on Singapore's roadmap for the safe return of business events.
Organised by the Singapore Exhibition & Convention Bureau (SECB), a group of the Singapore Tourism Board (STB), this innovative event will take place from 3-4 March 2021 and is expected to attract more than 700 delegates from across the world.
Here are five things not to miss…
1. Foodie experiences
Foodies will enjoy culinary masterclasses from celebrity chefs such as Malcolm Lee and Janice Wong. Lee, chef-owner of the world's first Michelin star Peranakan restaurant, Candlenut, will whip up one of his simplest dishes to share a slice of Peranakan culture with a contemporary twist. Janice Wong, an award winning pastry chef, will be demonstrating how to easily recreate celebrity-style bakes from the comfort of your home.
2. Virtual tours
A locally curated event programme will feature live-streamed cultural and leisure tours, featuring Waterloo Street's quirky galleries and temples (pictured left: Kwan Im Thong Hood Cho Temple); and Little India, a buzzing and bohemian hotspot for shopping and delicious ethnic food. Get a glimpse into Hainanese culture with a virtual visit to Singapore's oldest coffee shop, Killiney Kopitiam, which has been officially recognised in the Singapore Book of Records as the 'Oldest Existing Hainanese Coffee Shop'. Go behind-the-scenes inside the factory to learn how the instant coffee is made, as well as the 'secrets' of Killiney's coffee, kaya and paste.
3. Recovery roadmap
Attendees can get the latest updates on Singapore's progress towards the safe and gradual resumption of MICE by tuning into a live panel discussion from industry leaders on organising 'pilot' events. Planners who apply to pilot events with up to 250 attendees must demonstrate their ability to implement and meet a set of health and safety outcomes.
4. Points mean prizes
To experience the city's melting pot of cultures, futuristic charm and outstanding MICE offering, don't miss the chance to win an unforgettable trip to Singapore itself. The top five voted buyers at SingapoReimagine will each win a two-night trip with Singapore Airlines, complete with a hosted stay and an array of exclusive and memorable experiences. Participants will also be able to take part in plenty of trivia quizzes throughout the show to win an array of prizes.
5. Cocktail masterclass
Gin lovers will enjoy an introduction to Singapore Dry Gin from Jamie Koh, founder of the hip and quirky Brass Lion Distillery, the first gin distillery of its kind in the country, which opened in 2018. Koh will take you through her global journey and inspiration for the spirit, a union of 22 botanicals that includes traditional Asian flavours such as the aromatic torch ginger flower and citrusy lemongrass, followed by a virtual cocktail-mixing masterclass.