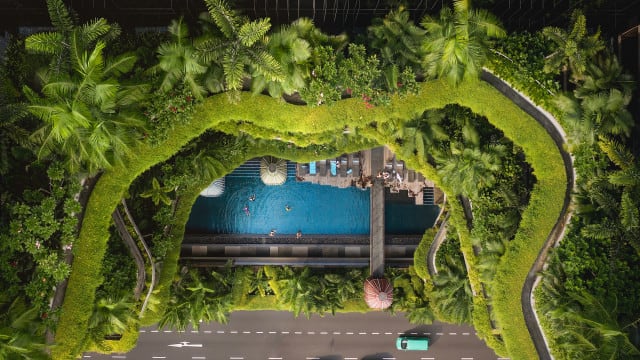 Singapore and sustainability: how the city-state is raising the bar for green events in Asia
When the world recovers from the impact of Covid-19, the focus will be on building back better, which means taking a more sustainable approach to all areas of business including meetings and events – something Singapore has long been preparing for, even before the pandemic.
Implementing smart and sustainable practices can help to minimise cost, conserve energy and reduce waste. Beyond that, a green event enhances your brand's reputation and commitment to sustainability.
A successful event relies on numerous partners, from destinations to DMCs, hotels, conference centres, caterers, production companies and more, so it's crucial to align yourself with sustainable partners.
If you're looking for the right destination to deliver world-class conferences and events while meeting your organisation's green goals, Singapore has been channelling its considerable resources and MICE expertise into setting new standards for sustainability.
Green guidelines for MICE
Leading by example, the Singapore Tourism Board (STB) has created comprehensive sustainability guidelines, which serve as a reference guide for MICE industry players who are keen to adopt responsible practices.
Intended as a tool to help both planners and suppliers integrate sustainable practices within their operations and regular event plans, the guidelines are a great place to start your sustainable events journey and make planning a responsible event in Singapore a painless experience.
There are Basic and Advanced-level guidelines for seven MICE industry categories across the supply chain: Events and Activity Organiser; Exhibition, Conference and Convention Organiser; Audio-Visual; Food and Beverage; Hotel; Transport; and Venue.
These include a broad range of practical ideas for improving event sustainability, from recyclable badges, lanyards made of sustainable materials, on-site recycling bins and use of mobile platforms instead of printed materials, to sourcing products or services from fair-trade suppliers or organisations that actively recruit from socially disadvantaged groups.
Eco-friendly venues in Singapore
Naturally, for a destination that takes sustainability so seriously, you don't have to look very hard to find a green venue in Singapore, with the upcoming Pan Pacific Orchard slated to be a showcase of environmental sustainability when it opens in 2022.
Located on the famed Orchard Road, the luxury group's first zero-waste hotel will feature four levels of soaring gardens that will redefine vertical sky-rise typology. Amongst other innovative elements, Pan Pacific Orchard will feature a rainwater harvesting system, a recyclable water system, and a compactor that turns food waste into compost – which will then be channelled into fertiliser for its sky gardens.
Another impressive green development, PARKROYAL COLLECTION Pickering boasts a hotel-in-a-garden design concept, with 15,000 square metres of lofty four-storey sky gardens, reflecting pools, waterfalls, planter terraces and cascading vertical greenery – an unprecedented amount of green space for this built-up city centre.
The iconic Marina Bay Sands and Gardens by the Bay are further examples of venues that are pioneering environmentally friendly practices and technologies. Marina Bay Sands was the first ISO 20121-certified property in Southeast Asia and the single largest building in Singapore to be conferred the Green Mark Gold Award by the Building and Construction Authority (BCA). Dedicated staff are available to help clients create sustainable meetings, offering post event reporting on energy and water consumption, providing sustainable food and helping to manage waste.
The Green Plan
It's not just Singapore's MICE sector that is focused on reducing its impact on the environment. The destination's devotion to the cause runs much deeper – it is committed to becoming a world leader in sustainability.
From fostering cutting-edge innovations in sustainable food production and encouraging environmentally friendly building design to transforming water bodies into naturalised rivers and lakes to help conserve local biodiversity, sustainability is at the heart of the government's policies and practices.
The Jurong Lake District, currently in development, is a statement of Singapore's green ambition. A new 360-hectare commercial centre and public space, this district of gardens and water will connect the existing lakeside area with the city-state's wider park and cycle network. It will be a model for sustainable urban planning, with residents and businesses enjoying reduced energy use thanks to district-wide cooling systems, buildings that meet the highest Green Mark standard and smart, data-driven design of everything from waste collection to public transport.
The Singapore Green Plan 2030 is a whole-of-nation movement to advance the national agenda on sustainable development. It charts ambitious, concrete targets for the next 10 years, strengthening Singapore's commitments under the UN's 2030 Sustainable Development Agenda and Paris Agreement, and positioning the destination to achieve its long-term net-zero emissions aspiration as soon as viable.
By selecting Singapore to host your next event, you are guaranteed a partner that is taking sustainability every bit as seriously as you are – and is determined to do its bit to safeguard the future of our planet.