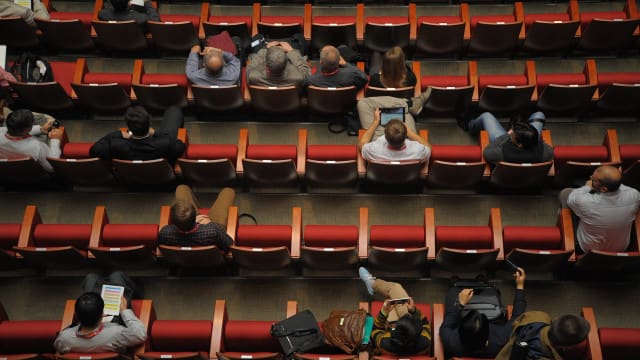 Hybrid events: in-person events' welcome cousin
In early 2020 most events became virtual, but the hybrid event – welcoming in-person and virtual attendees to the same event – is the next big shift.
An informal survey during Global Meeting Industry Day last April revealed that 62% of event planners plan to organise hybrid events going forward.
Hybrid events are not new – many event organisers have included live streaming or other virtual components in their events for years. But they fit our uncertain times perfectly, as well as offering other benefits including allowing more people to attend and being more environmentally friendly. Planners should be aware, however, that online attendees have high expectations – they are now demanding a higher quality of content, advanced production, networking possibilities and a sense of community.
When planners look to the year ahead and think about their total events programme, they should consider the hybrid event as part of the family. Think of it like this: you might invite all the family to big occasions, but for smaller occasions you'll stick to your immediate family. Maybe you'll utilise the full suite of virtual, in-person and hybrid for big conferences, and for other events there'll be less of a mix.
Anita Howard, founder of In-House Corporate Events (ICE), says, "Even when we come out of COVID, now that we're not scared of technology, we'll be doing satellite events – events in different cities." Howard thinks it will be "about four to five years" until very large meetings start up again.
But how to decide what sort of event to hold? Charlotte Bygraves, director of marketing events at Bain & Company, says a major consideration is the event's purpose: is it to create engagement or transmit information?
Bygraves says, "If it's a round table forum, you can't get huge engagement if your audience is too large, on Zoom. It's easier to turn off your camera or not put yourself forward, than if you were there in person. So broadly across our industry, we're seeing smaller groups if you want that engagement, and then one-to-many webinar broadcasts if you're giving information."
In this context, a hybrid model suits events such as trade shows, conferences, sales kick-offs and global town halls.
Hybrid options are also useful when some attendees are unable to attend in person, which is likely to be the case for a while post-COVID. People may have health or safety concerns about travelling, or their organisation may have a limited travel budget. Or perhaps the venue isn't large enough to accommodate everyone who wants to attend, especially taking into account social distancing.
Pre-event surveys are a good way to discover how your attendees are feeling about in-person events and what their particular situations are.
However sometimes an onsite experience is the best way to communicate with teams, making it important that they're there in person. These kinds of events might include team bonding days, small customer lunches and awards ceremonies. Clearly, for the time being, planners will have to put extra safety measures in place for in-person events.
And purely virtual events will also continue to have their place, where you can share information effectively via a video: think webinars, regular team meetings and executive panels. You won't always have the budget to make an event hybrid.
One advantage of including virtual and hybrid meetings in your mix is that recorded content can be repurposed for future marketing activity, saving you time and money. And in the current climate, planning a range of different events keeps you flexible – if unforeseen problems lead to the cancellation of in-person events, you'll have virtual and hybrid event planning knowledge to still deliver your events.