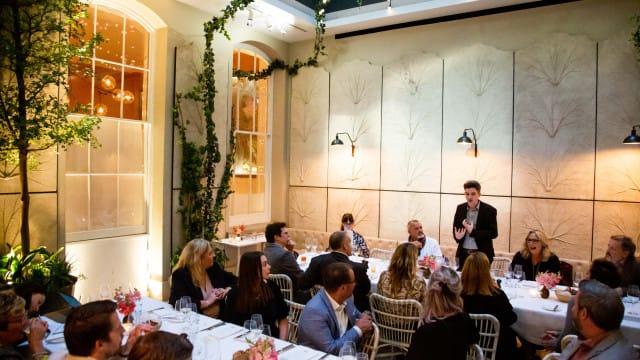 Time, money and talent: the industry's hot topics
The good and the great from C&IT's top 50 UK event agencies got together to debate how to best approach the event industry's current challenges.
Directors from C&IT's top 50 UK event agencies of 2019 gathered at Spring at Somerset House, London, in September to discuss the findings of our annual State of the Industry: Agency Report, in partnership with Cvent.
Editor, Calum Di Lieto, and associate editor, Mark Williams, led the discussion as guests tackled areas including agency challenges, talent and the future of events, over a three-course, sit-down dinner.
Time to tender
The discussion kicked off with lead times, with The Fresh Group's Patrick Howells explaining that they can differ from sector to sector. "For automotive, they are too long and it's affecting our financial year. For some [sectors], it's a quick turnaround but for others, it's far too long." Lead times can also vary according to how your business operates and where your budget sits.
George P Johnson's John Farquhar-Smith explained that 10 years ago you'd get three to four months to plan, but now no-one makes a decision until nearer the time. "We need to be agile but lead times can't keep getting shorter," he said.
According to Top Banana's Richard Bridge, more agencies are going after the same briefs and pitches. Cheerful Twentyfirst's Steve Quah also noted that trust and loyalty between clients and agencies is changing: "It's a promiscuous industry. You've got to be in it to win it," he said.
On the subject of budgets, Christine Bennett, from Taylor Bennett Partners,said clients often omit them. "If you have a big event, you must have a budget in mind," she added. "Yet, it's not always included in the brief, so when you're pitching, it's difficult to know if they can afford it or not." And OrangeDoor's Elizabeth Heron has noted an increase in clients having only quarterly budgets set out, meaning "they can't commit that far in advance".
Howells commented on his frustration at losing out on pitches because clients say they are too expensive. "We break it down by our day rate but they often don't understand exactly what they are being charged for by other agencies," he said. "There's an unwritten rule – a transaction between the client who expects this service (not being charged for every hour of the day), which we know is the most profitable model in the events industry, but no-one is willing to pay for the level of service they have come to expect."
Williams quizzed the table on whether they would start charging clients for pitches. INNTEL's Anna Snoep said it all comes down to transparency: "It's all on the table, as now you have people moving from agencies to corporates." Bennett added that the real challenge is ensuring your team accurately accounts for its hours. Bridge said that at Top Banana he is trying to encourage his staff to clock the hours they actually work, not so he can penalise them but so he can check they are charging clients the right amount for the hours worked.

The biggest challenge for Absolute Corporate Events is attracting new business, revealed the agency's chairman, Angie Mason: "With so many people pitching, the chances are, if you don't have a touchpoint, you're not going to get the business. If we don't have a touchpoint, we won't pitch."
Talent, diversity and recruitment
Di Lieto asked the table what they are doing to recruit and retain talent in the industry. The table debated whether or not event management degrees prepare students for work in the events industry.
CWT Meetings & Events works with students from Greenwich, Leeds and Bournemouth universities, said regional director Liz Quinton. "We do speaking arrangements to give students a real insight into the industry – and have recruited some amazing people from entry- level roles but what they learn in event management degrees isn't reality," she added.
Bridge said the Top Banana academy, originally created for designers, is now open to all event-related roles: "We see it as a way to give back."
Liz Zutshi, managing director at TTA, highlighted the value of industry placements during university. Howells echoed this: "We end up employing most of the students that do their placement year with us from Manchester University." Bridge suggested that you can't really experience events until you have run them yourself. Quinton went on to say that three years' work experience in the industry is far better than any event management degree, because: "They often think it's going to be wonderful – then they work for three years and hate it," revealed Bennett.
Majory Brown, UK director of events at TAG, spoke about her struggle with recruiting talent full- time. "People want to work freelance on much more money, but how do I compete with that flexible lifestyle?" she asked.
One of the key challenges around talent relates to expectations, added Karen Kadin, managing director at Brands at Work: "We're having to reframe as a leadership team how to fit in a new generation of talent. We have to flex to them, not the other way round."
Next, guests tackled the industry's challenge with diversity: "We're in a very white industry," explained Williams. "How do we change that?" Cvent's Rachael Monaghan cited gender diversity as another issue. We're still in an industry where top players are predominantly male, specifically in the tech industry, while over 80% of the events workforce are women. We need to see change at the top.
At Top Banana, Bridge said the board is 90% female: "I recruit people based on their ability, not their race or gender. If you're good at your job, you'll do well." He spoke about the agency's recent LGBTQ+ event where they adopted gender-neutral language and toilets: "It was really thought- provoking; that will be the future of our industry."
What's next?
On the future of events, Cvent's Judy Elvey said "the live experience is never going away. We're in an experience economy." Consumers would rather have experiences than spend their hard earned cash on products and this trend is following into the B2B world. People are using live experiences to start conversations, to gain in-depth knowledge, and to "experience things", added Tim Collett from WRG.