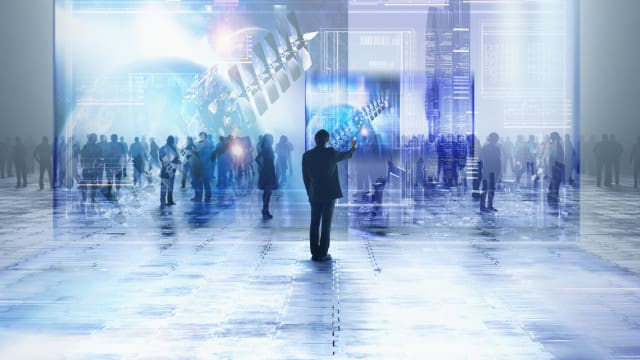 4 ways tech can help you plan your events
From 3D to VR, advances in technology mean it's easier than ever to check out venues virtually.
This article is produced in partnership with Cvent.
You've chosen the perfect venue for your next event, but now it's time to get into the fine details of the planning. Of course, nothing replaces a site visit, but you don't want to be schlepping up and down the country (or jetting off abroad) every time you change the seating plan. That's where technology comes in.
An increasing number of venues offer 3D floorplans so you can get a real feel for the size and flow of a space, and visualise how your event will work on the day. What's more, interactive to-scale diagrams of rooms mean you can move tables, chairs and equipment around, and get live comments from teammates and other stakeholders.
Upping the ante, a small but growing number of venues, including the Belfry Hotel & Resort in Warwickshire, offer tours on virtual reality headsets. The VR market is predicted to grow by 50% in 2023 compared to last year, and it's moving beyond video games into practical applications, including event planning.
Imagine putting on a headset and walking through a venue as if you were there in real life, from wherever you are in the world. After all, a picture doesn't show you everything – how tall are the ceilings? Where are the doors? What's behind that stage over there?
Here are some more benefits of high-tech event planning:
1. It saves time (and therefore money!)
Planning an event using an interactive floorplan means you can make quick changes to layouts and easily share them with clients. The whole process is simplified and streamlined, meaning there's less effort setting up on the day of the event. Pre-plan your furniture, catering, entertainment and facilities, and work with sponsors on the placement of signs and billboards – all at the click of a button.
2. It reduces unnecessary business travel and boosts sustainability goals
These days event planners need to demonstrate that they're minimising their environmental impact and making smart, efficient decisions. Technology enables them to plan the minutiae of an event – and build client relationships – without adding to their carbon footprint.
3. It's reassuring from a health and safety perspective
Meeting Professionals International (MPI) ran a hybrid conference in late 2020, when Covid was still a huge concern. It decided to use Cvent's Event Diagramming solution to manage its seating in line with safety protocols. MPI's Director of Events Melinda Burdette said: "We were able to collaboratively design all spaces to meet safety requirements, such as implementing 72-inch rounds with four at a table, rather than the usual eight. Real-time edits allowed the team to adjust as needed based on changing registration numbers and safety requirements. This eliminated the cumbersome back-and-forth with the hotel, creating a truly streamlined process."
4. It improves relationships with venues
Wotton House, a country estate hotel in Surrey, found that using room diagramming has helped improve relationships with event planners. Its Commercial Director Jennifer Irwin said: "There are these extra touches the tool provides when you're setting up a diagram, which we love. Clients have commented on the little martini glasses we can place on the bar. Or, for example, we have a tree in the middle of our dining room, which we can include in a diagram to show an accurate representation of our space."
Explore interactive floorplans of venues worldwide with Cvent's Supplier Network