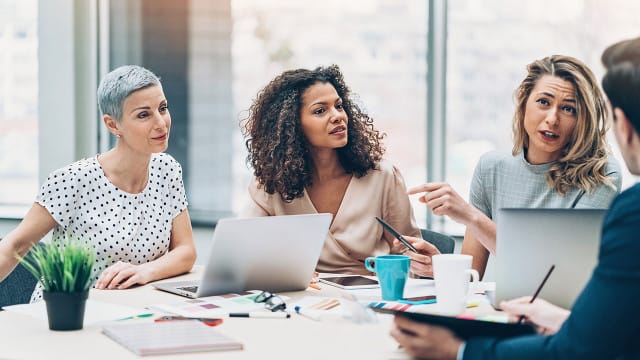 How to host a purpose-driven event
Bring your brand to life with an event that inspires attendees to take action.
This article is produced in partnership with Cvent.
Back in the day, organisations were mainly focused on making a profit and creating value for shareholders. But now both customers and employees are demanding more sustainability, diversity and a positive impact on society.
Indeed a recent report found that, post-pandemic, 74% of customers consider the brand values of a business before purchasing its products. In addition, 57% of people surveyed believed a company should be socially and environmentally responsible.
But the answer isn't simply to add an ESG policy; companies that are serious about becoming more purpose-driven must move away from just making their shareholders happy and make it their mission to improve the wellbeing of customers, employees and local communities in an authentic way.
This message then needs to be communicated to everyone who has a stake in the company – and events are a great way to do this.
For instance, the ice-cream brand Ben & Jerry's is committed to racial equality and aims to have a workforce and leadership that is majority people of colour by 2030. Its global franchisee conference focuses on community, with attendees encouraged to have fun and dress up in costumes. But as well as the expected new-flavour testings and business updates, there are presentations on institutional racism too.
Meanwhile Tony's Chocolonely – whose mission is to make all chocolate 100% slave-free – hosts an annual 'Tony's FAIR' stakeholder meeting for retailers, suppliers, customers and the West African farmers it works with. The event is set out like an old-fashioned funfair with rides and games, rounded off by an all-night party. Essential updates from its annual report are interspersed with inspirational talks from 'changemakers' across a variety of industries.
So how can you embrace your company's purpose at your next event?
1.Think about your objectives
These will depend on your audience – if they're staff and suppliers, you'll want to communicate your brand purpose in a clear way, but perhaps also encourage them to take action in their own divisions. Or are you aiming your message at customers, in order to form an emotional connection to drive advocacy?
2.Tell your story
Building a narrative around your brand helps attendees understand your message. When you're talking about the problem your brand aims to solve, get specific. A general statement like: 'We're passionate about sustainability' doesn't mean anything. Are you tackling plastic waste? Using fewer chemicals or less water in your manufacturing? Are you fighting to make your product accessible and change attitudes (for instance the brand Bodyform aims to break taboos around periods)? Or have you got measurable diversity aims for your boardroom? Explain why your values are relevant to your brand, business model and industry – what's the link and how can your organisation make a real difference?
3.Make it memorable

Consider holding your event at an unusual location, even better if it ties in with your social or environmental goals. Then make your event as interactive as possible, with quizzes, polls, games, music and great food and drink.

4. Make it sharable

Make sure your social media channels share a consistent message, and get people to use your event hashtag, which would ideally include your brand purpose. At the latest Tony's Chocolonely conference, attendees were asked to sign petitions to demand governments hold companies accountable for illegal child labour in their supply chains. It then shared images of people waving their colourful petitions on its website.
5.Inspire attendees to take action

Encourage people to take action in their own spheres, or bring everyone together with a volunteering programme. This could even be the main thrust of your event; for instance outdoor clothing company Patagonia has run its Tools for Grassroots Activists Conference since 1994, bringing activists together with experts in areas such as campaign strategy, lobbying and marketing.
Hear from fellow event professionals at Cvent CONNECT Europe as they discuss key issues facing our industry, such as representation and diversity.