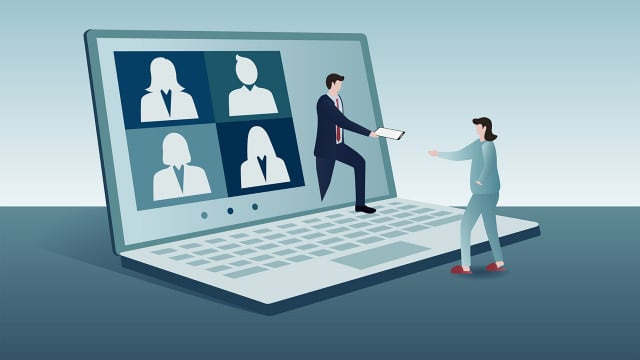 Creative ways to tackle hybrid events
How planners can keep the online audience members engaged, interested and involved.
This article is produced in partnership with Cvent.
Hybrid events have exploded in the post-Covid era, offering flexibility for attendees and increased reach for organisers. Getting the right technology in place is vital – frozen screens and glitchy websites lead to virtual attendees switching off – but it's also essential to present brilliant content to both online and offline audiences. Here are some top tips:
Put networking front and centre
Virtual event attendees can sometimes feel short-changed compared to their in-person counterparts when it comes to networking opportunities.
So it's a good idea to start conversations and 'matchmake' attendees with like-minded peers before the day of the event, using tools such as Cvent's Appointments. Consider putting attendees into virtual groups so they can discuss issues before, during and after the event, providing talking points and allowing people to share contact details for future meetings.
Choose a tech-savvy host
For Simon Howard of Introducing Events, a charismatic and experienced host is key for both live and virtual audiences. He says: "Choose the host with the most! A high-energy, professional host can make or break your event.
Many organisers employ celebrities to host virtual events, but online, there's not the same impact or value in having a celebrity whose hands you can shake. Often they're not familiar with the tech and don't understand how to engage an audience in non-TV arena. Find someone who knows how to communicate with audiences, and let them use their experience and skills to transform your next event.
Get hands-on
In far too many hybrid events, while in-person attendees get to move around from room to room or even try out prototypes, their virtual peers passively watch from their home computers.
But now, event planners are starting to prepare more creatively for their virtual cohort to boost engagement. For instance, this year's New Yorker Festival includes 'Dining In Events', where meals are delivered to attendees, who enjoy their gourmet food while watching a virtual conference with the chefs who prepared the meals.
Here in the UK, Vittoria Veltri runs Pasta and Play, virtual cooking classes that can be used as icebreakers at corporate events. Team members receive a box of ingredients a few days before the event, which they cook on-screen during the day.
Veltri says: "Cooking classes are a fun and easy way to spend time together as a team. Shared experiences and memories help create bonds. Many team members involve their families, making the events more interactive. At the end of the class, I also encourage everyone to chat at the end of classes.
"A bonus is that everyone sees each other's kitchens when you do a cooking class online. It's like going to someone's house and, as a result, it gives a personal connection. After all, cooking and food have brought people together as long as humans have been around!"
Gamify it
The current events buzzword is gamification. Games such as an interactive scavenger hunt can help focus virtual attendees' attention and introduce a bit of competition and fun. Other ideas could include quizzes, polls and even virtual photo booths.
As Howard says: "Get the audience involved. Give people a reason to be part of the event and make them feel like they're attending the event, rather than watching a TV show or having something on in the background."
Keep things short and snappy
Communicating virtually can lessen the connections between people and zap energy levels. So while attendees may be happy to sit through long sessions in person, their attention span will be shorter online. Think about restructuring your event to offer high-impact bursts of content with exciting and surprising elements that keep everyone engaged.
Discover how Cvent can help you with your next hybrid event.