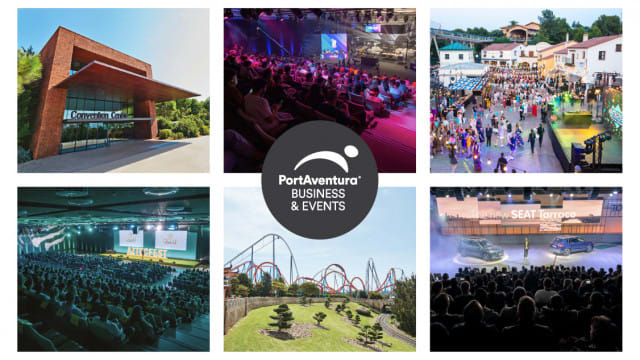 PortAventura: a venue that ticks every box
State-of-the-art meeting tech? Check. Comfortable accommodation? Check. Sustainable certification? Check. A theme park next door? Check! Take a look inside PortAventura's rather unique events offering.
This article is produced in partnership with PortAventura Business & Events.
Where can delegates live chat with colleagues worldwide at a truly global hybrid conference, ride a Ferrari-designed rollercoaster, play a round of golf overlooking the Spanish Med, unwind at a Polynesian-inspired poolside bar and spend the night in Caribbean-style comfort – all in one place?
Offering all the convenience of a self-contained destination, the PortAventura resort on Spain's sunny Costa Dorada has the advanced business and conferencing facilities that international event organisers expect, plus a huge range of attractions, entertainment and accommodation at its on-site theme parks.
State-of-the-art spaces
Those who know PortAventura as a leisure destination might be surprised by the scale and scope of its meeting and conferencing facilities. Thanks to the resort's digital transformation plan, this can be accurately previewed by event organisers on a new 360º virtual tour, as well as a handy downloadable brochure.
PortAventura's recently expanded Convention Centre can accommodate anything from 10 to 6,000 people across 20,000m2 of space and 24 modular meeting rooms. Its centrepiece is the huge 2,000m2 Roma room, an advanced hybrid conference suite.
The specialist events team can bring your meeting or conference to life with state-of-the-art hybrid technology and AV production. Whether you want to take your AGM to the next level with augmented reality, enhance your presentation with animated 3D graphics, or poll delegates in real time, they'll help capture your audience's imagination in spectacular style.
Stay in comfort
One of the major advantages of PortAventura is the ample choice of accommodation on-site, within easy reach of conferencing facilities. The resort as a whole offers 2,350 bedrooms across its portfolio of five hotels (all of which are four- or five-star properties).
The Hotel PortAventura, for example, is just a three-minute walk from the Convention Centre and offers direct access to the resort's theme parks, where your delegates can let off steam after the business agenda is done. Taking inspiration from traditional Mediterranean fishing villages, it offers four-star accommodation across a number of villa-style houses.
Or the Hotel Caribe, another four-star property, lies a 12-minute stroll from the Convention Centre, but sets out to transport guests to the Caribbean tropics. Its bedrooms occupy 14 separate low-rise buildings, inspired by island life, which are set around a lake and tropical gardens. The Caribe also offers four on-site, naturally lit meeting rooms, which can be combined into one 518m² space, The Habana, with its own reception and outdoor access.
Hire your own private theme park
Uniquely among business venues, PortAventura offers all the fun and thrills of not one but two world-renowned theme parks on site: PortAventura Park and Ferrari Land. PortAventura Park offers five colourful worlds of rollercoasters, rides and attractions, themed around global destinations.
Ferrari Land is designed in partnership with the iconic racing brand, and combines Italianate charm with high-adrenalin rides and experiences, such as virtual motor racing. For the ultimate company celebration or team-building trip, both parks can be hired exclusively.
There are also many other opportunities to bond, network, and treat your delegates across the resort. For the young at heart there's an expansive water park, while golf lovers can take their pick from three different courses.
Serious about sustainability
PortAventura already holds a number of internationally recognised green certifications, including the ISO 14001 standard, demonstrating its commitment to a robust environmental management plan; the EU's EMAS (Eco-Management and Audit Scheme) certificate, which goes further and requires annual environmental statements to be published, and the Environmental Quality Assurance Label.
Its sustainable management model guides its events offering, to ensure respect for the environment from start to finish. Event organisers can choose from a range of options to help meet their environmental goals, from the possibility of off-setting the carbon footprint of their event to the selection of locally sourced, eco-friendly produce.
Meanwhile, the resort as a whole prioritises the reuse and optimisation of materials – from its centralised energy management system that keeps down consumption, to the recycled paper and pencils and reusable drinks containers on your conference room table.
With extensive experience in organising large-scale events, the PortAventura Business & Events team can help you plan tailor-made meetings, conferences and team-building activities across the whole PortAventura resort. Visit portaventuraevents.com or contact PortAventura Convention Centre to learn more.
Luis Cenzual Burley
Senior International Sales Manager
Business & Events
PortAventura Convention Centre
Tel. +34 977 77 92 06
luis.cenzual@portaventura.es