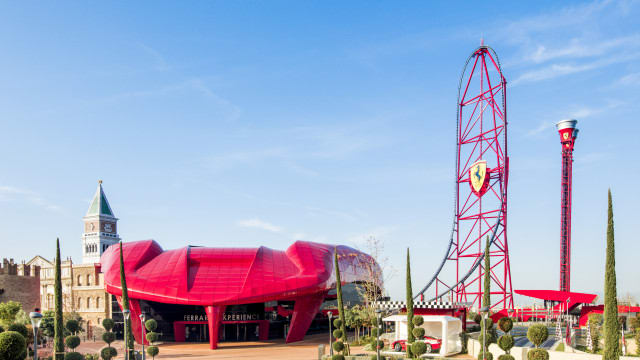 How to put the fun back into live events
The team at PortAventura Business and Events know all about creating memorable conferences – so how are they keeping delegates engaged and entertained?
This article is produced in partnership with PortAventura Business and Events.
When it comes to planning postpandemic conferences and events, bookers are looking for venues that offer a real chance to reconnect, as well as a safe, easy and stimulating experience for attendees. And after all the stresses and burnout of the past 18 months, providing delegates with opportunities to relax, have fun and feel special is likely to maximise attendance rates.
"Creating excitement around events is always important, but now, after the tough times we have gone through, it's more of a priority than ever," says Laura Valdeolivas, director of PortAventura Business and Events. "People want to attend live events again and share experiences with other people; and what they will remember most are the emotions they felt during the event."
Here, we look at the key lessons event planners can learn from PortAventura's unique events offering on Spain's balmy Costa Dorada.
Pick a venue that brings it all together
A self-contained destination with a wealth of facilities on site provides convenience and peace of mind in these uncertain times. Booking a business event at PortAventura World gives event planners access to its 20,000m2 Convention Centre, with 24 halls and capacity for up to 6,000 guests, a choice of six hotels with over 2,350 guestrooms, and two of Europe's leading theme parks, Ferrari Land and PortAventura Park – all just an hour from Barcelona.
For event bookers, the option of visiting or hiring out an actual theme park to complement a business function at the Convention Centre adds a playful and unforgettable twist to their event. "Delegates are always excited to have all this entertainment on their doorstep," says Valdeolivas.
Event organisers can exclusively book Ferrari Land, a joint venture with the iconic Italian motor company, where visitors can enjoy state-of-the-art rides designed to recreate the thrills of being a racing driver, discover the secrets of the brand Enzo Ferrari built, and soak up the Italian setting. Or alternatively, they can take over one or two of the 'worlds' at PortAventura Park, one of Europe's best-loved theme parks. Team-building in the Far West, anyone, or exotic, al-fresco dining in the Polynesian jungle?
"Even those who don't necessarily like big rollercoasters still appreciate it when their companies book the exclusive use of a theme park for them," says Valdeolivas. "For smaller groups, we can arrange the exclusive opening of a restaurant or open-air space in the parks. Or just being able to enjoy the parks on their arrival or departure day, if they have free time, is a nice bonus for business guests."
Make time for team bonding (with a heart)
Reconnecting with your workforce or audience will be a key element of future business events, with many of us missing the bonding and networking opportunities that in-person conferences bring. Quality team-building experiences within a unique venue or with inspirational impact will be highly sought after as we emerge from the pandemic, notes Valdeolivas.
"Our most popular team-building activities are those that involve Ferrari Land and PortAventura Park – we can arrange treasure-hunt style experiences for your group that take full advantage of the setting," she says. Meanwhile she also sees demand for more thoughtful activities with a strong eco-friendly or community angle, such as making items for underprivileged children or to help maintain biodiversity.
"Some of the most interesting events we've held in recent times incorporate an element of corporate responsibility," Valdeolivas explains. "At PortAventura we take our environmental, social and governance commitments very seriously, and encourage our clients to ensure their events are sustainable, both in terms of minimising the use of resources and having a positive effect on the local community. We offer team-building activities with an environmental or social impact for clients that share our values, and we're seeing these confirmed more and more often."
Say goodbye to boring conference presentations
Whatever you do, don't be boring: the days when events speakers could get away with a deck of tired Powerpoint slides are no more. Today's event technology allows you to get your messages across in a more impactful way than ever – and connect with both in-person and remote audiences if you are planning a hybrid event. That might mean seeing your latest product projected as a 3D hologram, or bringing your congress to life with animated backdrops or video presenters beaming in from afar.
PortAventura's Convention Centre offers state-of-the-art conferencing facilities and space that's purpose-built for hybrid. "To make presentations more fun and engaging, we offer a wide range of possibilities, such as augmented reality, 3D graphics, gamification, holograms and customised backdrops," says Valdeolivas. "We can provide a full event-management service, from conception and customisation of an idea, to the installation of any technical and audio-visual support that our clients require."
Head to portaventuraevents.com to find out more about how PortAventura Business and Events can help you deliver memorable meetings and conferences.