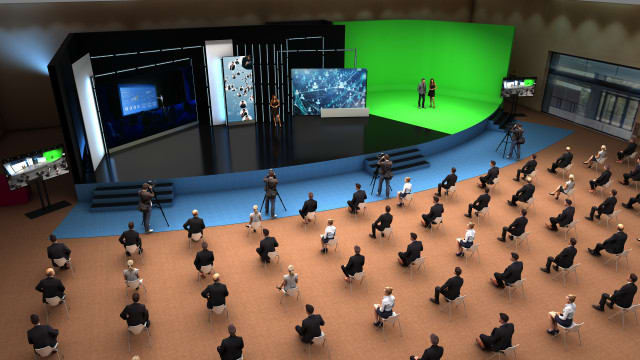 Inside the hybrid conference room of the future
Holograms, augmented reality and virtual guests mingling with in-person hosts – we explore the new hybrid event experience from PortAventura.
This article is produced in partnership with PortAventura Business and Events.
As we all eagerly anticipate a return to live events, planners are feeling the pressure to ensure their next conference lives up to expectations – and delivers high-quality content for both in-person and virtual attendees. In response to the evolving needs of the sector, the business and events division at PortAventura World in Spain is harnessing new digital technologies to create hybrid events that are richer and more immersive than ever. Here, we take a behind-the-scenes look at what that could mean for your event.
Connecting physical and virtual audiences
Would you like your US head of operations to present at a European conference – in hologram form? Want your online audience to view your company's new product in 3D, at the same time as you present it to launch attendees? Or want to design customised virtual environments for your event that give your on- and offline audiences a joined-up experience? Today's innovations in event tech can help blur the boundaries between real and virtual, notes Laura Valdeolivas, director of PortAventura Business and Events. "Hybrid events allow us to create complete experiences, thanks to the possibilities made available by technology," she says. "With our new service we can connect with broader audiences beyond our convention centre, and offer dynamic and interactive events connecting participants at all levels, without limitations."
This new and enhanced events offering, which the PortAventura events division has dubbed Hybrid Experience and Real Emotions, offers a catalogue of cutting-edge technological solutions – including augmented reality, interactive presentations, holographic illusions, gamification and 3D graphics – to bring any event to life and meet clients' needs for global connectivity.
Meeting space with more to offer
The setting for these cutting-edge hybrid events is the PortAventura convention centre's purpose-built Roma Room, a brand new 2,000m2 facility that can cater for up to 2,000 delegates or be subdivided into three for smaller groups. It offers natural light, with appealing views of the Mediterranean surroundings, and large terraces and gardens nearby. In this flexible space, hybrid events can be held and broadcast to the wider world, with specialist technical and content teams on hand to help deliver event planners' vision.
"Our in-house team offer a multitude of services as required – they will listen to the needs of customers, design a story-telling narrative to make the event memorable, and then develop a presentation, content, aesthetic and team-building activities based on that," says Valdeolivas. "Your event presenter could be joined by a holographic guest, for example, or you could display your annual results by projecting customised 3D images rather than a flat slideshow. They can also liven up the event by making it more interactive, with live chats, voting and questions."
But even the most imaginative events need to make a measurable impact – and PortAventura's tech tools can also help deliver on this. "At the end of the event, the team will give you a real and effective measurement of the event data," explains Valdeolivas. It's all part of the venue's accelerated digital transformation, which has also seen a new website, 360º virtual tour and interactive catalogue.
Making safety a priority
In these exceptional times we are living through, PortAventura Business and Events is also currently working to a special action plan targeted at combating COVID-19. Its comprehensive health and safety protocols have been endorsed by expert bodies and external auditors, including the Spanish Tourism Quality Institute (ICTE).
The generous size of rooms and large open spaces at the PortAventura convention centre also make it easy to adhere to any physical distancing regulations in place at the time of booking. And the proximity of all the facilities at PortAventura World as a whole – including restaurants, the well-known Ferrari Land and PortAventura theme parks, and a total of 2,350 hotel rooms across the resort – makes it possible to hold events with minimal transit between areas, reducing delegate risks. Situated on the sunny Costa Dorada coast, PortAventura is only an hour from Barcelona.
Visit portaventuraevents.com to find out how PortAventura Business and Events could help you plan an unforgettable hybrid event.