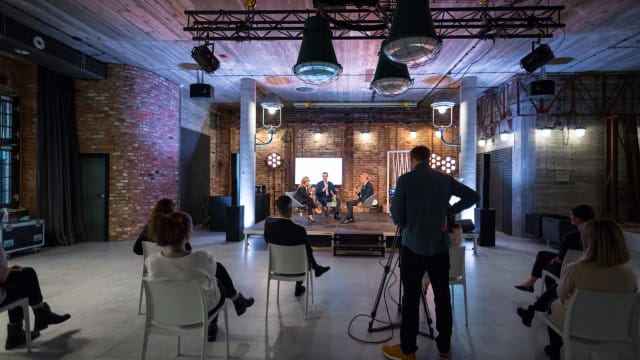 Why 'COVID-safe' is the wrong term for events
Health and safety is as big a priority as ever, but we need to be realistic about what that means.
This article is produced in partnership with Cvent.

As the new year approaches, only one thing seems certain: the challenges of the pandemic are not going away. Almost no one now believes that a zero-COVID society is an option any time soon. Even New Zealand, long a zero-COVID stalwart, has begun to abandon the policy. Curveballs like the Omicron variant have only underlined that the events industry must continue to stay on its toes as we adapt to ever-changing regulations, and learn to live with the risks.
Safety continues to be a priority, but the "COVID-safe" label remains problematic. If people will be meeting in person in 2022 – something many have been doing anyway in restaurants, museums, airports and other public venues – it isn't possible to guarantee complete protection against transmission.
As NHS consultant Professor Catherine Urch argued in the British Medical Journal, neither "COVID-safe" or "COVID-secure" are realistic terms, implying as they do that we can make places 100% risk free: "A more useful way to think about workplaces (and other public and private spaces and activities) is to describe them as COVID-mitigated."
How, then, can organisers plan a COVID-mitigated event for 2022? It's all about continuing to take reasonable and proven measures that minimise the risks – read on for some key pointers.
Look beyond the event itself
It's not just about the destination, but also about the journey, when it comes to COVID mitigation. As one recent study noted, the controlled nature of most venues efficiently minimises risk: "By contrast, it is in travelling to the venue [and] gathering (for instance in pubs) beforehand and afterwards that greater problems may arise."
The authors recommend taking a holistic approach to risk assessment. For example, think about whether you could help arrange delegate transportation that limits the numbers travelling together; or if socialising could be made safer by offering organised, small-group activities. Or…
Take it outside (or online)
Outdoor events were understandably popular over the past 18 months. With continuing uncertainty and evolving restrictions as we head into 2022, they are likely to remain an attractive option to attendees in the long term. Research shows that while people can catch COVID-19 outside, the risks are hugely reduced in fully open spaces.
Of course, this also means being at the mercy of the weather! So venues that can offer a contingency plan – such as event spaces with terraces or gardens for guests to spill onto – are likely to remain in demand in 2022. As, of course, are digital or hybrid events.
Less is more
For everyone that's impatient to meet in person again, there are others scaling back their diary commitments. Many people are likely to be more choosy about what they attend in 2022, prioritising what feels essential and generates FOMO, or is valuable for networking. And a world with fewer in-person events feels unavoidable as long as pandemic restrictions remain in place in so many countries.
This presents planners across all sectors with some tough decisions. Do they focus on creating a tiny number of 'unmissable' physical events, and keep everything else virtual? Or do they build a programme of smaller-scale gatherings – such as regional satellite events, or boutique/hybrid happenings targeted at key audience segments – that feel more convenient, manageable and lower risk to attendees?
Quiz your event partners
Do ask venues and suppliers what they are doing to stay safe. The Cvent Source Safely microsite is a handy tool for searching 40,000+ venues worldwide, with at-a-glance info on their latest health and safety measures.