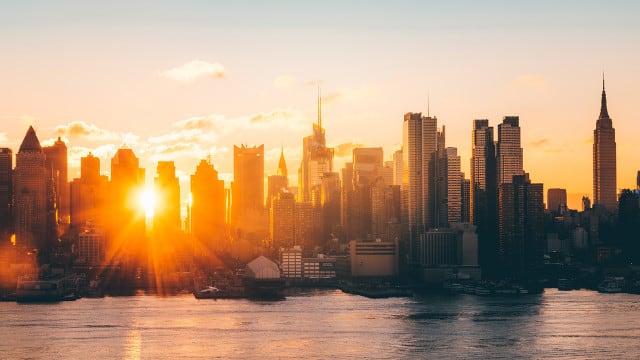 The rise of the 'hybrid city'
Hybrid events based across one or more cities, in the style of this year's Oscars, are more attractive than ever to attendees – and are demanding more from venues and destinations.
This article is produced in partnership with Cvent.

The 2021 Academy Awards ceremony was unlike any other in Oscars history. When Regina King, standing in this year's main venue, Union Station in Los Angeles, announced that The Father had won Best Adapted Screenplay, the winning screenwriters Florian Zeller and Christopher Hampton accepted their awards in Paris and London respectively, via a live video feed.
The fact that the biggest event in the Hollywood calendar had put down offshoots beyond California was truly a sign of the times. The Academy had listened to concerns about the impracticalities of travelling to the United States during the pandemic, and set up satellite events in a number of cities for nominees to participate and celebrate remotely.
This event model – often dubbed 'hub and spoke', due to one central hub event being circled by smaller satellite 'spokes' – may have been necessitated by COVID-19 restrictions. But even before the pandemic, event planners were intrigued by the possibilities of multi-city and hybrid events.
Holding events in multiple regional hubs, or basing your physical conference in one city and broadcasting it to a wider virtual audience, are attractive options to planners focused on making their programme as accessible as possible post-pandemic, as well as improving their event footprint.
One group of destinations has even begun promoting themselves as a Hybrid City Alliance in order to, as they put it, "connect the world to a global network of partners that foster collaboration, to provide meeting professionals with access to knowledge, innovation, and tools to produce hybrid and multi-city events".
But is a hybrid city approach right for your event? We look at the key requirements, challenges and rewards for events planners and hosts.
What makes a successful hybrid city?
Appealing destinations, good connectivity, reliable technology, an unflappable delivery team and a strong spirit of collaboration are all essential elements of delivering a multi-city event.
For the British Film Institute (BFI), acting as a regional host for the Oscars was a chance to road test some of the hybrid expertise that its events team were already honing through events combining in-person and live-streaming elements, like the BFI London Film Festival. "When we were invited to be the Academy Awards' UK hub, it was the perfect opportunity to develop our skills at an event with a truly global reach and profile," says Tim Stevens, Head of Business Development and Production at the BFI.
As Stevens notes, having the right skills, tools and experience at your host venues is essential for any coordinated multi-city event. "The production team at BFI Southbank has a long history of producing international events, and we brought that expertise to the challenge of putting on the Oscars in London in under three weeks," he says. "It was a challenging time – no one had worked in the venue for over a year, and we had to get on the same page as a team in the UK and in LA very quickly, both in person and online."
There will always be technical challenges to overcome when holding one event across multiple locations and formats, and live-streaming content. "The technology has changed drastically over the last two years, so we had to master these new online workflows, while also navigating a film shoot with very strict COVID-19 rules," says Stevens.
But as he notes, its success has paved the way for future hybrid events. "As we opened up, we used what we had learned during the Oscars to reach out to new clients, pivot our business model and ultimately better serve the needs of the event sector as it returned in new and wonderful ways."
Is a hybrid city approach right for your event?
As with any event, the cost of a multi-city or other hybrid event needs to be carefully considered. While planners can save hugely on international travel by opting for regional hubs, they need to factor in the potential cost of multiple venues and support teams.
Then, there's the creative challenge of creating joined-up experiences across multiple physical or virtual event hubs. Planners must decide if they want to synchronise content across different locations – and potentially time zones – to create a real-time shared experience; or use event design, clever technology (such as augmented reality) and on-demand content to create a cohesive feel across a number of smaller, more boutique regional events.
For those with the strong partnerships on the ground to pull it off, creating regional hubs for your event can combine the benefits of local and global: bringing together smaller audience units and making them feel part of something bigger, without the cost, hassle and carbon footprint of requiring your attendees to travel nationally or internationally. And hybrid-ready destinations with the right mix of technical expertise and live appeal could offer an attractive alternative to delivering one big live event.