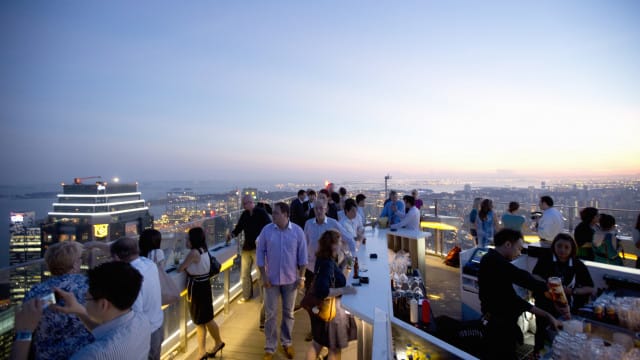 Should your next association event be outdoors?
The UK is opening up and the weather is warming up, leading to an explosion in outdoor gatherings. While the government is expected to lift the majority of indoor restrictions on 21 June, al fresco events will still appeal to many groups and associations who want to meet in-person again, while making sure delegates feel as comfortable as possible.
Associations can make over a third of their profits through conferences and events. Thirty years ago, subscriptions accounted for 80-90% of their revenue, according to the Professional Associations Research Network, but by 2015 that had dropped to just 44%. So events are an important revenue driver, as well as building an association's reputation and helping members feel more connected. And of course, many people join associations for the networking opportunities, which are still best in-person.
Association budgets can be tight, but by thinking creatively, planners can create a memorable and enjoyable outdoor event that puts them ahead of the competition. Here's everything you need to consider:
1. Find the right venue for you
Some members may be nervous about travelling or mixing post-pandemic, while others will be looking forward to reuniting, so carry out a survey to gauge numbers. Then look for outdoor venues that suit your numbers, ideally with parking or close to public transport.
Consider how the venue will reflect on your association's brand and whether it will get delegates excited – think landscaped gardens, historic venues with grounds, golf clubs, chic al fresco bars or roof terraces. Established outdoor venues will be used to holding events and can support you with the logistics. Whereas if you're dry-hiring a field for the day, you'll be responsible for shelter, food, technology, toilets etc, as well as getting insurance and permission from the local authority – but you'll be able to make the space your own.
2. Pin down the tech
Make sure your venue has WiFi and a reliable power supply, with enough power points to run technical equipment. Think about lighting, too – especially if your event is going on into the evening, when you'll need to light pathways. Hire sound equipment that will allow speakers to be heard in a potentially noisy environment. Wireless connectivity is essential if you are going to run your event from a mobile app, which will guide delegates through the day's activities and also help them share highlights on social media. (On that note, phone-charging points will also come in useful!)
3. Consider health and safety
Risk assessment is always part of event planning, but even more so for outdoor events, where there are so many variables. Make sure that any possible hazards can be dealt with and that you have first-aid facilities on site.
4. Plan for all types of weather
Sheltered meeting and eating areas are important when you are relying on the British weather – after all it could be pouring down or blisteringly hot. Make sure any marquees can withstand high winds and consider providing waterproof ponchos and portable heaters. Have a plan B for where you are going to hold speeches or Q&As if the weather really doesn't play ball.
5. Don't forget security
A designated outdoor event space will be more secure than an area of a public park that you potentially have to fence off and marshal, so make sure you have any security staff and resources that you need. On-site, lockers are useful so that attendees can safely stow away any valuables.
6. Go wild with activities
If you decide to go for an outdoor event, take advantage of the location and atmosphere; after all, many traditional conferences are boring and identikit. Why not give it a luxe festival feel with food trucks and live music, or plan site-specific activities, from walking meetings to treasure hunts, picnics and campfires?
If you've got a peaceful corner, use it to hold meditation sessions, providing a break between speeches and networking. Creating quiet and noisy zones will appeal to different types of attendees – after a year of COVID restrictions, not everyone will be equally enthusiastic about mingling in large groups. Being outside has been proven to increase creativity and memory and reduce stress, so harness the benefits of the great outdoors, and everyone will come away feeling refreshed.