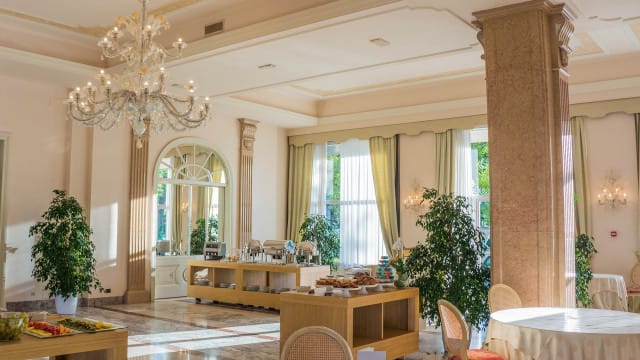 The key questions every event planner should be asking venues about sustainability
Plastic lanyards, printed programmes, disposable cups, bulging goody bags… just some of the detritus that can be found in overflowing bins at the end of a traditional conference.
And that's just the waste you can see; there's also the carbon produced by travelling to a venue, the energy needed to power an event, leftover food – the list goes on.
Post-pandemic, event planners have a real opportunity to put sustainability front and centre of their work and hold potential venues to higher environmental standards. Here are some key questions to add to your RFP:
1. What environmental credentials does the venue have?
Does it hold ISO 20121 certification? This is the global gold standard, but if a venue doesn't have this yet, can it show that it's prioritising sustainable practices, making positive changes and acting responsibly to plan meetings and events?
2. Does it use green energy suppliers?
As well as prioritising green energy, forward-thinking venues should be working to reduce water use (by installing water-reduction devices in toilets, for instance). Is the venue doing everything it can to reduce carbon emissions by using LED lights and solar power? Ask to see its Display Energy Certificate rating, which will give you an idea of how it's performing. Some venues have gone further to future-proof their energy supply – for example, The Crystal in London uses 100% natural heat sources via ground source pipes that heat and cool the building.
3. How are they tackling waste?
Venues should be aiming to send as little waste to landfill as possible – some are now even zero-waste. Look at how they're recycling or reusing materials. Have they banned single-use plastic? As a starting point, programmes and temporary signs should be digital, and dining rooms should use reusable crockery and cutlery.
4. How sustainable is the catering?
Is there a green policy for catering, which includes using local suppliers, seasonal food and fair-trade produce? Some venues filter their own water so that they don't have to use bottled. Ask the venue what happens to excess food – is it composted or given away to charities? There are many creative ways to help the environment while serving up delicious food; for example, The Ritz in London has its own beehives housing 20,000 bees, which provide honey for its kitchen.
5. Is it accessible via public transport?
Consider how attendees might travel to a potential venue. Is it near a train or bus (or Eurostar) station? Where will most people be travelling from, and how can you encourage or incentivise low-carbon travel (or offset impacts)? On a related matter, ask if the venue works with courier services that use green transport.
6. Is it willing to discuss new ideas?
As we move into a very different events landscape, look for venues that are flexible enough to accommodate hybrid conferences, where fewer people attend in person. Can the venue itself recommend ways to tweak an event to make it more environmentally friendly? Even something as simple as asking delegates to bring their own water bottle can make a difference.
Much is changing in events, and venues should be looking to learn from one another. Event planners can play their part, too – the more we ask questions about sustainability, the more venues will strive to implement greener practices.