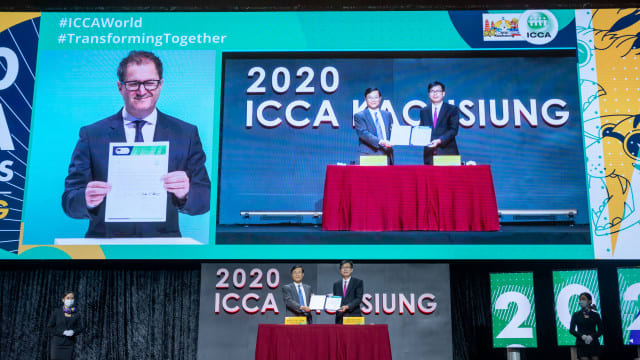 Taiwan Delivers First Hybrid ICCA Congress and Lasting Legacy for Meetings Industry
This content piece is brought to you in collaboration with MEET TAIWAN.
Taiwan made history in November when it hosted the first ever hybrid ICCA Congress 2020, reinforcing its position as one of the world's key emerging and innovative MICE destinations.
Themed Transforming Global Events Together, the 59th world congress of the International Congress and Convention Association took place in Taiwan's southern port city of Kaohsiung.
Kaohsiung acted as the main hub for the three-day event, welcoming both a live audience and the global ICCA community by live-streaming content to more than 1,500 attendees in eight regional hubs across the globe along with individual members who tuned in virtually.
The regional hub events were staged in cities in Africa, the Americas, Europe, the Middle East and Asia. Live broadcasts in the various destinations were joined together by an event host in a London-based recording studio. The entire event comprised a series of online and in-person sessions, featuring 220 speakers across 100 hours of content.
Delivering his opening remarks via Holographic Projection, ICCA President James Rees said Kaohsiung won its 2017 bid to host the congress thanks to a compelling story of regeneration.
"It has been a privilege to work with the Kaohsiung City Government and we thank all the host city stakeholders for their commitment to rise to the challenge presented by the global pandemic, re-imagining the ICCA Congress and building a hybrid event that will act as a 'live' case study for the entire events industry, ultimately delivering a framework for the future of our association that will be enshrined in the Kaohsiung Protocol—a tangible, documented framework that will be the true legacy of this year's event—which will resonate with members for years to come," Rees stated.
The "Kaohsiung Protocol", a crowdsourced framework identifying major trends and key strategies that will enable the international meetings industry to continue to thrive in the post-pandemic era, was signed by Kaohsiung Mayor Chen Chi-Mai and Rees witnessed by on-site and online participants on the last day of the congress.
It was the product of both face to face and hybrid input and the trends identified include Innovative Business Models, Shared Risk, Digital Restructure & Hybrid Events, and Enhanced Engagement & Value Strategies.
Another key highlight and world-first saw participants in Kaohsiung, online delegates, and musicians based in a remote studio in Singapore connect, co-create, and perform an original song of Kaohsiung.
Working in partnership with ICCA, Kaohsiung pioneered a new model and was able to include both a live and extended virtual audience to accomplish a task together in an interactive way. The event serves as a prime example of meeting by design to increase delegate experience and engagement, even in a virtual setting.
Hosting the ICCA Congress and playing a key creation role of the Kaohsiung Protocol has put Taiwan at the heart of the global meetings and events industry, ensuring this vibrant and pioneering destination will continue to grow from strength to strength in 2021 and beyond.
For more information on planning an event in Taiwan, visit MEET TAIWAN's official website.
Taiwan's MICE Promotion Program
Organised by Bureau of Foreign Trade, MOEA
Taiwan External Trade Development Council
Ad. by Bureau of Foreign Trade, MOEA