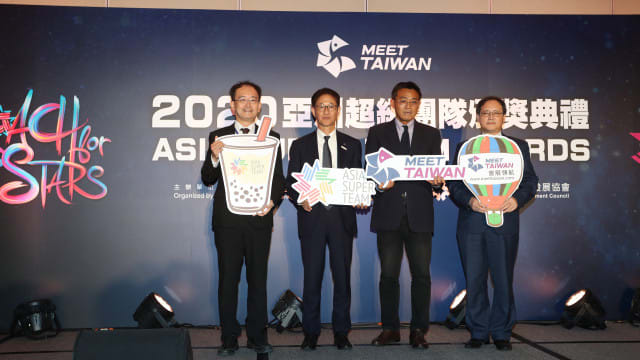 Taiwan Continues to Innovate with Virtual Asia Super Team Campaign
This content piece is brought to you in collaboration with MEET TAIWAN.
Taiwan has shown yet again why it is fast becoming a key player in the global MICE market, capping off the year with an incredibly innovative and hugely successful Asia Super Team virtual travel experience - a brand-new online competition model created by MEET TAIWAN.
The annual Asia Super Team competition promotes incentive travel in Taiwan by revealing the destination's numerous attractions to planners across Asia through a variety of different themes and contests.
Over the past seven years, the international team competition has served as an innovative example for destination brand marketing, earning it two internationally renowned tourism marketing awards. With the advent of COVID-19, further innovation was inspired in 2020 when the event was held as an exclusively online competition for the first time.
New digital format
Elite corporations from Japan, Korea, Singapore, Malaysia, Indonesia, Thailand, Philippines, and Vietnam participated in the 2020 event, completing the online Reach for the Stars challenge in a week-long contest in November.
Travel restrictions caused by COVID-19 were overcome by developing a brand-new format for the innovative competition, using novel technological elements and digital tools to promote and generate buzz for incentive travel in Taiwan.
The championship finale incorporated online contests and voting, with participants able to immerse themselves in the local culture and cuisine of Taiwan through virtual reality headsets and an augmented reality Facebook filter.
JTB Global Marketing & Travel was crowned winner of the 2020 championship and awarded an incentive travel package valued at US$50,000 that will enable the company to enjoy an incentive experience in Taiwan after the pandemic.
The cloud competition model encouraged more industry applicants from the Asian region to participate in the event, with registrations reaching a new high in 2020. Through the campaign, more event organisers were able to enjoy the advantages of Taiwan's world-class meeting, incentive, convention and exhibition offerings.
The success of the 2020 Asia Super Team competition came hot on the heels of Taiwan making history when it hosted the first ever hybrid ICCA World Congress at the start of November.
Strong reputation for safety
Taiwan's innovative marketing approach in the global buyer community, combined with the destination's highly effective response to the COVID-19 global pandemic, puts it in a strong position to attract MICE business from around the world once the threat of the pandemic passes.
Safety and health are going to be increasingly important factors for organisers when planning incentives in the future. Interim results from the 2020 Incentive Travel Industry Index, a joint venture between the SITE Foundation, Financial & Insurance Conference Professionals (FICP) and Incentive Research Foundation (IRF), revealed that 'Participant Safety' and 'Perception of Destination Safety' were ranked first and second out of 18 possible ways that incentive travel programmes will shift in the light of COVID-19.
MEET TAIWAN's own survey of almost 4,000 Asian business travellers revealed that 99% said they feel secure and safe travelling to Taiwan. Known for the warmth and hospitality of its inhabitants, Taiwan also boasts stunning scenery, a rich culture, and impressive MICE infrastructure, so it's little surprise that Taiwan is rated as the top destination for incentive travel among Asian companies and countries.
As the destination forges ahead with plans to further boost its infrastructure and prepares for the reopening of international MICE business, it is clear Taiwan is a destination to watch and destined for further success.
For more information on planning an event in Taiwan, visit MEET TAIWAN's official website.
Taiwan's MICE Promotion Program
Organised by Bureau of Foreign Trade, MOEA
Taiwan External Trade Development Council
Ad. by Bureau of Foreign Trade, MOEA