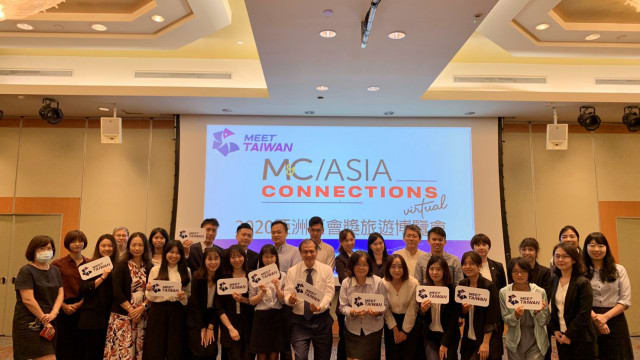 Praised for its highly effective response to COVID-19, Taiwan is now taking the lead in reviving MICE
This content piece is brought to you in collaboration with Meet Taiwan.
Thanks to Taiwan's swift action to prevent the domestic spread of COVID-19, the nation is now planning for a swift comeback to the business events scene.
Thanks to Taiwan's swift action to prevent the domestic spread of COVID-19, the nation is one of the globe's top five countries, reported by Bloomberg Economics, that has successfully controlled the contagion's related cases and mortality rates. Taiwan has also been able help other countries around the world with fighting against the pandemic through knowledge sharing, face mask donations, and other types of assistance.
Taiwan is now planning for a swift comeback to the business events scene. On 11 June, when many countries around the world were still in lockdown, a MICE Restart Press Conference was hosted by the Bureau of Foreign Trade, Ministry of Economic Affairs and Taiwan External Trade Development Council (TAITRA), announcing the reopening of the domestic MICE sector with new public health regulations and policies for venues to protect organisers and delegates.
This resulted in an immediate boost for the sector, with about 50 events that took place during June and July covering industries that included beverages, baking, outdoor sports, video games, and more.
Prepared for the return of international events
Taiwan is already open for business visitors from low and medium-risk COVID-19 countries, with testing and quarantine measures in place. As partial reopening of domestic MICE business continues, MEET TAIWAN has already turned its attention to international event planners in preparation for a full reopening.
An active approach has been applied to promote the destination through online activities and virtual MICE industry events, such as IT&CM China and M&C Asia Connections. MEET TAIWAN, along with vendors that include hotels and travel agencies, took part in these events to engage with planners and explore new post-pandemic business opportunities. The events were a success, with around 600 buyers visiting Taiwan's virtual booth.
Next on the agenda is ICCA 2020, hosted and organised by Kaohsiung City Government, which will be held in Kaohsiung, Taiwan, as the first hybrid ICCA congress. Hybrid events will become the new normal and, in light of the pandemic and Taiwan's successful measures, it is appropriate that the world's foremost conference for association organisers will convene in Kaohsiung, one of Asia's showpiece business event venues.
With the ICCA Congress adopting a hybrid format and implementing the technology necessary to achieve this, delegates who gather at the Kaohsiung Exhibition Center and those who watch a live stream of the event will also get to see how Kaohsiung has undergone its own transformation. Few places in north Asia exemplify the revitalisation of former docklands better than Taiwan's second largest port.
Looking to the future, Taiwan is forging ahead with plans to further boost its already impressive MICE infrastructure. The Kaohsiung Music Center is expected to launch by end-2020, with space for groups of up to 10,000 in the outdoor area, while the Tainan Convention & Exhibition Center is due to open in 2021 with over 10,000sqm of event space. In central Taiwan, the Shuinan International Convention Exhibition Center anticipates a launch in 2022 and will accommodate 1,600 delegates.
Taiwan's growing MICE offerings are supported by the award-winning team at MEET TAIWAN. The organisation is ready and waiting to assist international conference, incentive and meeting planners with preparing to host events in Taiwan once restrictions are further eased. A number of subsidy schemes and support programmes that include financial assistance, fast-tracking of visa applications, and VIP souvenirs are also available.
For more information on planning an event in Taiwan, visit MEET TAIWAN's official website.
Taiwan's MICE Promotion Program
Organised by Bureau of Foreign Trade, MOEA
Taiwan External Trade Development Council
Ad. by Bureau of Foreign Trade, MOEA