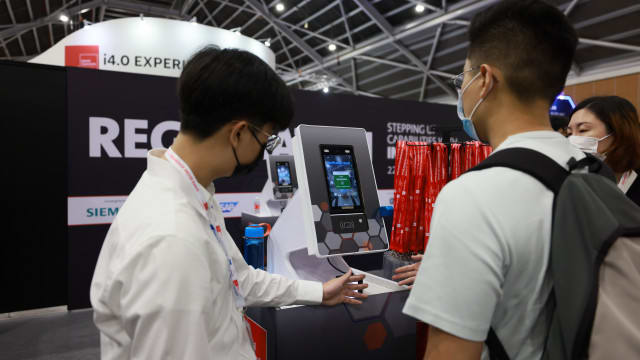 Singapore's safety certification brings confidence back to events
An airshow, a 3,600-strong exhibition and an APEC forum are just three events that have implemented Singapore's new safety protocols to boost the nation's MICE industry.
This article is produced in partnership with The Singapore Tourism Board.
Ask any event organiser to list 'the safest cities in the world' and they are likely to name Singapore. Widely regarded for its green spaces, low crime rates, pedestrianised streets and easy transport links, it's long been one of the most secure global MICE destinations.
But the definition of a 'safe' event has changed since the pandemic, and organisers need assurances that they are choosing the right destination. They want their attendees to experience everything they would expect to find at an international venue, but in an easy-to-navigate, Covid-safe environment.
As part of its roadmap to reopening the MICE market, the Singapore Association of Convention & Exhibition Organisers & Suppliers (SACEOS) – together with the Singapore Standards Council and Enterprise Singapore – has launched the SG SafeEvent Certification, based on the Technical Reference 84 (TR84) standards to ensure that safety measures meet, and even exceed, the MICE industry's expectations.
The standards mandate that all organisers must have a robust risk-management plan in place for every event, identifying potential hazards and including protocol for emergency situations, while venue operators need to implement stringent cleaning plans and monitor air quality.
Contactless technology must also be adopted where applicable, and new technologies, such as RFID tokens that blink red when the wearer is too close to another delegate, will be used to monitor social distancing. SACEOS has also trained 1,000 SG SafeEvent Ambassadors, and at least one ambassador will attend every event to ensure the new TR84 standards are being upheld, especially at hotspots such as registration areas, eating places and exit points.
Image credit: Resorts World Sentosa
"TR84 offers the assurance of safe events that go beyond compliance with the government-mandated measures," says Leck Chet Lam, Managing Director, Experia Events. "It provides guidance on hygiene benchmarks, safe distancing and risk management, so that all Singapore-held events are presented with consistent standards."
Experia Events has already used its SG SafeEvents certification to run a successful post-pandemic exhibition. "The recent Singapore Airshow 2022 is an example of our readiness to host large-scale international events," says Chet Lam. "Organising this event safely during a pandemic is testimony to our MICE industry's knowledge and know-how."
Resorts World Sentosa – an integrated resort and events venue on the island of Sentosa – has also received SG SafeEvent Certification, which it says has enabled the reimagining of conferences and meetings in Singapore since the pandemic.
"We have reinvented ourselves, by coming up with innovative and creative solutions, and introducing a comprehensive suite of safe protocols with the health and wellbeing of our guests, team members and community in mind," says Edward Chew, senior vice president, sales and marketing.
In February, the luxury resort hosted an in-person event for 200 representatives from countries including Japan, Australia, Thailand, the USA and Canada for the APEC Business Advisory Council (ABAC). "Delegates enjoyed the retreat-like atmosphere and were able to have in-depth engagement with their key partners," says Chew.
Image credit: Resorts World Sentosa
Constellar Venues is another organisation to have attained the new certification and has since put these learnings into practice, hosting an estimated 3,600 visitors at ITAP 2021, which the MICE company describes as the 'largest in-person exhibition in Singapore since the pandemic'.
"We were able to seamlessly integrate pre-event testing, social distancing, tracking and incident management technology solutions without compromising the attendee or exhibitor experience," says group CEO Jean-François Quentin.
But safety isn't the only consideration for event organisers. Quarantine-free entry to countries is also likely to be high on the list when choosing between international destinations, and people arriving in Singapore can now expect to go about their business once they have done an unsupervised self-swab antigen rapid test (ART) within 24 hours of entering Singapore.
This combination of the new safety standards and ease of access into the country shines a renewed spotlight on Singapore as a confident choice for events. Delegates will be able to relax knowing that their safety is top of mind, while organisers can choose from a growing number of certified venues, giving them all the assurances they need to host safe in-person and hybrid events.
"Singapore remains one of the world's top cities and travel hubs to do business," says Chew. "Together with all our stakeholders, we will continue to strengthen Singapore's branding as a safe and sought-after MICE destination."
Head to the Visit Singapore website to learn more about how Singapore can help you deliver impactful hybrid conferences and events.
Main image credit Consteller Venues