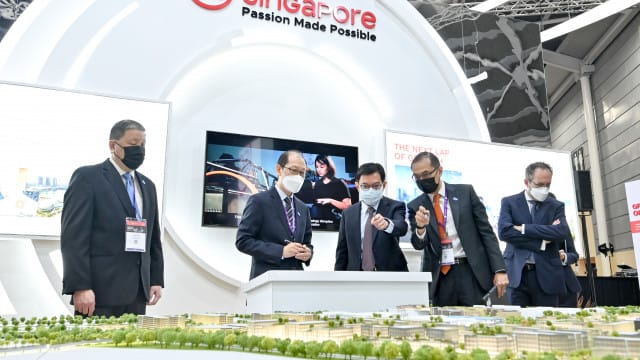 Smart event innovations from Singapore's latest trade exhibition
Facial-recognition check-in, footfall tracking and a robot cleaner – discover the latest event tools and technology, as seen at Industrial Transformation ASIA PACIFIC 2021.
This article is produced in partnership with The Singapore Tourism Board.
Singapore has long been recognised as a hub for the manufacturing industries in Asia, with its reputation for engineering expertise and technological innovation. Plenty of both were on display at the city-state's biggest in-person trade event since COVID-19 restrictions began to ease – the fourth edition of Industrial Transformation ASIA PACIFIC (ITAP), dedicated to "Industry 4.0".
Held at the Singapore EXPO Convention & Exhibition Centre, the three-day event also had a strong virtual presence, bringing together over 11,000 in-person and virtual attendees from 70 countries, with more than 150 content sessions in total. It also showcased the advantages of the hybrid format and today's smart event technologies.
Connecting attendees on- and off-line
The physical exhibition at the Singapore EXPO featured 143 exhibitors and five national pavilions from Singapore, China, Germany, Indonesia and Malaysia, with a range of experiences to engage participants. These included live open-mic talks to promote knowledge sharing, off-site guided tours and an Experience Zone, powered by Singapore Polytechnic, designed to demystify Industry 4.0. Here, attendees could discover how technologies such as 5G and artificial intelligence (AI) are transforming advanced manufacturing processes, thanks to live demos of tools such as automated robotics.
Crucially for the success of a hybrid exhibition and conference, virtual attendees were also well catered for on the online event platform, ITAP CONNECTED. Here, they could access a comprehensive e-showcase of exhibitors, while an online business-matching tool allowed them to connect with industry peers. There was also the chance to try a virtual factory walk-through as part of the event's Digital Sandbox. The platform has been left up and running for a full month from the event, in order to give attendees more time for learning and networking.
Innovative event technologies
Various new event tools and technologies were road-tested at ITAP to help keep attendees safe and well. Organisers trialled a new event solution, dubbed the Safe Event platform, which was developed by local tech companies Viatick and Trakomatic in response to a challenge to make events safer on the Infocomm Media Development Authority's Open Innovation Platform.
It includes a tracking dongle that monitors anonymised visitor movements and dwell times, helping organisers identify busy hotspots and manage capacity at events. There was also a touchless check-in system that used facial-recognition technology to fast-track the printing of delegate passes, reducing queuing and physical contact on arrival.
Meanwhile, Singapore tech company Transforma Robotics deployed their Extreme Disinfection Robot XDA300 – an automated cleaning machine that helped keep the show floor safe and sanitised for attendees. Equipped with a 3D camera for guidance, the robot cleaner disinfected touchpoints such as handrails, doorknobs and switches.
The return of business events
With all attendees vaccinated against COVID-19 and tested prior to the event, ITAP underlined the success of Singapore's MICE events in the new normal.
"ITAP 2021 has restarted MICE at Singapore EXPO, bringing large-scale physical exhibitions back," says Jean-Francois Quentin, CEO of ITAP organiser Constellar. "It has also renewed confidence and optimism in the return of business activity and events, proving the effectiveness of Safe Management Measures as we look forward to further easing of capacity restrictions and the return of B2C events."

Mr Heng Swee Keat, Deputy Prime Minister and Coordinating Minister for Economic Policies at INDUSTRY 4.0 EXPERIENCE ZONE Powered by Singapore Polytechnic
Key takeaways for event planners from ITAP 2021
Hybrid doesn't mean simply live-streaming your physical event online. Offer your virtual audience their own space, content and networking opportunities – and continue the conversation after the event.

Show as well as tell: do incorporate products, prototypes and interactive live demos into your event to bring high-concept ideas to life.

You may or may not have access to robot cleaners ­– but do sense-check you are doing everything you can to reduce unnecessary COVID risks, such as beating arrival queues with fast check-in technology.
To find out more about organising safe and successful exhibitions and conferences in Singapore, head to VisitSingapore.com/mice
Main image: Mr Heng Swee Keat, Deputy Prime Minister and Coordinating Minister for Economic Policies at Singapore Government Pavilion