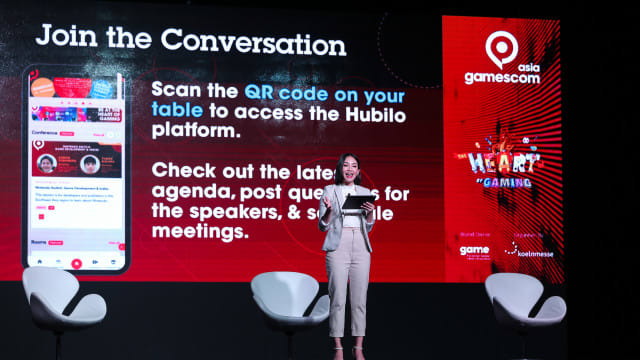 Creating a truly hybrid experience at the gamescom asia conference
Find out how organisers Koelnmesse brought together gaming industry professionals for a landmark hybrid event in Singapore.
This article is produced in partnership with The Singapore Tourism Board.
Gaming is now a USD173 billion business globally, and the Asia Pacific region is its biggest market. The gamescom asia conference in Singapore was a hotly anticipated opportunity for local and global gaming and mobile gaming developers, publishers and enthusiasts to reunite after a two-year hiatus.
"gamescom asia is the premier platform for game developers in Southeast Asia to explore global partnerships, and a hub for international publishers who are looking for the next big thing," explains Prakash Ramajillu, Division Director for Technology, Digital Media, Entertainment and Mobility at Koelnmesse Singapore. "To give fans and the industry a taste of things to come in 2022, our goal was to provide a hybrid event experience in 2021, featuring a virtual platform for the B2B crowd, online shows for B2C and a hybrid trade conference."
With a tech-literate audience, there are high expectations around the delivery and production quality of a hybrid event. "Shared touchpoints for online and offline audiences had to intertwine seamlessly," notes Ramajillu.
So how did the team pull it off?
Photo credit: gamescom/Koelnmesse
Bridging the gap between in-person and virtual
The Trade Zone at the event, which hosted gaming industry professionals, was fully hybrid, with a physical base at the Suntec Singapore Convention & Exhibition Centre. "We had a mix of speakers who were present in Singapore, and those who were able to beam in online," says Ramajillu. "Conference sessions were streamed live concurrently at the venue and on our virtual platform for delegates tuning in remotely."
As NME recently reported, Singapore is becoming something of a centre for gaming and esports. With a thriving homegrown gaming industry and 5G connectivity for superb streaming, the city-state also hosted several major e-sport events in 2021, including the first international Wild Rift tournament, the League of Legends: Wild Rift Horizon Cup, in November. A pavilion housing 11 Singaporean gaming studios and developers at gamescom asia gave delegates the chance to experience games and products first-hand.
In-person exhibitors and attendees were also able to set up online meetings with those who couldn't attend the physical event, with the help of virtual booths on the digital event platform. This provided a handy bridge between the in-person and online event elements, helping ensure virtual attendees didn't miss out on opportunities to interact.
The event also used gamification to encourage playful networking among virtual Trade Zone attendees, with an online gaming tournament for streamers from developer AMD.
Meanwhile the all-digital Entertainment Zone allowed international gaming consumers to preview the latest industry developments by broadcasting content across six different content platforms – including new gamescom asia channels on TikTok and Discord. Organisers also enlisted carefully chosen regional media partners (such as popular Philippines blog UnGeek) and gaming ambassadors to share content.
Photo credit: gamescom/Koelnmesse
Making safety a priority
People have been yearning to return to live events again, notes Ramajillu, so it was critical that organisers got it right – particularly from a health and safety perspective. To ensure the safety of all gamescom asia delegates, all attendees had to be fully COVID-vaccinated and undergo daily pre-event testing prior to attending the conference. This was implemented as part of a new protocol trialled at the event, which enabled less restrictive safe management measures. For example, zoning requirements were lifted to facilitate networking.
Alvin Tan, Singapore's Minister of State for the Ministry of Trade and Industry and for the Ministry of Culture, Community & Youth, said: "Singapore is well-placed to safely and gradually resume larger MICE events in 2022 and beyond. Our high population vaccination rate has laid a strong foundation for us to resume large-scale MICE activities with international participants in a risk-calibrated and phased manner.
Photo credit: gamescom/Koelnmesse
Hybrid events are here to stay
To create successes like this, hybrid-event organisers should be really clear upfront about what they want to provide for attendees and achieve with their event, advises Ramajillu. "Communication is also key, to ensure attendees can easily orientate themselves – whether online or onsite – and fully optimise their time."
For Ramajillu, while the event demonstrated the exciting possibilities of virtual, it also reaffirmed the "magic" of face-to-face networking. "We received overwhelming support and positive feedback from the industry, who were simply happy to be able to meet in person again and see the revival of gaming events in Singapore," he says.
Overall, more than 2,200 attendees from over 60 countries joined the four-day event either in person or virtually, including speakers from big-name developers such as Sky Mavis (creators of Axie Infinity, the trading game with its own cryptocurrency) and Square Enix (best known for Final Fantasy). The online Trade Zone hit a record high of 41,000 interactions between attendees, sponsors and exhibitors, while the consumer Entertainment Zone reached over four million viewers. The resounding success of the conference has paved the way for the next gamescom asia, to be held in 2022 in Singapore, along with other hybrid events in the city state.
Photo credit: gamescom/Koelnmesse
Head to the Visit Singapore website to learn more about how Singapore can help you deliver impactful hybrid conferences and events.
Main image credit: gamescom/Koelnmesse