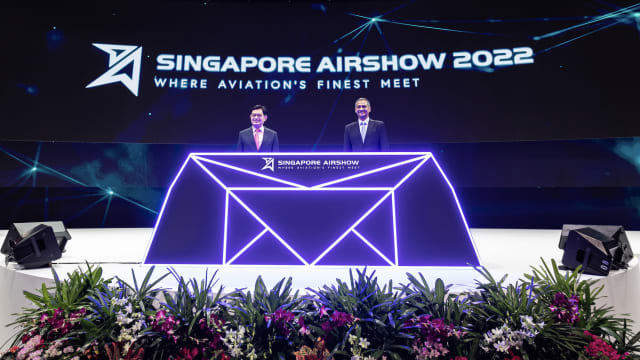 Singapore Airshow: soaring to new heights
Asia's leading aerospace and defence exhibition, The Singapore Airshow, made a triumphant return to the world of live events this year, drawing close to 13,000 trade attendees from more than 39 countries or regions and almost 600 participating companies.
This article is produced in partnership with The Singapore Tourism Board.
The biennial Singapore Airshow took place from 15-18 February at Singapore's Changi Exhibition Centre and was the country's largest MICE event to date since the onset of the pandemic. It featured an array of exhibitors and buyers, with over 70% of the world's top 20 aerospace companies taking part, including Airbus, Boeing, Rolls-Royce, Safran and ST Engineering, to name a few.
Support for sustainable aviation
The show's overriding theme was designed to resonate with a world increasingly concerned about sustainable development and responsible business and travel, with a host of deals and innovations in this field unveiled. The inaugural Sustainable Aviation Forum also provided an opportunity for experts to discuss the challenges and opportunities within sustainable aviation.
Singapore's Transport Minister, S Iswaran, told local media at the show that sustainability was a "major priority for global aviation". While global efforts and initiatives have been made, Iswaran underscored the need to "bring all this together in an overarching framework in the long-term", which is "why we are developing a sustainable air hub blueprint that will spell out our medium-term targets for 2030 and our long-term goals for 2050".
He added: "It will also chart the pathways to achieve those targets. We need strong international cooperation and also public-private partnerships."
In that vein, the show floor comprised companies announcing various innovations to reduce carbon emissions and accelerate the drive towards sustainable global aviation. Thomas Böttger, senior vice-president at Lufthansa Technik, showcased a product called AeroSHARK, explaining how the company sought to reduce its environmental impact by taking inspiration from Mother Nature.
"We mimicked the surface, the skin, of a shark – something that biology evolution optimised over thousands of years," he said. "The structure of the skin reduces the drag of the shark going through the water. We tried to copy this effect and created a foil that you can put on the airframe and significantly reduce the drag of an aircraft during a long haul flight." The result is a 0.8%-1% reduction in fuel burn.
"That doesn't sound a lot but the multiplier is big – hundreds of wide-body aircraft, thousands of hours of flying – so this would add up for a single aircraft to [cutting] one thousand tons per year."
Meanwhile, Dr Francis R Preli Jr, vice-president, propulsion and materials technologies at Pratt & Whitney, outlined the three phases of a greener future for aviation.
"In the first phase, engines will be made to operate on sustainable aviation fuel [SAF], which will reduce the CO2 signature. In the second phase, engines will be made to run in a hybrid electric mode, which improves their efficiency and reduces the amount of fuel required. Finally, in the third phase, engines will be adapted to run on hydrogen, which completely eliminates the CO2 emissions."
As part of their commitment to reducing emissions, Singapore Airlines, Airbus, Rolls-Royce and Safran signed a global declaration to accelerate the development, production and use of SAF. Safran also signed a memorandum of understanding with ST Engineering to study SAF use in its helicopters, which it hopes will result in an 80% carbon reduction.
Big business is back
Elsewhere on the show floor, numerous deals were made, a testament to the renewed power of face-to-face events. Singapore Airlines made an order for seven Airbus A350F freighters, with options for five more, while the airline also signed a long-term agreement with Collins Aerospace to support its fleet of 55 Boeing 787s.
Strategic links between companies were also forged, with ST Engineering, Skyports and Sumitomo Corporation forming a consortium to provide unmanned aircraft services for shore-to-ship parcel delivery; while the Civil Aviation Authority of Singapore (CAAS) announced its collaboration with Changi Airport Group, Airbus and Linde to study the development of hydrogen supply and infrastructure for aviation.
Renewed momentum for the MICE industry
The show's hive of activity took place in a MICE environment that is making a big comeback. "The aviation industry has proven its resilience by overcoming numerous obstacles over the years," said Leck Chet Lam, managing director of Experia, organiser of Singapore Airshow 2022. "The presence of major exhibitors, partners and trade attendees is evidence of the collective optimism for recovery."
Richard Jerome, senior director of international business development, mission systems at Collins Aerospace said: "The key takeaways for us and for the team were the quality and engagement we had with our customers, to be able to have direct conversations on their needs, their requirements; and to be able to bring that back to the corporation, to be able to understand how we can help our customers be successful."
A bright future for events
The Singapore Airshow was a demonstrable success, proving that Singapore's MICE industry is ready and equipped to operate in a safe environment and provide a seamless, quality delegate experience. Nearly 80% of key exhibitors expressed their intention to return for the show's ninth edition in two years (20-25 February 2024).
The further relaxation of travel restrictions in Singapore from 1 April will make it even easier for delegates, exhibitors and event participants to convene in person for MICE events. Fully vaccinated travellers to Singapore will now enjoy quarantine-free entry and will no longer have to take an Antigen Rapid Test on arrival.
These measures will greatly benefit MICE events taking place in Singapore in the future, including Singapore International Water Week in April, FIND – Design Fair Asia in September and FHA-Food & Beverage (Asia's largest food and drinks trade event), also in September.
POH Chi Chuan, executive director, exhibitions & conferences, Singapore Tourism Board, said: "With the reopening to all vaccinated travellers, it is now easier and more convenient to meet in Singapore. We have secured a strong pipeline of events for 2022 and beyond, and are confident that this will anchor Singapore's position as a Global-Asia Node for MICE."
Head to the Visit Singapore website to learn more about how Singapore can help you deliver impactful hybrid conferences and events.