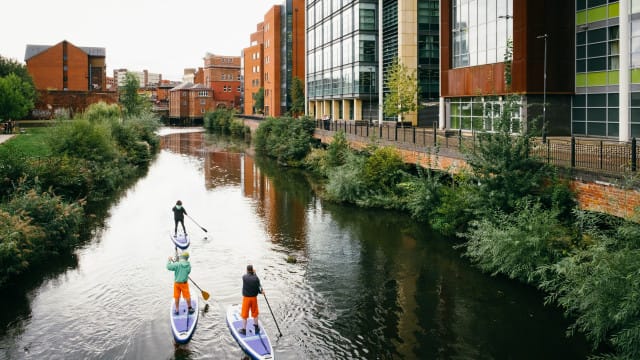 Why Sheffield is full of surprises for business visitors
From green spaces to memorable venues, discover the secrets of one of the UK's most likeable cities – and host of C&IT's upcoming Northern Forum.
This article is produced in partnership with Conference Sheffield.
Sheffield is a city not known for blowing its own trumpet. Compared to other northern metropolises like Manchester or Leeds, it often flies a little under the radar. But the city has long been quietly reinventing itself as the northern capital of cool.
From stylish venues and hip regeneration projects to its wealth of green space and sustainability credentials, Sheffield is a real crowd pleaser. Little wonder, then, that it was the only UK city in the top ten of Time Out's latest European city breaks guide. As we look forward to C&IT's Northern Forum in Sheffield in March, read on to discover five of the city's biggest benefits for event bookers.
1. Space to breathe
Not every major city can boast of being inside a national park, yet a third of Sheffield lies with the celebrated Peak District. Sixty-one per cent of the city's entire area is green space, making it a great destination to find venues with al fresco areas or build outdoor experiences into your event – elements that are likely to remain popular with attendees this year.
Venues include the tranquil Botanical Gardens, recently singled out in the Guardian as having one of the UK's 10 best hothouses. Meanwhile, you have some of the UK's most stunning landscapes on hand if you fancy taking your group further afield. Hiking, bouldering and caving are all on the menu with trusted local specialists such as Pure Outdoor (recently shortlisted as one of the region's most ethical, responsible and sustainable providers in the Peak District & Derbyshire Tourism Awards 2022).
2. Britain's greenest destination
Sustainability is a top priority for business bookers as we head into 2022, and Sheffield is really delivering on this front. It was ranked the UK's most eco-friendly city by the researchers of Natwest's Green Cities Report, which drew on a range of environmental data including energy production, recycling and car use.
Sheffield's award-winning Grey To Green scheme is typical of its eco-ambition, installing an innovative and sustainable drainage system and bringing walking and cycling routes into the heart of the city. In 2022 Sheffield will host the Department for Transport's Cycle Active City conference, which will focus on active travel modes such as cycling and walking, and how they contribute to better public health, cleaner air and increased community resilience – sharing best practice from everything Sheffield has achieved to date.
3. City of ambition
Memorable venues abound in Sheffield, from the stunning plant-filled oasis of the Winter Garden – Europe's biggest urban glasshouse – to The Mowbray, a formerly derelict industrial site that has been sensitively transformed into a stylish multi-use space.
But Sheffield is not resting on its laurels, with ambitious plans to transform and revitalise the city centre that are already well under way. A £42.5m urban redevelopment planned for the High Street and Fargate will incorporate low-carbon office space, a 20,000 sq ft industrial-styled food hall and a 15,000 sq ft live entertainment venue. Meanwhile, a new Radisson Blu hotel is due to open in summer 2023 as part of the flagship Heart of the City project, which will create a total of 1.5 million sq ft of individually designed and repurposed buildings.
4. World-class expertise
Sheffield is a knowledge hub in a number of fields, from technology to healthcare. Its Russell Group university is ranked in the top 100 globally, with a cutting-edge reputation in engineering, smart materials and stem cell technology.
The university's Advanced Manufacturing Research Centre (AMRC) includes Factory 2050, a research hub for the future of manufacturing, while its Nuclear AMRC recently hosted the inaugural Nuclear Manufacturing Summit, and will do so again in 2022. Together, they form part of a world-class research and training cluster that has attracted major brands like Boeing, McLaren Automotive and Toshiba to the city's Innovation District.
Health and wellness are also high on the agenda in Sheffield, with an Advanced Wellbeing Research Centre dedicated to improving health through movement, from COVID-19 rehabilitation to sports medicine.
5. Location, location, location
Long heralded for its accessibility, Sheffield's location at the heart of the UK makes it a great choice for bringing together delegates from nationwide, with a two-hour direct train link to London (and a 3 hour 44 minute journey from Edinburgh).
Once there, Sheffield is a city that's "doable in a day", with a compact centre that's easily walkable from the railway station, and enviable public transport, including a Supertram system that runs seven days a week until midnight.
Plus, the competitive rates for doing business in Sheffield are a pleasant surprise for event bookers looking for that all-important value and ROI.
Visit welcometosheffield.co.uk/conference to find out more, and contact Conference Sheffield on conferences@sheffield.gov.uk or 44 (0)114 273 5978 if you would like help with planning a business event.