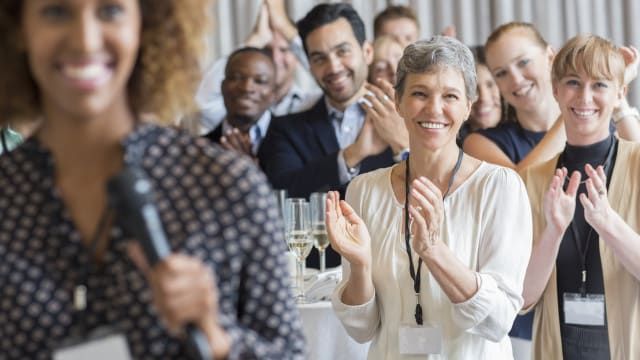 Six steps to getting the right speakers for your event
How to plan, brief and manage a speaker roster that packs a punch.
This article is brought to you in partnership with Cvent.
Talented, knowledgeable, charismatic speakers have always been in demand on the events circuit. These days, though, they need to offer more. In a post-pandemic world, speakers should be familiar with event technology, able to engage with virtual audiences and be aware of diverse perspectives.
So, how can you find, brief and manage your star speakers to make your event stand out from the crowd?


1. Align your speakers with your event objectives
What are the goals and core KPIs of this particular event, and what kinds of speakers can help you deliver that? Think about whether your speakers will impress your audience, your sponsors and, if needed, the media. The right speaker will help you build pre-event buzz, and sell more tickets.

2. Pick a speaker who'll wow your audience
Which speakers will your audience respond to? Start by asking your attendees on post-event questionnaires or social media if there's anyone they'd like to see at a future event.
Equally, you don't want to be too predictable. "The most interesting speakers challenge their audiences," says Alex Merry, public speaking coach and founder of MicDrop. "They don't stand on stage and talk about themselves for 60 minutes; they share ideas and insights that their audience may have considered unthinkable before they'd sat down. That's how wow moments are created."


3. Think outside the circuit
A speaker's reputation is not always a good indicator of the quality of their talk. "Going with a household name might feel like the least risky option, but those who have been on the circuit for a while can be underwhelming on the day," says Merry. "If you can find an emerging speaker with a point to prove, there's a good chance you'll surprise and delight your audience."
Check out LinkedIn, look at other events and who's speaking there, and keep an eye on who's got a book coming out (they'll want to plug it). Depending on the tone of your event, you could consider experts in their fields such as university lecturers and heads of charities, who'll be used to speaking to a crowd.


4. Deliver breadth and diversity
It's obvious that 'manels' (all-male panels) are a bad idea, but men still dominate the speaker circuit. Analysis of UK events in 2019 found that more than two-thirds (69%) of all speakers were male. 'Whanels' (all-white panels) should also be avoided. It's important that panels are diverse in order to prompt a broad and varied conversation that brings new and innovative perspectives.
Working harder at the outset to achieve a representative mix of speakers will bring bigger rewards.

5. Keep your virtual audience in mind
As more events go hybrid, your speakers may find they need to engage with both an in-person and virtual audience. In a post-pandemic survey, 64% of virtual attendees said the quality of speakers encouraged them to sign up for events. In addition, 67% of virtual attendees said it was essential for presenters to be engaging and passionate about the subject they're talking about.
Speakers should involve both audiences at a hybrid event via Q&As, and speaking directly to both groups.

6. Preparation, preparation, preparation
It's important to provide a detailed brief for speakers well ahead of the event. "Let them know what event success looks like for them," says Merry. "Knowledge breeds confidence, so don't forget to share things such as set design and what sort of microphone they'll be using, so they can wear something appropriate. Tell them how they are going to be introduced and what you want them to do when they bring their keynote to a close.
Merry adds: "On the day, go out of your way to make them feel as welcome as possible, allow them a full tech run-through and get them mixing in with the audience to help them relax."
If you have a number of speakers at your event, managing them all can be tricky. This is where tech solutions come in. For instance, Cvent's Speaker Resource Center streamlines communication with speakers, allowing you to automatically request items such as speaker agreements, presentation slides, headshots and bios, as well as collaborate on logistics and content.