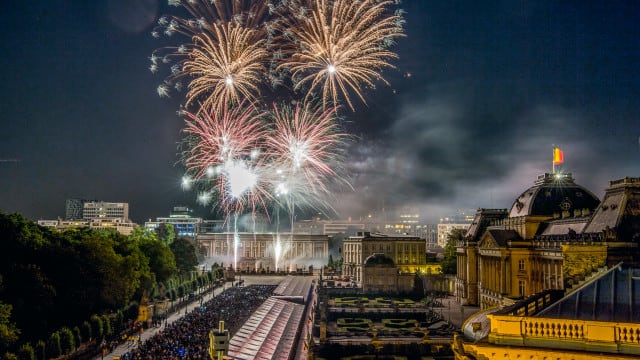 How Brussels is delivering peace of mind for event planners
Confidence is the one thing we all want to feel about events right now – here's how the 'capital of Europe' is providing it.
This article is produced in partnership with Visit Brussels.
At the top of every planner's checklist today, you'll find three things: safety, convenience and trustworthy event partners. And Brussels ticks those boxes with ease. After all, few cities have as much experience in hosting global gatherings responsibly as the home of the European Parliament and headquarters of more than 2,250 international associations. Brussels offers peace of mind in a plethora of ways.
As planners look to their 2022 programme, visitor health and safety is paramount. Organisers and delegates can be sure the Belgium capital has a raft of robust measures in place. It has created a Health Safety Label, an audited certification that recognises businesses who comply with the latest regulations and best practices to ensure a space is COVID-safe, with hundreds of venues, hotels, restaurants and attractions having secured the accolade.
For safer and smoother access to events with more than 50 people, Brussels has introduced the Covid Safe Ticket. The QR code provides travellers with an easy way to prove they are either double vaccinated, have tested negative, or are fully recovered from COVID-19.
Expertise on tap
Regularly rated one of Europe's top destinations for congresses and meetings, Brussels has recently hosted a number of safe and successful live events post-pandemic. The 10th annual Move Congress, aiming to reconnect those in the sport and activity sector, took full advantage of the spacious surroundings and high ceilings at Maison de la Poste, a former railway station now repurposed into a stunning heritage events space.
Brussels' full-service convention centre Square recently welcomed the International Symposium on Intensive Care & Emergency Medicine (ISICEM). The conference proceeded only with strict social distancing, one-way flow systems and health and safety protocols in place, while everyone received a bracelet to verify they were COVID vaccinated or checked. Meanwhile the Bureau of International Recycling held its Global e-Forum in the luxurious setting of the Steigenberger Wiltcher's Hotel, with the hybrid event also being made available online to global audiences.
Event organisers can take advantage of expert support from the Visit Brussels convention team when planning similar conferences. Services include bid support, an ambassador programme and specialist advice for associations.
Reassuring spaces
Venues with outdoor spaces have certainly risen in popularity post-COVID, and are ideal for reassuring delegates. Brussels has plenty of open-air options on offer. BluePoint Brussels has 700m2 of space, including a trendy terrace and garden with an indoor solution available if the weather disappoints. For a walking-friendly dinner, visit the charming Chalet Robinson, a three-storey wooden restaurant and cocktail bar set on a natural island in the heart of the capital.
If you're planning more hybrid events to maximise attendances in 2022, you want to be sure everything goes without a hitch. Brussels has plenty of tech specialists to help deliver the digital side of things. Whether you're after studio-quality live streaming, slick video content or virtual reality meeting rooms, there's even a handy directory of tech trailblazers who can help you realise your hybrid dreams.
Easy journeys
As the 'capital of Europe', Brussels is quick and easy to reach by road, rail, and air. It is the epicentre of Europe's densest high-speed rail networks, with 60 million Europeans living within a two-hour train ride of the city. Plus there are up to four direct train services daily from London St Pancras International.
Once there, Brussels is one of those rare cities that is genuinely easy to explore on foot. Many event venues, hotels, museums and iconic places are within walking distance, while attractions outside the city centre are only a short journey away by tram, bus or metro. Travel without hassle? That's top of every wishlist for 2022!
Head to visit.brussels/meetings to find out more about meetings and events in Brussels, or get in touch with the team at meetings@visit.brussels