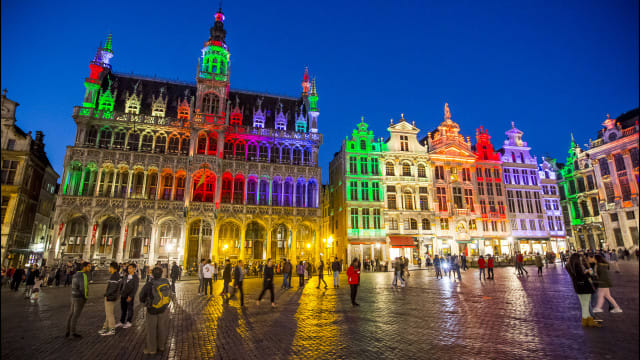 Five reasons Brussels makes sense for events in 2022
Belgium's cosmopolitan capital is well-versed in welcoming international visitors – plus it is historic, hip and highly influential.
This article is produced in partnership with Visit Brussels.
Brussels is one of the most influential cities in the world. Renowned as the "capital of Europe", it is a global hub for politics, business and culture. A natural meeting place to do business and bring together delegates from across the continent, this well-connected city offers venues, suppliers and experts to suit any event. The metropolis also scores top marks for sustainability, accessibility and offering a warm welcome to groups and associations.
Read on to discover five reasons why Brussels makes sense as a conference and events destination in 2022.
1. It's serious about sustainability
A long-time trailblazer on environmental matters, Brussels was recently crowned the number one Sustainable City in Europe for environmental policy. The city has also caught the attention of the clean-tech sector, playing host to many green-themed events such as Sustainable Energy Week and the Annual Carbon Capture & Storage Summit.
You'll also find plenty of venues and events spaces that can deliver on your CSR goals. A stand-out destination is Tour & Taxis, a former mail facility that has been reimagined as an eco-friendly district. It's home to the BEL conference centre, an energy-efficient venue that offers a 450-seat auditorium and multiple meeting rooms, and serves tasty sustainable and organic food.
2. Brussels is a city of influence
As the seat of the EU, Brussels is an ideal location to get close to Europe's policymakers. It hosts major European institutions, diplomatic corps, a huge journalist community and lobby groups. Brussels is also big on business, with 1,700 major corporations based in the city.
With 183 nationalities calling Brussels home, it is a thoroughly modern, multicultural capital. International event planners will find plenty of translators and interpreters on hand to help their events go smoothly.
3. Brussels is brimming with culture
Admired for its Art Nouveau architecture and, increasingly, for fashion and textile design, Brussels is emerging as a contemporary creative and cultural hub. In non-pandemic times it welcomes around 18,000 cultural events every year, and there's no shortage of traditional markets, museums and microbreweries to be explored, along with the Gothic and Baroque glories of the UNESCO-listed Grand-Place square. Delegates can enjoy a stroll through its (by turns) majestic, modern and quirky cityscape, with more than 2,000 restaurants to choose from – and decide for themselves if the chips, beer and chocolate really are better than anywhere else!
4. It couldn't be more convenient
For event planners, Brussels boasts the all-important accessibility factor. Located in the heart of Europe, it is easy to reach from across the continent by air, road and rail. For UK travellers, there are around 11 flights a day from London, with routes available from Birmingham, Manchester, Bristol and Edinburgh.
And for planners seeking a more sustainable travel option, it is also one of Europe's most accessible cities by train, with up to four direct train services from London St Pancras International to the centre of Brussels. The city itself is surprisingly compact, with many places within walking distance of the centre, or a short ride away by tram, metro or bus.
5. It's great with groups and associations
Brussels is home to more international associations than anywhere else, with 2,250 headquartered in the city. With its unrivalled expertise in hosting group gatherings, it's not surprising that Brussels regularly ranks among the Union of International Associations' (UIA) annual list of leading events destinations.
It's the perfect place to convene your members, grow your profile or get close to European decision-makers. The city's dedicated convention and association bureau provides a one-stop shop for association event planners. And if you like the city so much you decide to stick around, they can even advise on how to set up a base there.
Head to visit.brussels to find out more about what Brussels has to offer – or read their FAQs about hosting association events in the city.