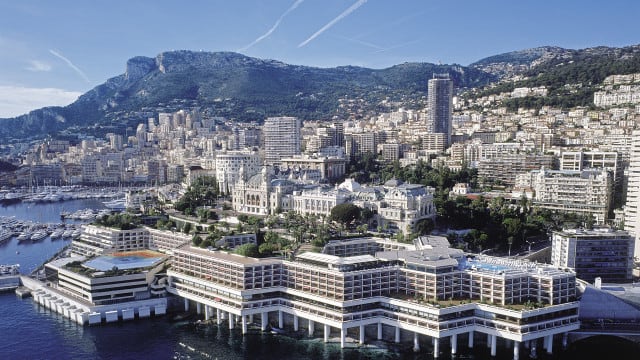 Five reasons to host your business event at the Fairmont Monte Carlo
From stunning views of the Mediterranean Sea to sensational environmentally-friendly catering experiences, the Fairmont Monte Carlo boasts the largest meeting and event facilities on the French Riviera. Explore what else makes it such an attractive business destination.
This article is produced in partnership with Fairmont Monte Carlo.
Anyone thinking of hosting a business event in Monaco will likely know all about its proximity to the Larvotto beach, its glorious weather with more than 300 days of sunshine each year, and the principality's famed nightlife. But it's also host to the Fairmont Monte Carlo, which offers a range of new and improved features that make it an attractive business venue.
Here are five reasons why you should be thinking about hosting your next business event at the Fairmont Monte Carlo:
1. Accessibility and destination
Monaco itself is located just 20km from Nice – the second largest airport in France – taking just 35 minutes by car, and seven minutes by helicopter. The Fairmont Monte Carlo is right at the heart of the Principality, within walking distance of all the main attractions, including the beach and the Grimaldi Forum.
The hotel itself is built on stilts over water, conveying the impression to guests of being on a cruise ship. It boasts a stunning view of the Mediterranean Sea, a superb rooftop pool, four restaurants and the luxury La Vallée Spa. It also overlooks the famous Fairmont Hairpin bend, part of the Monaco Grand Prix circuit.
2. Modular meeting spaces
As a business meeting destination, the Fairmont Monte Carlo is second to none. It boasts the largest meeting and event facilities on the French Riviera, with more 4,500sq/m of meeting space, including 18 meeting rooms and more than 30 breakout rooms for smaller groups.
It also features the two largest hotel ballrooms on the Côte d'Azur, including the new 1,465m² Grand Salon – the largest indoor public room in Monaco, which can host up to 1,500 guests – making it an event space to remember.
3. Banqueting and catering expertise
Catering is an essential part of any successful event. Grand Events Fairmont Monte Carlo has been providing a sensational experience to guests for more than 40 years, and in 2011 was the official caterer for the royal wedding of Albert II of Monaco and Princess Charlène of Monaco.
Guests will receive a contemporary, diverse and environment-friendly catering offer, with a range of food from around the world including Mediterranean, Indian, Kosher, Peruvian and Lebanese cuisine.
Visitors have a range of restaurants to choose from, including Nobu, with its Peruvian-influenced Japanese cuisine; the Lobby Lounge, featuring a choice of authentic dishes; Horizon Rooftop, boasting unbeatable views; and Nikki Beach.
4. Eco-friendly meetings
The Grand Salon itself is a former casino and cabaret hall. With repurposed buildings far more environmentally-friendly than building new ones, this magnificent venue has now been renovated into a large flexible space for any event. Adjacent to the Salle d'Or and the Galerie Cristal with its sea view, the Grand Salon has a carpet made of recyclable plastic bottles.
This sustainable ethos also extends to the catering on offer. Grand Events Fairmont Monte Carlo is committed to using local producers and does its utmost to avoid food waste and the use of plastics, and is a member of the Mr Goodfish programme.
5. A unique luxury brand
The Fairmont Monte Carlo was already a world-renowned hotel, famed for its unique, engaging service as well as its envious location on the French Riviera.

Now, it has further enhanced its offer with a complete renovation of all rooms and suites, which are decorated in light beige and blue tones to create a nautical feel. The rooms feature elegant furniture and a private terrace with a view on the sea, the garden or the famous Hairpin bend.
Resort suites, meanwhile, offer a kitchen, separate living room and a large terrace facing the sea. Along with the new rooftop Azur pool and bar, this creates the perfect environment in which to relax or for the family to entertain themselves.
---
To find out more about the Fairmont Monte Carlo or to book your business event:
Telephone: +377 93 15 67 06
Email: fmc.grandevents@fairmont.com
Visit: Fairmont-MonteCarlo.com