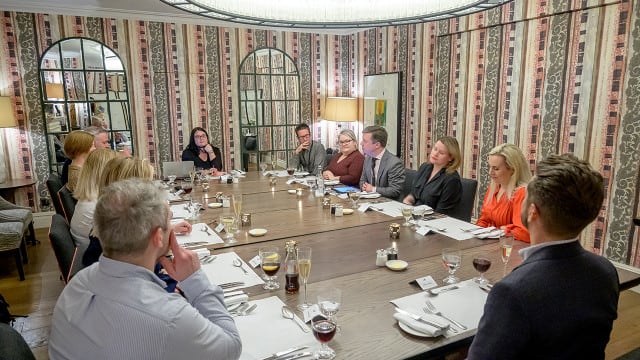 Events in 2022: Getting to grips with hybrid, addressing the skills gap and the sustainability challenge
A panel of event planners gathered to discuss the biggest challenges facing the the industry today and the findings from C&IT's 2021 State of the Industry report.
This article is produced in partnership with Cvent.
Event planners gathered at The Covent Garden Hotel in London for a lively debate on the biggest issues facing the industry and to discuss the findings from C&IT's State of the Industry report: Live, Digital and Hybrid Events 2021, created in partnership with Cvent.
The ability to deliver a hybrid event, recruiting people with the right skillset, and addressing sustainability and diversity were some of the key topics under the spotlight.
Pushing the boundaries
The discussion focused first on assessing the mood in the industry over the past year, the challenges planners have faced and what they have learnt. Jo Powel, senior event manager at Macmillan Cancer Support highlighted how the pandemic environment had enabled her team to be more innovative, with the move to virtual and hybrid events forcing planners to learn new skills and to define what different forms of events can achieve.
David Parker, commercial and events director at The Royal College of Physicians, said: Like many other venues, we lost a significant amount of business in a short space of time. This required us to completely reassess what we were doing, how we were delivering events and the associated costs for both the client and ourselves. We rebuilt our services from the ground up leveraging the opportunity to innovate our products, improve and finesse our events, especially virtual and hybrid. My team have up-skilled, have learned completely new ways of delivering events as well as gaining a much better and more rounded understanding of what commercial and internal clients need and how to deliver increased ROI's to them."
There was a general consensus that while people are very keen to get back to live events, interest in digital formats is still strong. Others said that overall, 2021 had been very much a time of 'stop/start' and unfulfilled anticipation.
James Loosley, senior events manager, philanthropy at Cancer Research UK, said: "Over the initial lockdown, virtual events had their moment. Content became a lot more important, we realised that when you strip away the experience, the venue and the decor, you still have content. It felt like 2020 was a year of learning that could be put into practice in 2021. But we never quite reached that stage, events were ultimately held off and zoom fatigue kicked in. My stakeholders were not that keen on organising more virtual events and were waiting for the return of in-person ones, but that did not happen for most of the year either."
The hybrid dilemma
Participants agreed that hybrid is an area they feel uncertain and anxious about. One planner said there was an instant expectation that you would know how to deliver an event remotely, but with no budget and no experience of the technology, the reality was that there was a lot of panic about which platform to use. Christine Howson, events manager, Aston Martin Owners Club acknowledged that there are some events that cannot be replicated virtually, such as black tie dinners or car related events. It can be very difficult to get people engaged online when their passion is for a product that they need to touch and feel.
Hybrid is clearly an area where there is still much learning to be done and participants were also divided over whether a hybrid event is one experience or two separate ones. The Royal College of Physicians' Parker, said: "A hybrid event is a single event delivered in two different ways ; with participants on site physically and the balance, at home or abroad, both engaging with the content and expecting to receive the same immersive experience."
At the same time, a new realm of opportunities has opened up. Suzanne Costello, events director at the Advertising Association said in the world of hybrid, event planners have to assume the role of television producers.
"Over lockdown we did a huge number of virtual events and I had to learn overnight how to run a virtual one," she says."We teamed up with a production company and it has set the bar quite high. For one event, we had a host so it wasn't just about people staring at screens. She interviewed people, attendees were dialling in and answering questions via Slido and it was much more interactive. Now with in-person events coming back again, there's a danger of sliding back into 'old school' ways. We're now thinking about how we can make it hybrid and exciting again. The anxiety is still there though; it hasn't gone away."
Cvent's business development executive, Rebecca Kirkos, pointed out that hybrid is seen as 'a bit of a dirty word' in the industry and has added a different interpretation: "It's one event but you really have three audiences: virtual, in-person and anybody watching afterwards," she said.
Same skills, different industry?
Participants highlighted recruitment as another major challenge. Many who were forced to leave the industry during the pandemic are now keen to rejoin – but, they are coming back to a sector that has changed.
"Many don't have the necessary skills [to host hybrid or virtual]," said Caroline Viac, events manager at The Health Foundation. "Trying to get the right workforce for a new event sector is a really big challenge."
Others pointed out that many skilled event professionals have secured alternative work in the legal, financial and insurance sectors, often on higher salaries and are therefore unwilling to return to event planning. This also prompted a discussion on how the pandemic has helped the industry to improve its approach to work/life balance.
"We are better equipped post-pandemic to have conversations about work/life balance," said Viac. "We should be taking care of ourselves and we should definitely be maintaining this, especially in our industry. An events job is advertised as a normal five-day working week, but the reality is that there will be some evening or weekend work and that can blur the lines so better work/life balance is something we should be embracing."
Pushing forward with sustainability
With so many other pressures to contend with, participants were asked if sustainability has taken a back seat.
For Cancer Research UK, Loosely said sustainability is not just a tick-box exercise. "It's coming from the top and there's been a real change in culture, we are waiting for sustainability to be the next big focus. We are starting to measure it so we can see where our starting point is."
Delegate attitudes are changing, too. Loosely referenced an annual conference abroad where some attendees said they couldn't justify to their children the need to fly to the event. It's not just the generation involved in the event that is applying pressure, but the next generation as well.
Others gave examples of internal rules being put in place restricting the number of flights/air miles for events and said they envisaged many businesses hosting conferences with virtual attendees or smaller in-person conference hubs, removing the need for people to travel long distances. Neil Roper, fundraising events executive at CAFOD said that everything the organisation is doing needs to be environmentally-friendly.
"Sustainability is really important and will get even more so," he said. "Climate change is everywhere and events are a key space to get a message across."
Participants said the issue goes beyond the events industry, and the consensus is that sustainability still has a long way to go, particularly with the reintroduction of single-use items during the pandemic, a practice which continues to linger on.
The debate also touched on diversity, with everyone round the table in agreement that more needs to be done.
"It's still hard to do in a way that is meaningful and not just as a way to manage PR," said Viac. "And measuring the success of diversity strategies is also hugely challenging."
Carla Hallmark Jones, head of events at Nesta said that actively admitting you are trying is the first step, and she added that her organisation has improved its approach to diversity in hiring because it is making conscious efforts: "We know we are not perfect but we're tracking our data and continuously improving the process."
Is the industry stronger now?
Do event planners believe they are in a stronger position now because of their experiences over the last two years? The consensus is that 2022 is still a year of discovery, and it may not be until 2023 before we see strong signs of recovery, particularly with the rising costs of living and ongoing instability across Europe.
Get in touch with Cvent to understand more about how to tackle your event management and marketing challenges!