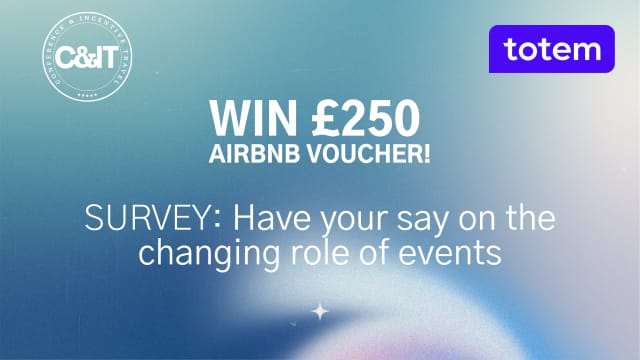 Win £250 Airbnb voucher and have your say on the changing role of events
The digital transformation of events has happened at pace over the past five years. As a result, brands can now measure and track audience behaviours in real-time across the lifecycle of their events and beyond.
As in-person attendance recovers, how are digital channels being used to enhance face-to-face interaction? How can event planners get the most value from live and on-demand content beyond their flagship events? Do we need to do more to signpost audiences to a digital 'home'? And what are the barriers to success when it comes to digitally enabled event?
So, C&IT has partnered with Totem on a survey to understand how event marketers plan to capitalise on events as important demand-generation tools and the changing role of events as a key channel in the marketing mix.
We would like a few minutes of your time to find out where the pain points really are for people in the industry. The results will inform an expert report in August which will help event marketers to get the very best from digitally enabled events. As a thank you, we'll enter you into a prize draw and two winners will be anonymously selected to win a £250 Amazon or Airbnb voucher, or an equivalent donation to a charity of your choice. Survey closes on July 14th.