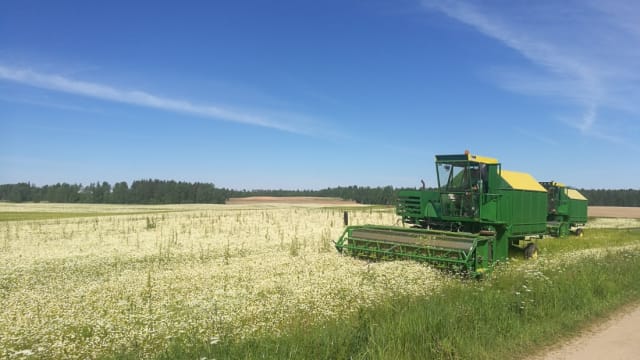 The sustainable revolution: Latvia's creativity and industry
This piece is in partnership with LIAA (Investment and Development Agency of Latvia).
How Latvia's major industries are leading the world when it comes to sustainable and creative environmental developments… and why the MICE industry should pay attention
Latvia is a place of trees. Forestry is the country's top industry, making up a fifth of its export value in 2018 – exporting nearly three-quarters of its output. Unsurprisingly, sustainability heads its concerns.
Inese Suija-Markova, the director of Institute for Environmental Solutions (IES) explains: "The IES has the mission to research and develop innovative solutions for the management of living natural resources such as plants, trees, forests and wildlife and the sustainable use of land.
"It is one of the few private research and innovation institutions in Latvia, founded by an entrepreneur in 2008. The founder has long standing experience in forest management and organic agriculture.
"The core of IES is an international network of scientists, artists, engineers and practitioners who care for environment. We create ad hoc multidisciplinary teams to design and develop customised innovative environmental solutions. We employ modern technologies, reflective practice and multi-stakeholder involvement."
Humanity and nature have always intertwined: cause and effect. To develop environmental solutions, IES aims to link the consequences with the correct causes. That needs multi-disciplinary thinking, creativity and modern technology such as Earth Observation, remote sensing, and analytical chemistry.
Around 40% of IES' financing comes from contract research for private and public clients; the IES raises the rest of its income through taking part in EU-backed international projects as well as other funding agencies.
With a multinational team of 30 staff members, based in the rural Vidzeme region, near Cesis – in the middle of nature – this is a truly global institute working on pan-European projects alongside work in India and Vietnam. Geography is no boundary to both research and application.
"Our motto is to be open to all new opportunities to learn and exchange practice, co-create with like-minded research institutes and others. This is the right mindset needed to shape the future together in the most resource-saving and sustainable way" Inese Suija-Markova.
It's with this culture of sustainability, of collaboration, a working way of embracing nature – not to mention space, calmness and a meditative, thinking backdrop – Latvia becomes a fascinating option for conferences and business events. The IES is a micro-bubble of a broader Latvian attitude that makes the country a creative and sustainable option for the MICE industry.
And if you look into the details of the IES, it's clear they mean business. Current works include…
Application of Earth Observation and remote sensing technology made available through our partnership with the European Space Agency and the Copernicus program. IES applies space technology to observe and monitor developments in nature around the world.
R&D on cultivation, chemical characterisation and fractioning of medicinal and aromatic plants. As Latvia is so sparsely populated with an abundance of natural resources such as forests, grasslands, clean agriculture land, there are great opportunities to grow high quality plants for food, medicine and cosmetics.
One of the main objectives of the IES is to identify new biomass processing routes for the raw materials to result in higher value of products. With clean soil, air and abundant natural resources, IES looks into using the the biomass as a source for products such as aromatic oils. See SIA Field and Forest, a company that are launching into biorefining of medicinal and aromatic plants with plans to open the first factory in 2021.
Taking out the bins
Plants and trees and their by-products convert into chemicals, essential oils, extracts, powders. Most by-products are not used and end up discarded as waste or source for energy products at best case. They can create new revenue streams and open new markets. Changing this mindset shifts everything to a sustainable circular economy.
Among other projects, IES also work on growing and re-cultivating disappearing and protected plants. The ancient wisdom about plants and their benefits is explored in Ethnobotany expeditions that create a legacy and gather historical and existing knowledge about the traditional use of medical and aromatic plants.
IES are open to knowledge sharing and new business opportunities and have collaborated in industry conferences as well as in visiting tours through local organisers and partners, with a focus on international collaborations in the Nordic and Baltic Sea Region and of course with countries like Italy, France and Germany.
With droughts and insect infestation the management of the natural resources sees a lot of changes and IES looking to solve these issues. There's the space technology for monitoring insect infestations, assessment of forest diversity and biomass, planning of more efficient forestry activities, as well as for the surveillance of illegal logging, to help sustain animal habitats. IES is also looking into timber and wood by-products. By-products of timber provide a high number of plant secondary metabolites, effective against pests and disease.
LIAA: Investment and Development Agency of Latvia
With the brand "Magnetic Latvia", the Investment and Development Agency of Latvia (LIAA) works to increase export and competitiveness of Latvian companies, facilitate foreign investment and implement tourism development and innovation policies.
For conference and congress development, please contact:
Ieva Gredzena on Ieva.Gredzena@liaa.gov.lv