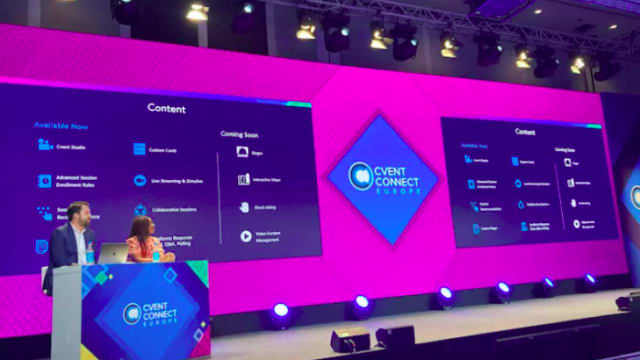 How Cvent is evolving its platform for the future
Discover how Cvent is evolving its platform for virtual, hybrid and in-person events.
Multi-lingual support, more participatory and engagement features, content monetisation tools and the integration of Cvent Studio are just some of the upgrades planned for the Cvent Attendee Hub over the next six months, according to Vice-President Product Management, McNeel Keenan.
Speaking at Cvent CONNECT Europe 2021, Keenan presented Cvent's Event Cloud product roadmap alongside Senior Marketing Manager, Europe, Felicia Asiedu and some of the US team responsible for developing new products relating to content, community and sponsor activation.
Keenan told delegates: "Our journey into the virtual events space started with the Virtual Attendee Hub. Since then we've invested heavily in the platform and it has become the single largest project in the history of the company. We're now working on bringing together three of our solutions – the Attendee Hub, event app and attendee website – into a single user interface that can provide a single source of truth across your event programme and a consistent branded experience for virtual, hybrid and in-person events."
When discussing advancements in content, Keenan mentioned that before the end of the year, Cvent will roll out multi-lingual support and add 'Extensibility' so that if planners have their own chat-bots, tracking pixels or other third-party extensions, these can be added.
He then introduced Product Director Jackie Ramos, who told the audience: "We're evolving gamification and adding support for quizzes so that you can test an audience's comprehension of a particular subject matter. We're also adding the ability for a virtual viewer to raise their hand and actively participate in sessions. Categories will be introduced to our on-demand video library, as well as the ability to upload video content directly into Cvent for use across your entire events programme.
"For in-person and hybrid events, attendees need to understand where they're going so we're excited to bring interactive maps to the event app, just like we currently offer with Crowd Compass. We're also introducing 'Stages' so that planners can group sessions and attendees can discover new content and search by subject matter. Finally, content monetisation opportunities will allow you to up-sell attendees to premium passes, which will provide access to even more content."
Asiedu and Keenan then updated delegates on the roll-out of Cvent Studio, a video capture and production solution for virtual and hybrid events that was launched in August.
Cvent Studio enables planners to easily create professional-quality video content and pre-build each segment of their webinar or broadcast before going live. They can also use the scene editing functionality to map their show in advance or create preferred looks and templates for easy execution.
With the Director View, planners can quickly mix presenters, media, and screen shares; engage in multi-user and multi-presenter collaboration (with up to 10 presenters at a time); pre-record sessions; edit backgrounds, overlays, and lower thirds; and stream video through the Cvent Attendee Hub.
Via the Presenter View, presenters can be invited via a web link to a separate virtual preparation space, allowing them to chat with the director and other communicators, edit their settings, view the programme, and share their screen in real-time.
Director of Product Management for Cvent Studio, Stephen Bowles told the audience: "This has been developed out of fatigue for standard webcasting and boring Zoom meetings so that planners can elevate live or pre-recorded video content with custom backgrounds, lower thirds, overlays and screen shares. It's already being used by our Professional Services teams but will be available for self-service, free-of-charge via an integration with Cvent Attendee Hub in the first quarter of 2022."
Some of the community-driven developments taking place within the Cvent platform over the next six months include group text discussions, in addition to the video discussions for up to six people that was launched last month; digital badging and profiles, which allow attendees to carry over their formed connections across multiple events; social activity feeds; plus 'privacy by design' and moderation features.
Matt Eddy, Manager of Product Management in the sponsor activation category, then updated Cvent CONNECT Europe delegates on upcoming features, designed to increase brand awareness and generate qualified leads.
These include Expo Stages (exhibitor-led sessions), Expo Categories (allowing for the grouping of subject-related exhibitors), Exhibition Appointments and Event Discovery, which highlights other events in the programme and enables one-click registrations.
Finally, Cvent's Senior Marketing Manager, Europe, Asiedu talked delegates through The New Experience - the single user interface, which will incorporate all Cvent's solutions for virtual, hybrid and in-person events, together with a single source of real-time data, pre-built engagement temples, guard-rails for consistency among a broader set of users and incorporated surveys by the end of the year.
"Our world and your role as marketers and planners has got a lot more complicated," Asiedu told delegates. "Individual pieces of technology which carry out a single siloed role just won't cut it anymore. Our platform expansion is designed as one destination for logistics and execution, audience engagement, systems of record and a single source of data truth - allowing you to build and grow your audience, engage that audience and maximise the impact of that engagement without having to memorise multiple passwords."