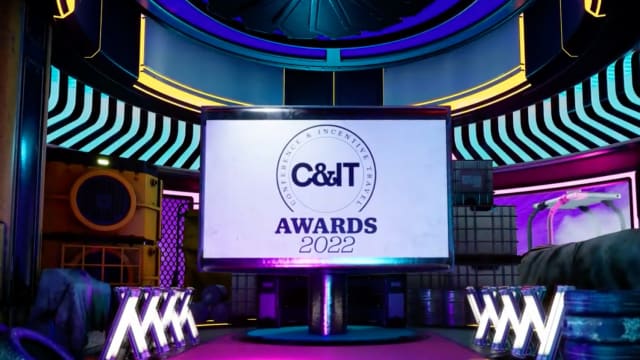 C&IT Awards 2022 shortlist revealed
The shortlist for this year's awards has been released- check here to see if you made the cut.
The shortlist for the C&IT Awards 2022 has been announced.
The C&IT Awards champion, showcase and elevate events that are innovative, reactive and original, in an ever-changing landscape and environment. We are celebrating brilliant events and the amazing people behind them; putting your outstanding achievements and creativity over the last year in front of MICE industry leaders.
This year's C&IT Awards will take place on Friday 30th September at the Londoner Hotel.
Please note that we are offering an early bird rate, which will be available until Monday 8th August. Book your tickets here.
Click here to see the list of judges this year. Thanks to all the judges and to everyone who entered.
This year's shortlist is below:
INDUSTRY SECTOR CATEGORIES
Automotive Event of the Year
Formula E London E-Prix by ExCeL London for ABB FIA Formula E World Championship
Continental GT Speed Global Media Drive by Goose Live Events for Bentley Motors
Bentley Motors Extraordinary Women by Noble Events for Bentley Motors
INEOS Grenadier GCC Middle East Tour by Noble Events for INEOS Automotive
Finance & Professional Services Event of the Year
UK Partner Meeting by Brands at Work for Deloitte
Credit Trends 2022 by Broadsword for Moody's Investor Services
FIRST x Sibos 2021 by First Protocol Event Management for SWIFT
Technology & Telecoms Event of the Year
Android Avenue by Brandfuel for Android
DRPG x BT Consumer Live 2021 by DRPG for BT
Tractable Vision Summit by OrangeDoor for Tractable
Dell Technologies Forum 2022 by Wave MC for Dell Technologies
Pharma & Healthcare Event of the Year
Trailblazers. Ready Set Go! by CTL Communications
HP Conference 2022 by UKSV for Boehringer Ingelheim
Manufacturing & Industrial Event of the Year
Applaud Awards by WRG for Anglo American
Manufacturing a Net-Zero Future by XSEM for NMIS
NEW: Media & Broadcast Event Of The Year
Credits Trends 2022 by Broadsword for Moody's Investor services
CEO Council Summit by Cheerful Twentyfirst for The Wall Street Journal
Achieving Breakthrough by CTL Communications
NEW: Retail Event Of The Year
Iceland Foods Group Store Manager's Conference 2021 by Cascade Productions for Iceland Foods Group
An Extraordinary Journey by Ignition for The Macallan
Nisa Expo 2021 - Virtual by XSEM for Nisa

EVENT FORMAT CATEGORIES
Incentive Event of the Year
1331 Events Monaco Grand Prix Incentive by 1331 Events
PwC's Spring Fest Incentive Series by PwC for PwC Creative Experiences Team
The Coors Experience 2022 by Ulterior Events for Molson Coors
Buildbase Exclusive VIP Trip by Ulterior Events for Buildbase
Internal Communications Event of the Year
UK Partner Meeting by Brands at Work for Deloitte
DRPG x BT Consumer Live 2021 by DRPG for BT
Moving Forward Together by Meet & Potato for Dunelm
Perseverance Powers Performance- SMKO 2021 by MOI Global for Ciena
DFS annual conference – In it together by Top Banana for DFS
HP Conference 2022 by UKSV for Boehringer Ingelheim
Team-Building Event of the Year
Clearwater International Team Event 2021 by 1331 Events for Clearwater International
Topgolf Summit 2021 by Blue Hat Teambuilding for Topgolf
Bringing the Strategy To Life by EML Team for Southampton Football Club
Being Extraordinary by OrangeDoor for ServiceNow
Celebratory Event of the Year
UK Event Programme Expo 2020 Dubai by Bray Leino Events for The Department for International Trade
World Class Bartender of the Year Global Final by Eight PR on behalf of Chorus for Diageo
Moving Forward Together by Meet & Potato for Dunelm
Being Extraordinary by OrangeDoor for ServiceNow
Five Guys Reward & Recognition by Saving Grace Events for Five Guys

EVENT PURPOSE CATEGORIES
Best Small Budget Initiative
National Trust Hybrid Leadership Event 2022 by Cascade Productions for National Trust
Stig On Wheels by Ignition for BBCSD
Best Sustainable Initiative
Android Avenue by Brandfuel for Android
Beyond Food by EIGHT PR & Marketing
Continental GT Speed Global Media Drive by Goose Live Events for Bentley Motors
Identity delivers COP26 by Identity Holdings for Foreign, Commonwealth & Development Office
Dell Technologies at Bett EMEA by OrangeDoor for Dell Technologies

SUPPLIER CATEGORIES
Best Venue - Rest of World
AsiaWorld-Expo
The Convention Centre Dublin
etc.venues 360 Madison
Abu Dhabi National Exhibition Centre
Best Venue – UK
ICC Belfast
South Lodge
ExCeL London
The ICC Birmingham
ICC Wales
Scottish Event Campus
Best Technology Provider
Convene by ING Media
CrowdComms
NEW: Best Hotel
The Londoner by Edwardian Hotels London
Celtic Manor Resort by ICC Wales

BEST OF THE BEST
UK Agency of the Year
Smyle
Brandfuel
Agiito
FIRST EVENT
Brands at Work
OrangeDoor
Global Agency of the Year
emc3
Cheerful Twentyfirst
CWT Meetings & Events
FIRST
CTL Communications
MOI Global
Conference Of The Year
FIRST x Sibos 2021 by First Protocol Event Management for SWIFT
COP26 by Identity Holdings for Foreign, Commonwealth & Development Office
FIRST EVENT for IOHK - Cardano Summit 2021
CTL Communications
Audience for Deloitte
Top Banana for AVON
MICE Team Of The Year
AWE MICE team
etc.venues Sales Team
FIRST EVENT's Digital Team