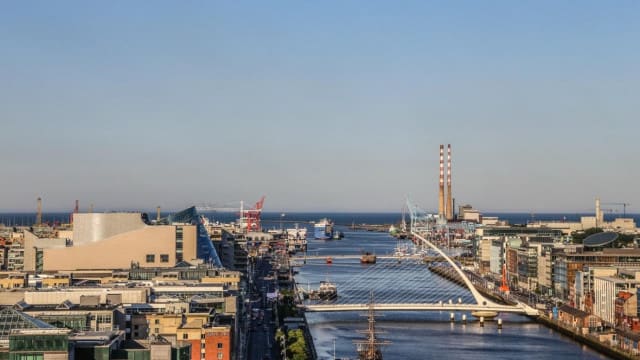 As Ireland re-opens for business events, five reasons to put Dublin on your travel wishlist
Conferences are back! And where better to reconnect with and inspire delegates than one of the world's most iconic, accessible and inviting cities?
This article is produced in partnership with The Convention Centre Dublin (The CCD).
With over 90% of the adult population in Ireland fully vaccinated, the country has been given the green light to re-open the events industry. And if it's vibrant culture, world-class business facilities and a warm welcome you're after, its capital Dublin is hard to beat. With the help of the team at The Convention Centre Dublin (The CDD), the city's leading conference venue, we look at why it's a smart choice for business event bookers as we emerge from the pandemic.
1. Ireland is open and super-accessible
The Irish government has published a roadmap to ease COVID-19 restrictions that allows for a return to live, in-person events across the country. Organised indoor events and mass gatherings – including conferences, meetings and exhibitions – can potentially take place at full capacity,* and the country is more than ready to host events. Dublin is one of Europe's best-loved cities, with minimal travelling time to the UK and the rest of the EMEA region, and has excellent connections with the US. As worldwide travel starts to open up again, Aer Lingus is resuming direct flights from its Dublin hub to locations across America and Europe this autumn, including Frankfurt, Geneva, Zurich, Newark and Orlando, making Ireland a more accessible choice than ever.
*Organised indoor and mass gatherings can take place at full capacity where all attendees are fully vaccinated, or have recovered from COVID-19 within the previous six months – or they are accompanied minors (under 18).
2. It delivers on health and safety (just ask the Irish government!)
Even with restrictions lifting, safety is still a key concern for event planners and delegates – and venues like The CCD are well-practised in delivering on it. When the Irish government needed a safe, socially distanced place to meet and elect the new Taoiseach (prime minister) at the height of the pandemic, its historic home at Dublin's Leinster House couldn't facilitate the social distancing and numbers required, so it turned to The CDD to deliver the ample space, safety measures and tech support required. The CCD was called upon to act as a temporary location for the Irish Parliament (Houses of the Oireachtas) from June 2020 to July 2021.
The CCD continues to make visitor safety a priority. It has received the COVID-19 Safety Charter from national tourism development authority Fáilte Ireland, guaranteeing that cleaning guidelines are being followed and staff are trained in infection prevention. "We've put a series of measures in place to ensure that every event – no matter how large or small – takes place with health and safety in mind," says dedicated Health and Safety Manager Ann Hughes.
3. Events are already making a comeback
Pre-pandemic, business travel was one of the fastest-growing sectors in Ireland, as event planners got wise to its accessibility, innovative spirit and top-notch venues. The CCD – named the World's Leading Meetings & Conference Centre at the World Travel Awards in 2019 and 2020, and more recently, Europe's Leading Meetings & Conference Centre 2021 – has already seen face-to-face events coming back.
The venue's first major post-pandemic gathering was a Fáilte Ireland conference last month marking the return of in-person events to the country. The attendees were joined by Catherine Martin, Ireland's Minister for Tourism, Culture, Arts, Gaeltacht, Sport and Media, who said she was "delighted to declare Ireland as officially open again for business travel". Providing a much-needed opportunity for the industry to reconnect, it also demonstrated that Dublin and The CCD have everything in place to hold large-scale events safely and successfully.
With a variety of international congresses and summits already booked in for the months ahead, The CCD is seeing renewed interest in Dublin. Alongside its historic reputation for culture, entertainment and creativity, in recent times the city has evolved into a hub for innovation and technology, and was recently named by the Financial Times as one of Europe's top three Tech Cities of the Future. A perennially popular place to do business for everything from startups to internet giants, Dublin is gearing up for a travel resurgence. "Our doors are open," says head of event delivery Emma O'Brien. "We've continued to host safe events throughout the pandemic, and we're excited to be welcoming back delegates in greater numbers."
4. They've cracked hybrid
For those who are not ready or able to travel to Dublin just yet, The CCD continues to offer the flexibility of hybrid events. "We know that hybrid means more than simply streaming webinars," notes O'Brien. "We aim to recreate your physical event online, so that all attendees can reap the same benefits, whether they're at home or in the venue."
That means digital event platforms where guests can register, meet and mingle in chatrooms, along with virtual exhibitions and sponsorship opportunities, and high-quality streaming – think multi-camera live video with TV-style graphics. "You could, for example, bring key speakers together at the venue for presentations and discussion groups, while broadcasting to a larger audience worldwide," says O'Brien.
5. Getting there just got easier
Travelling to Ireland is currently pretty straightforward for those who've been vaccinated against COVID-19. Overseas visitors will need to fill out an online passenger locator form before departure, but those with acceptable proof of vaccination or recent recovery from COVID-19 (such as the NHS COVID Pass for UK travellers, or the EU Digital COVID Certificate for EU and EEA arrivals), don't need to quarantine or take further tests on arrival. Further restrictions remain in place for unvaccinated travellers, however, so be sure to check the latest requirements ahead of travel.
The CCD's doors are open – find out more about what's happening at theccd.ie/whats-on, or get in touch with The CCD team at theccd.ie/contact-us