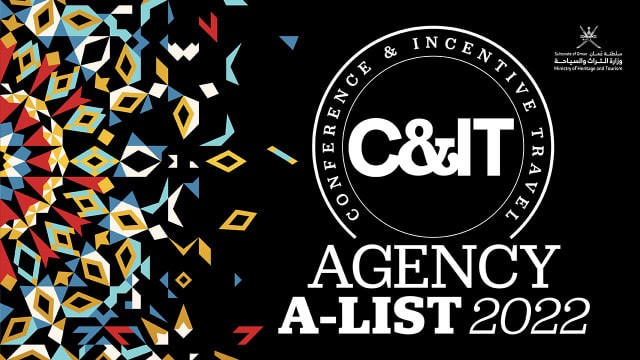 C&IT Agency A-list 2022 revealed
C&IT's 2022 Agency A-List winners have been announced - see who made it on to this year's prestigious collection of event planners.

The A-List party for all the lucky winners will be held on 8th November at a Central London location which will be announced shortly.
"The Oman Convention Bureau is honoured to be partnered with C&IT for A-List 2022 – which celebrates our future industry leaders. We look forward to meeting the 35 rising stars who are listed this year, and can't wait to hear their compelling stories and commend them for all their hard work," said Khalid Walid Al Zadjali, Director of Oman Convention Bureau.
C&IT's 2022 Agency A-list, in partnership with Oman Convention Bureau, is as follows:
| | | |
| --- | --- | --- |
| Becky Huddy | Senior Project Manager | Cheerful Twentyfirst |
| Becky Riviello | Account Manager | AOK Events |
| Beth Turner | Project Manager | DRPG |
| Chloe Ramsden | Producer | Jack Morton |
| Chloe Heathcote | Event Manager | Oddity Events & Marketing |
| Claire Garlick | Event Manager | Agiito |
| Clare Abbott | Senior Project Manager | Cheerful Twentyfirst |
| Danni Haworth | Event Project Director | simplybetter |
| Ebony Richards | Venue Sourcing Manager | FIRST |
| Emma Thomas | Senior Event Manager | BCD Meetings & Events |
| Emma Barker | Senior Project Manager | XSEM |
| Holly Hutchings | Event Manager | The Intrepid Collective |
| Jade Regan | Project Director | Bray Leino Events |
| Jenny Purves | Event Producer | Identity |
| Joanna Lake | Special Projects Team Manager | Brighter Events / Clarity Events |
| Joseph Charlton | Founder & MD | Planit Live |
| Karen Hunt | Producer | BCD Meetings & Events |
| Kim Price | Senior Project Manager | Ashfield Event Experiences |
| Kimberley Cox | Event Manager | Aspect |
| Krisztina Maros | Senior Project Executive | First Event |
| Kyna Thompson | Customer Success Manager | emc3 |
| Lisa Hamilton | Producer | WRG - a division of The Creative Engagement Group |
| Lois Roberts | Senior Project Executive | Worldspan |
| Lottie Davis | Event Manager | Venues and Events International |
| Lucy Williams | Co-founder | BeSure Events |
| Molly Maelzer | Project Manager | Chorus |
| Natasha Sambhi | Senior Event Coordinator | Successful Events |
| Olly Hares | Event Director | Bray Leino Events |
| Phoebe Igglesden | Senior Project Manager | MCI UK |
| Rachael Smith | Director | Chippa |
| Rui Cruz Alves | Senior Producer | WRG a division of The Creative Engagement Group |
| Stevie Simpson | Senior Account Manager | First Event |
| Susanne Schweda | Producer | INVNT |
| Tina Kelsey | Producer | George P. Johnson |
| Ziana Juma | Executive Producer | FIRST |