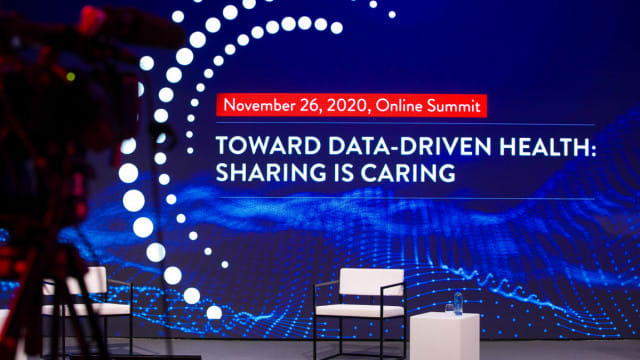 Sharing is caring: the health-tech revolution needs us working together
Innovation in healthcare has never seemed more important. Collaboration is key. Technology is essential. Rolands Lappuķe, external smart technology adviser to the president of Latvia, says the MICE industry has a role to play too…
This article is produced in partnership with LIAA (Investment and Development Agency of Latvia). Main image courtsey of Digital Health Data summit.
What's happening when in comes to digital healthcare, both in Latvia and around the world?
There is a quantum leap taking place in how we use information. In the 16th Century Martin Luther made use of Johannes Gutenberg's revolution in publishing – the printing press. It's as big as that. Medicine is changing from curing sick people to predicting what can happen, based on probability. But preventive medicine and research needs sound data. Genetic database and genome research means predicting and reducing risk for patients with a susceptibility for certain diseases.
Digital health is relevant for all countries, small or big, poor or rich. There are many social and economic reasons for introducing technology that helps reduce repetitive work patterns, allows more responsible jobs and improves living standards.
How can the MICE industry help?
The pandemic has changed a lot in 2020 — and the patterns of travel and meetings has changed. There is a more critical approach about what is important enough to travel for and what should be virtual. The need to meet in person will remain but organisations will be more discerning. Events have to be good.
We all need to apply more discipline and high expectations to quality and outcome of content, to justify travel in the future. This is a turning point in the development of societies. Covid-19 has supported a switch from a narcissistic way of travelling everywhere to a purpose driven way of taking decisions.
For our emotional landscape, based on brain's limbic system, it is important to connect personally with people and to feel the right chemistry for connecting and business making with someone. For that matter, personal contacts and connections are essential.
We need to ensure that the promotion of this health message is clear and of a high quality, specifically when talking to governments – so we can run joint, effective promotions such as the Digital Health Data summit. Latvians are sometimes too modest at shouting about their great achievements. We can learn from the tourism and meetings promotion side. The MICE industry is central to the quality of events and the quality of the communications.
Why is Latvia interested in digital healthcare and hosting events around it?
Latvia will gain competitive advantages as a member country in the European Union. We are part of the Declaration of Cooperation. That's access to at least one million sequenced genomes in the European Union by 2022. We want to add value, to collaborate, to provide good research and diagnostics. Artificial intelligence will help to adapt this to the patients' needs — we need to assess tools and control research needs. This means collaboration.
Within the Baltic region, Finland is leading in this range of data research and Findata participated in Latvia's conference. Estonia also has a strong genetic database but Latvia is making progress developing the necessary infrastructure. MikroTik, a leading Latvian router company, and LMT, a major telecommunication company have built a high-capacity data network (the Genome Data Network) between hospitals, research institutions and others in Riga. This has increased the data transfer rate and accelerated the work of scientists battling with Covid-19 as well as those researching cancer and other severe diseases.
Are there any risks to this collaborative approach?
There is strict consideration of the protection of privacy and patients' rights. And data security issues do not only refer to the health segment – whole administration systems will be digitalised and an E-ID – electronic signature – is already in use across parts of the government.
What tech other innovations have come out of Latvia?
Latvian company, Tilde, has developed a multilingual neural machine translation, which is just one more example of integrated technological service being used by EU presidencies for instant translating, included by the present German EU presidency. A great example of Latvia's capability in smart technology is Apturi Covid, an app that identifies infection rates at a very early stage. The app was built in six weeks as the result of a pro-bono not-for-profit initiative and it was the first launched. Nowadays it is among the first interoperable applications in Europe.
LIAA: Investment and Development Agency of Latvia. With the brand "Magnetic Latvia", the Investment and Development Agency of Latvia (LIAA) works to increase export and competitiveness of Latvian companies, help foreign investment and implement tourism development and innovation policies. For conference and congress development, contact Ieva Gredzena