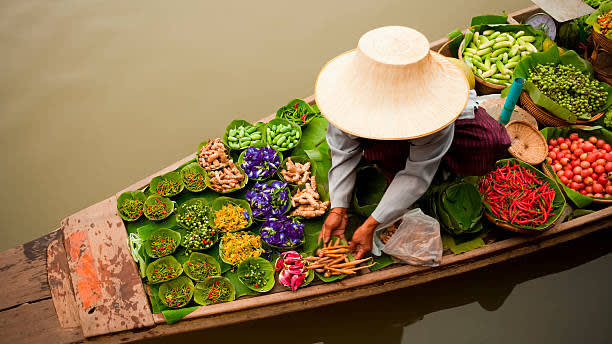 Top MICE destinations for vegan delegates
In honour of Veganuary, we have found the world's most vegan and vegetarian-friendly destinations for conferences and incentives.
As vegetarian and plant-based lifestyles become more and more common, it is only fitting that event planners factor-in a destination's dietaries when catering for conference delegates and incentive travellers.
According to Busuu's research these countries are the world's most vegan and vegetarian-friendly, where staying meat and dairy-free is a piece of cake…
1. India
It is not difficult finding vegan or vegetarian options in India, as approximately 30% of Indians follow a plant-based diet. The most vegan-friendly state according to PETA (People for Ethical Treatment of Animals) is Goa, which in spite of all its seafood attractions has the largest population of plant-based residents. Goa is among one of the most popular cities for MICE events, according to Mordor Intelligence, along with Mumbai, Delhi, Bangalore and Chennai which also boast a delicious range of plant-based and vegetarian food markets and restaurants. India is a dream destination for delegates who wish to take their taste buds on an adventure.
2. Israel
Israel's capital city, Tel Aviv, has been dubbed the 'vegan capital of the world.' As Israel's top centre for commerce and business tourism, Tel Aviv has recently developed unique accommodation options in its city's prime hotels for the MICE industry. While the prevalence of veganism has transformed the city's culinary scene, this spectacular cooking has shaped Israeli hotels into plant-based havens.
3. Germany
Despite being known for its traditional sausages and schnitzels, veganism is on the rise in Germany as residents are enthusiastically embracing plant-based cuisine. Catering for vegan and vegetarian delegates will be no problem as Germany has become the world's leading producer of meat substitutes. Vegan schnitzel anyone?
4. Poland
In recent years, Poland has gone through a vegan revolution. Its capital, Warsaw, is now considered one of the most vegan-friendly cities in the world. With more than 950 restaurants that cater to a plant-based clientele, sourcing vegan event caterers is effortlessly straightforward. For those craving a burger - Warsaw's renowned veggie patties are considered the best globally.
5. Australia
Australia has one of the fastest developing vegan markets in the world and in the last decade, the number of people shifting to plant-based diets has doubled. So, there is no shortage of veggie and vegan friendly restaurants for delegates to pick from. Fully vegan restaurants have boomed in popularity; popping up in Brisbane, Sydney and Melbourne, and so there's an abundance of plant-based options for MICE delegates.
6. USA
American cuisine is very much meat-dominated - burgers, hot dogs, meaty pizzas and fried chicken tend to come to mind. However, this does not mean there is a lack of vegan demand. According to a recent study by the plant based foods association, over 50% of restaurants throughout the USA offer vegan options, and almost all offer vegetarian substitutes. As the US MICE market size grows exponentially year after year, it is an unquestionable destination for plant-based delegates.
7. Thailand
Known for its fresh fruits, vegetables, noodles and rice-based meals, Thailand is a clear destination for MICE travellers wanting to explore the country's vast array of vegan and vegetarian cuisine. With over 1,500 plant-based cafes and restaurants and traditional veggie dishes like massaman curry, pad thai and red curry; experiencing true Thai cuisines as a vegan delegate is easy.