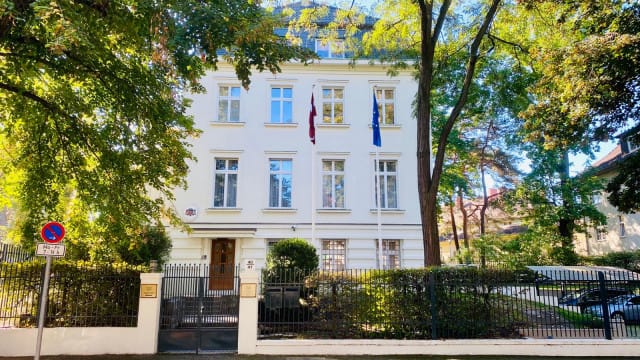 Specialist, creative, distinct and different: Latvia
This content piece is brought to you in collaboration with LIAA (Investment and Development Agency of Latvia).
From supplying the raw materials for the latest furniture designs, to developing drone technology – Latvia is a small country making a big noise. For the right sectors in a post-covid world, Latvia is more than worth considering…
It's the variety of up-and-coming economic clusters that makes Latvia so interesting. These sectors are growing in importance either due to a cutting-edge market-leading position or a strategic development from the government.
Both mean there's opportunity for international industry and knowledge exchange. Latvia offers new, future-oriented venues for thematic meetings and conferences. And is a destination that hasn't been top of your list very often. It might be worth rethinking that. So what are these economic clusters?
Branching out
There's a range of industry clusters in the country. Forestry and wood processing has a long tradition in Latvia; wood is an immensely important raw material, and now start-ups and design companies increasingly value its properties for producing unique, innovative design pieces.
Forestry is an attractive and sustainable industry with high employment rates, leading research approaches and stacks of innovation.
Latvia is an important raw material supplier for Germany with a number of leading companies, especially in laminated wood production, furniture, wooden houses as well as start-ups like Ewart Wood or qinn Design. These are world-leading design organisations.
The 5G future
From traditional industry to… the future. Latvia has had investment in smart materials and smart cities with the LMT (Latvijas Mobilais Telefons) company as the driving force, leading the development and implementation of 5G technology.
There are also drone developers and manufacturers such as Atlas Dynamics or aerones which, like smart materials and smart city projects, require a fast and stable network.
Trainspotting
The largest rail infrastructure project in Europe, the new Rail Baltica route, aims at generating new growth for Latvia (and the Baltic States) and promoting economic cooperation in Europe as part of the European Post-Corona strategies.
Rail Baltica is a classic cluster project – with great potential for new structures and a current need for participation on both a European and German level: not only does it need new equipment, but also new technology, architecture, engineering skills and much more.
So why Latvia?
Knowledge exchange and innovation are the key reasons business events come to Latvia and these are essential in post-corona-related business adjustments.
Helmuts Salnajs works for the Latvia Investment and Business Development Agency (LIAA) in Germany. He is a specialist in the search for German investors for Latvia and the export promotion of his country – and has direct insight into the most important clusters and their connections with German companies.
He says he has two main tasks: "Firstly to promote investments by German companies in Latvia and secondly to support the export of Latvian goods to Germany. I can help Latvian companies with the right contacts and approaches in the German market and vice versa."
His tools are primarily networking with associations, researching companies that may be interested in Latvia and of course personal recommendations. Events are key: "The small country has to use its limited resources in a targeted manner and so we have a proactive PR strategy to promote investment. We need to get the message across as precisely as possible."
LIAA has interests in each of the most important trading partner countries: Germany, Scandinavia, France, the Netherlands, northern Italy. German companies are very welcome in Latvia; a long shared history and large parts of the culture create a kinship.Latvians like to learn from German companies and there is a lot of innovation and dynamism in Latvia that often inspires established companies and reinvigorates business models.
So, if you're looking for a destination with a difference, with sector-specific knowledge – and if you want a route into a Northern European market, Latvia needs to move up your wishlist.
LIAA - Investment and Development Agency of Latvia
With the brand "Magnetic Latvia", the Investment and Development Agency of Latvia (LIAA) works to increase export and competitiveness of Latvian companies, facilitate foreign investment and implement tourism development and innovation policies.
For conference and congress development, please contact:
Ieva Gredzena
Email: Ieva.Gredzena@liaa.gov.lv