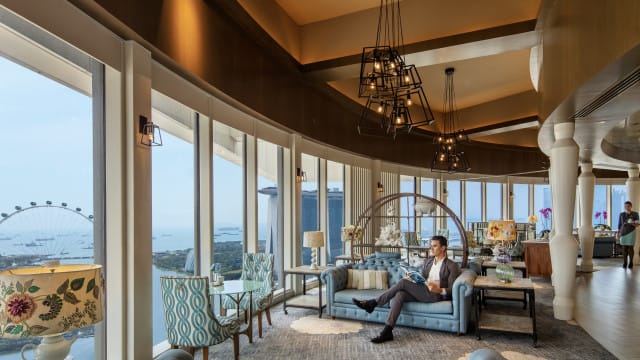 Safety first for a new era of business travel
This content piece is brought to you in partnership with Pan Pacific Singapore.
As the world emerges from this unprecedented crisis, business travellers will expect a heightened level of safety, hygiene and cleanliness from their hotel stays. Pan Pacific Hotels Group (PPHG), of which Pan Pacific Singapore is the flagship hotel, has introduced "Pan Pacific Cares", which promises to ensure the well-being of our guests and associates, as well as care for the community and the environment.
New processes provide greater confidence
Pan Pacific Singapore has already implemented the standard WHO protocols of safe distancing, thermal scanning, using safe entry codes for tracking, wearing of masks and using of hand sanitisers since the beginning of the outbreak.
The hotel will also be implementing contactless check-in and check-out, contactless payment and new measures for dining operations. In addition, Pan Pacific Singapore will soon introduce ULTRONIC UV lights to inspect all disinfected and sanitised guestrooms for further assurance.
All guests will be given Pan Pacific Care Packs, comprising hand sanitisers, surgical masks and disinfectant wipes when they check into the hotel. And guests will soon be able to enjoy a wellness channel in the guestrooms featuring exercise routines such as pilates, barre and yoga, as well as self-care massage for relaxation and relief from the stresses of travel.
New safety standards
Pan Pacific Singapore now uses best-in-class cleaning and infection prevention solutions such as Oxivir and Virex II 256, which are healthcare grade disinfectants that are certified and approved by the US Environmental Protection Agency (EPA) to be effective against SARS-CoV-2 (COVID-19).
The hotel has also introduced electrostatic sprayers to apply the Oxivir disinfectant, a fast acting cleaner and disinfectant which uses active ingredients that break down into water and oxygen after use, thereby ensuring care for the environment as well.
Additional protocols, in accordance with guidelines by WHO, include increased cleaning frequency, an enhanced two-step cleaning and disinfecting process, and laundering linens at 70 degrees Celsius.
"At Pan Pacific, the safety, comfort, and peace of mind of our guests and associates is our top priority", said Choe Peng Sum, Chief Executive Officer, Pan Pacific Hotels Group. "They have put their trust in us to provide them with sincere and heartfelt service. We are committed to spare no expense in caring for our guests with the 'Pan Pacific Cares' promise."
8 enhanced safety measures for meeting and event spaces
Virtual site inspections via video or virtual tours are available

Hybrid events with virtual live streaming can be accommodated

Floor and seating plans have been redesigned to ensure safe distancing

Hand sanitisers have been placed in all meeting rooms and events spaces

All tables, chairs and meeting amenities are sanitised with healthcare-grade disinfectant before and after use - or are disposed of if sanitisation is not possible

Individual bottle water is provided for every meeting

After each use, linen is replaced and laundered at 70 degrees celsius

Safe distancing reminders, including signage and floor stickers, are placed prominently in meeting foyer areas
For more information, please visit www.panpacific.com/panpacificcares