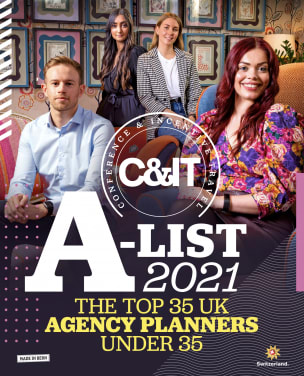 A-List 2021 – The Top 35 UK Agency Planners Under 35
It's time once again to salute the leading lights of the events world – C&IT's 35 Agency A-Listers under the age of 35. In a year of ongoing challenge and constant change for the sector, our 2021 A-Listers have truly had to prove their worth. Their hard work, creativity and innovative thinking is a testament to the resilience of the industry in the most testing times - and as ever, the judging process wasn't easy. So many congratulations to the 35 top planners who made it onto this year's A-List, which is brought to you in partnership with the Switzerland Convention & Incentive Bureau and Made in Bern.
Download our Agency A-list 2021 brochure to meet this year's winners, hear about their most memorable moments, and find out what gets them through the tough days. Find out who dreams of Sir David Attenborough as a keynote speaker (clue: almost everyone!); which A-lister is most likely to add an ice-bath to your event proposal; whose carefully planned Japanese tour was hit by a typhoon; and who likes to de-stress on a power walk soundtracked by Taylor Swift – but is more likely to tell you it's Eminem...
To download please sign in.