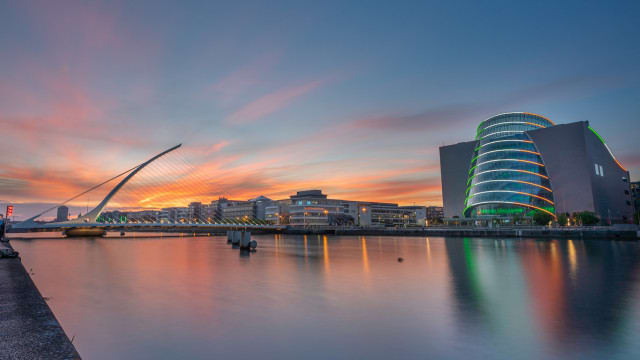 What makes a healthy venue in 2021?
Health has become even more important after the global pandemic. There is now a strong focus on general health and wellbeing for the events industry. Is your next conference destination good for your health? We reveal five signs that a venue is prioritising delegate wellbeing, with the help of the pioneering team at The Convention Centre Dublin (The CCD).
This article is produced in partnership with The Convention Centre Dublin (The CCD).
1. They take healthy food seriously
Heavy lunches. Sugary snacks. Limited low-fat, veggie or special dietary options. It's all too easy to eat badly at business functions – but smart venues are rethinking their menu choice and getting proactive about highlighting the benefits of healthy eating.
The CCD actively encourages healthier food choices with tailored healthy menus and a dedicated nutritional information desk to advise on levels of allergens, saturated fats and sugar. Look out for healthy alternative options such as fresh fruit and juices, smoothies and overnight oats in delegate meal packs. Many ingredients are locally sourced, with vegetarian, coeliac and dairy-free options.
The venue is striving to go above and beyond the usual expectations of delegate food – and it's a subject that Executive Head Chef Leonard Fearon is passionate about. "I genuinely believe the food choices you make today optimise your wellbeing and generate good eating habits."
2. They encourage delegates to get active
Physical activity and exercise can have immediate and long-term health benefits. Staying still all day isn't good for anyone, and The CCD tries to influence delegates to keep moving throughout the conference. You can incorporate toning, stretching, muscle building and fat burning into your day while still staying completely focused on your event. "We can help organise activities on-site – previously we've created a wellbeing area with yoga, massage and mindfulness sessions," says Emma O'Brien, Head of Event Delivery. "We also use our digital signage system to encourage delegates to use the stairs instead of escalators or lifts when moving between sessions. In the future, we hope to use our signage to point out stretching spaces in quiet areas."
The CCD's riverside location in the heart of Dublin gives delegates access to a variety of walking and running routes provided by the venue. For team-building adrenalin, The CCD is within walking distance of several sporting activities, such as kayaking on the Liffey or cable-powered wakeboarding at Dublin's Wakedock.
3. They emphasise natural light
Studies show that those who spend more time in daylight feel more alert. When delegates are not constantly bombarded with artificial light, they're sure to feel more fresh, alert and receptive during conference segments and breakout sessions.
With impressive views of Dublin's city skyline, The CCD's clever building design makes use of natural light in all foyer spaces and small meeting rooms.
4. They're up-to-speed on the latest Covid-19 safety requirements
In these uncertain times, it's important to ensure venues are keeping abreast of Covid-19 safety requirements, adhering to industry best practice and adapting to fast-changing restrictions.
As The CCD's Health and Safety Manager, Ann Hughes explains, "From before our delegates come through the door to when they leave, we have measures and procedures in place to ensure their safety – including, but not limited to, the wearing of face masks, hand sanitation throughout the building, social distancing in event spaces, signage, isolation rooms and frequent cleaning and sanitisation of communal spaces."
The CCD has continued to host safe events throughout the pandemic playing host to the Houses of the Oireachtas (the Irish Parliament), which temporarily moved to The CCD to accommodate social distancing. The CCD has been accredited with the Fāilte Ireland Covid-19 Safety Charter, and its in-house team offers a variety of socially distanced, hybrid and virtual event options – giving clients the scope to plan events for every eventuality.
5. They are 'officially' healthy
Many venues pay lip service to delegate wellbeing – so look for further evidence and accreditations. In May, The CCD achieved the coveted Gold Healthy Venue accreditation in association with the World Obesity Foundation's Healthy Venues programme, having held Silver status since 2017. The CCD is one of only three facilities on the planet to be honoured in this way.
To achieve this rating, The CCD had to meet strict criteria around the promotion of healthy eating, physical activity and overall workplace health. Speaking about the prestigious accreditation, Stephen Meehan, CEO of The CCD said, "We look forward to offering the highest standard of healthy and active choices to delegates, clients and employees once it is safe for face-to-face events to return. We now have more resources and options in place to support everyone that passes through our doors to make healthier choices and improve their wellness."
Visit theccd.ie to find out more about planning a healthy conference at CCD.