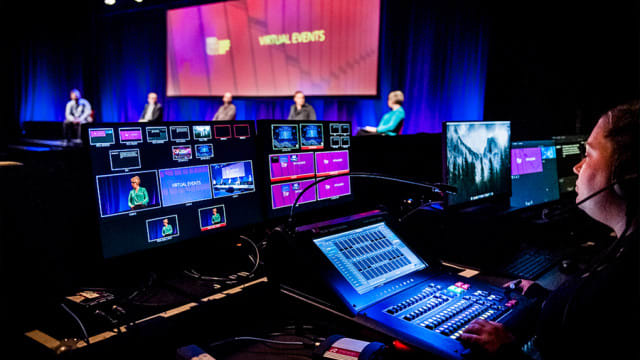 Make it meaningful, make it smart, make it personal: three events trends that Melbourne is smashing
This article is brought to you in partnership with the Melbourne Convention Bureau (MCB).
The past year has been transformative, and event planners have had to become more adaptable, flexible and imaginative than ever in how they bring events to life.
Vibrant, creative and cultured, Melbourne is one of Australia's most appealing cities. Its business travel suppliers are at the forefront of a changing industry, delivering fresh and innovative thinking to enhance events, reach new audiences and deepen engagement. Check out the three top trends the MCB is seeing in its events sector in 2021.
Incentive programmes are more socially conscious than ever
Sustainability was the biggest industry buzzword, pre-pandemic, and the past year's experiences have only reaffirmed our collective commitment to do good by our community and the environment we live in.
It's only right to acknowledge that aspects of the business events industry can be wasteful. Melbourne organisations and planners are working hard to offset these negative impacts and contribute towards the United Nation's Sustainable Development Goals by seeking out more sustainable practices – from carbon-offsetting business travel to venue sourcing and CSR-focused experiences.
Melbourne and its surrounds offer myriad incentive and team-building experiences that can deliver real emotional returns and provide a meaningful sense of giving back. Book a VIP ecotourism tour at Phillip Island Nature Parks to have a private wildlife guide share conservation stories from this rugged coastal habitat while your team build much-needed artificial burrows for its resident penguins.
Take an Aboriginal Heritage Walk at the Royal Botanic Gardens Victoria to gain insight into the rich history of the First Peoples of Australia through learning about Aboriginal plant uses and customs and their ongoing connection to the land.
Or try a Sustainable Farm Tour at Green Olive at Red Hill, a farm, winery and olive grove on the nearby Mornington Peninsula, where you'll learn about their 'good life' approach and paddock-to-plate food production. After the tour, you can settle in with a view of the vineyard to enjoy seasonal, farm-grown tapas and a glass of the estate's wine.
No matter what sustainability goals your organisation is working towards, MCB can help event planners deliver a sustainable event or incentive programme in keeping with your objectives – while providing employees or clients with truly memorable and eye-opening experiences.
Smart innovations are making events safe and memorable
New technology is helping to ensure the safety and smooth running of today's events. Australian events specialist Harry the Hirer has developed new Smart Badge technology that helps businesses and planners execute Covid-safe events with confidence. The technology provides instant contact tracing, updates on room capacity limits and social distancing alerts, helping clients feel at ease during events.
Where distance now sets us apart, Melbourne's events industry can help create high-quality video productions such as live crosses between studios and locations, and live streaming of event presentations. Last year, Harry the Hirer set up a well-received live cross that brought the Melbourne surfing scene direct to China, allowing Chinese travel agents to experience Australia's first surf park URBNSURF.
Adding a personal touch to virtual and hybrid events
There's no doubt that hybrid and virtual happenings are here to stay – but the big question on everyone's minds is how online events can maximise their engagement and impact.
While it's not easy to replace the magic of in-person interaction, we're increasingly seeing event planners turn to digital tools to bridge that gap. From using engaging Zoom backgrounds and avatars at Virtual Booths to sending out fun Working from Home survival kits, there are many small personal and playful touches that planners can add to boost engagement pre-, during or post-event.
Meanwhile, virtual reality and 360 tours are becoming the norm to help event planners carry out 'onsite' inspections, and get a real sense of venues and accommodation, from the comfort of their own homes.
Showtime Event Group, one of Melbourne's leading events companies, is also helping to create memorable online experiences, including its 'Out of the Box' immersive events. These interactive activities include virtual cooking classes with pre-supplied ingredients, and themed team lunches and event dinners delivered direct to your door. Thoughtful, immersive and personal, it's an events trend that looks set to stay.
Want to see how Melbourne Convention Bureau can help bring your next event to life? Discover MCB's free event support or email info@melbournecb.com.au to contact the team, and explore melbournecb.com.au to find out more about what Melbourne has to offer.