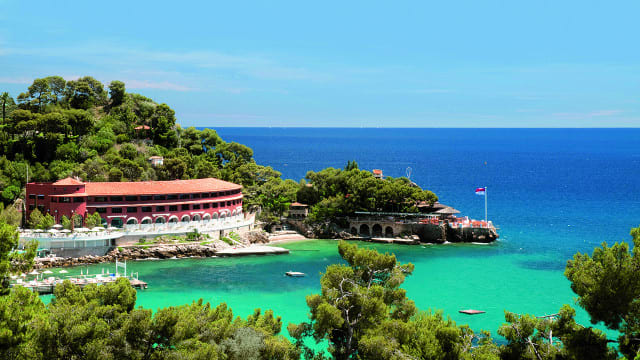 Quiz: which side of Monaco would best suit your delegates?
From iconic glamour to natural beauty, Monaco offers all kinds of event experiences for business and incentive bookers – take the quiz to discover your perfect itinerary! Share your result on Twitter by tagging us at @CITmagazine – we can't wait to learn what your style is.

This article is produced in partnership with Monte Carlo Société des Bains de Mer.
Get a flavour of everything the French Riviera resort has to offer with our quick quiz to help you find the right style of business trip to keep your delegates engaged and entertained.
Question 1: Which style of hotel would be the ideal base for your business event?
A) The Monte-Carlo Bay Hotel & Resort – bold, ultra-modern interiors in a hip beachfront location
B) The Monte-Carlo Beach – a Green Globe-certified sustainable resort ringed by pine woods and the sea
C) The Hôtel Hermitage Monte-Carlo – A refined and luxurious property with a belle époque charm
D) The Hôtel de Paris Monte-Carlo – a legendary destination right on Monaco's glamorous Place du Casino
Question 2: Which of these event spaces appeals most for your group?
A) A chic suite with wow-factor views, accessed by private elevator, such as Diamond Suite Eleven
B) An outdoor terrace with plenty of greenery, such as the Lagoon and Mediterranean Gardens
C) An elegant salon with every creature comfort imaginable, such as the Salon Churchill
D) A spectacular Art Deco space that oozes grandeur, such as the Salle des Arts
Question 3: It's break time for your delegates – so what's on offer?
A) Energising snacks and booster teas to keep creativity flowing, followed by a relaxing breathing exercise to find their inner calm
B) Detox juices, seasonal fruit, vegetable dips and antioxidant teas, followed by a 10-minute massage or muscle-energising session
C) Gourmet coffee, delicious smoothies and indulgent chocolate treats, followed by a cupcake-making or pastry workshop
D) Classic French Riviera cuisine such as chard tarts and Menton lemon cakes, followed by a behind-the-scenes tour of how they were created
Question 4: How would your group like to relax after a day of meetings?
A) Sipping a signature cocktail as the sun sets and the DJ hits the decks at a chic beachside bar
B) Relaxing and recharging with an al fresco yoga class or invigorating swim
C) Sampling some of the principality's finest wines and freshest seafood
D) Learning how to play blackjack at the famed Casino de Monte-Carlo
Question 5: Your group has time for a team-building activity. Do they…
A) Try an on-trend immersive experience, such as an app-based puzzle-solving tour discovering the streets of Monaco
B) Head to the mountains for a hiking or canyoning adventure – or make the most of the glittering Med with a spot of wakeboarding, rowing or parasailing
C) Stimulate their senses with a trip to the renowned Fragonard perfume house or an expert mixology class
D) Take the wheel of an Aston Martin for a drive around Monaco's classic James Bond film locations
Question 6: What's cooking at your dream event dinner?
A) An experience in trendy restaurants with panoramic views, terraces, and vibriant atmospheres
B) Locally sourced, ethically produced and 100% organic food (think wild-caught fish and homegrown vegetables)
C) A gastronomic journey of discovery, filled with exceptional flavours and top-quality ingredients
D) A glamorous gala dinner in one of the iconic listed venues featuring Monegasque specialities and vintage champagne
Now, jot down your scores and read on to discover which type of itinerary could be ideal for your business conferences and events:
Mostly As: Cool hunters
You and your delegates appreciate all that's chic, playful and cutting edge – so why not let the events experts at Monte-Carlo Société des Bains de Mer recommend the perfect Cool itinerary for your conventions, seminars and incentive programmes? Discover the principality's unique, modern and exclusive venues that allow you to work, rest and play in style – and get a new energy and perspective on doing business together.
Mostly Bs: Nature lovers
Stunning scenery, revitalising activities and eco-friendly destinations are all high on the agenda for your business event. Choose an itinerary grounded in Nature to help your delegates embrace the outdoors and explore the natural treasures of one of the Mediterranean's most beautiful bays – and opt for sustainable hotels, restaurants and venues that will help nourish body and soul.
Mostly Cs: Epicureans
You're sure your delegates have a taste for the finer things in life – and can fully appreciate all the refined comfort and world-class gastronomy that Monaco has to offer, whether they're building business connections or planning an indulgent incentive trip. They're sure to savour an Epicurean programme featuring Michelin-starred restaurants, luxurious accommodation and high-end meeting and events spaces.
Mostly Ds: Icon seekers
Add the magic of Monaco to your business events with an Iconic itinerary that foregrounds the principality's most legendary, traditional and unforgettable experiences. Monte Carlo Société des Bains de Mer can help put together a programme that embraces the glamour and glitz of its historic hotels, casinos and concert halls – or build a tailor-made trip around its prestigious calendar of events such as the Grand Prix Historique.
Still undecided on your perfect itinerary? To learn more about all these trip styles, discover Monte Carlo's four hand-picked themed itineraries for 2022 – or visit montecarlomeeting.com for more inspiration for creating a dream events programme fully customised for your delegates.
Share your result on Twitter by tagging us at @CITmagazine – we can't wait to learn what your style is.