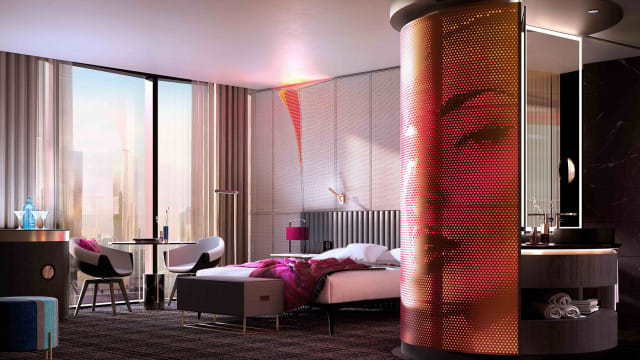 New openings in Australia in 2021
This content piece is brought to you in collaboration with Business Events Australia.
As restrictions to slow the spread of coronavirus ease in Australia, and with business events already restarting in some parts of the country, here are some new openings coming up for 2021, that'll be waiting for association congress and incentive delegates when global travel returns to normal.
W Hotels in Melbourne and Sydney
The new W Melbourne hotel is set to open in February 2021, in the architecturally arresting Collins Arch, on one of Melbourne's trendiest small streets, Flinders Lane, in the heart of the city and close to Melbourne Convention and Exhibition Centre. The 294-room hotel will pay homage to its host city – and its famous laneways, which offer many of the city's best restaurants, bars and coffee fixes - all through its distinctive luxury offering, from its locally sourced mini bar to artworks celebrating Melbourne's importance as a street art destination.
"The whole design narrative behind W Melbourne is very much peeling back [the layers of Melbourne]," says W Melbourne's General Manager Damon Page. "It's that laneway existence. It's how you feel when you walk the Melbourne streets – that's brought to life throughout the interior design of the hotel," he says.
The hotel has 830sqm of event space, with a dedicated floor including the Great Room with soaring, artistic ceilings, and four breakout Studios, and additional space around the indoor pool on the 14th floor, which can host cocktail events for smaller groups.
The largest W Hotel in the world is also expected to open in Australia in 2021, with the 593-room W Sydney set to debut in new development the Ribbon, a spectacular new addition to Sydney's skyline in Darling Harbour, close to International Convention Centre Sydney and incentive offerings in the centre of Sydney.
AGWA Rooftop, Art Gallery of WA, Perth
Available for events from February 2021, the new rooftop space at the Art Gallery of Western Australia in the centre of Perth will be the largest commercially available rooftop space in the city, with capacity for up to 500 people.
The space will feature an inside gallery space, an open-air sculpture park and two outdoor event spaces, with views of the city and the Perth hills and the new WA Museum. The centrepiece of the rooftop will be a new 34-metre-long contemporary Aboriginal art piece by Noongar/Minang artist Christopher Pease, which will wrap around one third of the wall of the rooftop.
"Aboriginal art is not only strikingly beautiful, it is critical to truth telling and provides us insight into the history of our State and the connection of first nations people with these lands," said the Western Australian Treasurer and Aboriginal Affairs Minister, Ben Wyatt, when construction of the rooftop venue was announced in July 2020.
Business events have already resumed with enthusiasm in Perth, with events for up to 900 people taking place.
Melbourne Skyfarm
Australia's second largest city, Melbourne, is also set to open a unique rooftop venue in November 2021, boasting a very sustainable offering, including an urban farm, an education centre, a café and bar, a conferencing space, an orchard and beehives.
The urban farm will grow five tonnes of food each year, to be given to food rescue charity OzHarvest. With the opening of the venue delayed by the pandemic, the installation of 200sqm of innovative Melbourne designed and manufactured self-watering Foodcubes, which will make up the farm, is now the first stage of the project, to deliver fresh produce to those in need by February 2021.
The space, which will have an exclusive use event capacity of 500 people, is located on the rooftop of a carpark owned by Melbourne Convention and Exhibition Centre, who are enthusiastic supporters of the project, having already installed 36 Foodcubes at their own venue. The vision of the venture is driven by local sustainability innovator Brendan Condon, whose company Biofilta invented the Foodcubes.
"We worked on developing a food growing architecture that we could build into city spaces to intercept composted organics, use all the rainwater that runs off cities and generate huge amounts of food within the urban form, to help cities become more food secure, [develop] more circular economies, to help people get access to better nutrition, to improve the environmental performance of cities and to reduce food miles to food metres," he says.
"Working with MCEC has been very positive – we have been buoyed by the enthusiasm, support and cooperation from MCEC staff and management. The MCEC team have been enablers, working to assist our team with anything we need help with, and have shown great interest in the sustainability, urban farming, innovation, education and urban beautification aspects of Melbourne Skyfarm."
For more about Australia as a business events destination, visit australia.com/businessevents and to discover the latest on Australia's incentive offering, read the latest edition of Australia Next.