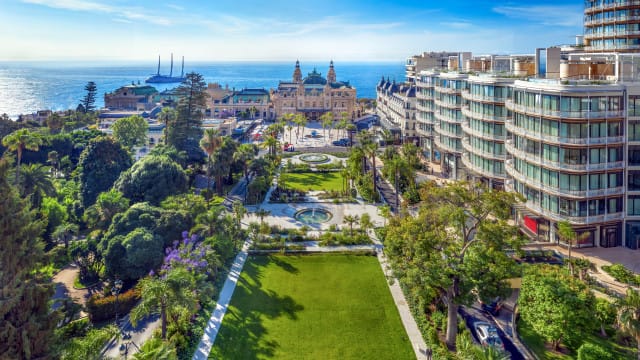 Monte-Carlo SBM drives recovery through sustainable and hybrid approach
This content piece is brought to you in partnership with Monaco SBM.
One of the most important outcomes of 2020 has been the realisation that sustainability will be crucial to the recovery of the events industry post pandemic.
A Nature Research Report, released by IMEX in partnership with the Global Destination Sustainability Movement this month, powerfully states the business case for the events sector to take immediate action on sustainability. It recommends event professionals redesign the event model using principles from nature to become more inclusive and sustainable.
This is positive news for Monte-Carlo Société de Bains de Mer (SBM), and the destination of Monaco as a whole, which have long put sustainability at the heart of their business events offering.
SBM, which owns and operates a number of hotels, venues and restaurants in Monaco including the Hôtel de Paris Monte-Carlo, Hôtel Hermitage Monte-Carlo and the Monte-Carlo Bay Hotel & Resort, is committed to more efficient management of energy and water resources and improving environmentally-friendly practices with regards to meetings and incentives.
And it holds a number of certificates to prove it, including four Green Globe certified hotels, while all new projects, such as the recent transformation of Hotel de Paris Monte-Carlo and the creation of the One Monte-Carlo Conference and Events Centre, are BREEAM certified.
Preparing for a hybrid future
Being at the leading edge of sustainable event solutions enables SBM to work closely with corporate clients to reduce the carbon impact of their events. Not content with sitting still, the company is now putting itself at the forefront of the hybrid movement, which hand in hand with sustainability, is predicted to be crucial to the recovery of events.
The global coronavirus lockdown caused a huge spike in virtual events, and virtual remains a popular choice amid ongoing travel restrictions and social distancing guidelines. So how do we bring back face-to-face events safely, while still being mindful of sustainability? The answer is hybrid, predicted to be the stand-out format for 2021.
Hybrid experiences, which combine in-person and virtual formats, allow companies to carry out their projects with peace of mind. Beyond security, they have the advantage of bringing together a wider audience and allow a more accurate measurement of engagement. The carbon footprint of a hybrid event is also smaller than that of a physical event for the same number of participants, which is completely in tune with the philosophy that Monaco and SBM have had for many years.
Technical know-how
Successful hybrid events require venues and hotels to have the right technology in place to support them. Happily, SBM has been investing for decades in technology and has a wide scope to meet customers' needs thanks to infrastructures that meet the highest standards and know-how adapted to all formats. This includes an ecosystem of 1,800 Wi-Fi terminals combining coverage and high bandwidths, guaranteeing real-time capture and broadcasting all over the world; top-end technical equipment (microphones, cameras, large HD screens) offering optimal quality; and technical assistance during hybrid events in order to provide responsiveness.
SBM is committed to helping clients to navigate into this new normal. The company has set up a hybrid events think-tank and is further expanding its offer to accompany the digitalisation of practices, tools and content. On top of that, it's offering incentives to clients booking hybrid events. The first confirmed hybrid event of each month will benefit from complimentary bandwidth up to 100 Mbps for your main meeting space plus equipment including one HD camera (static shot), one video switcher, one laptop and one AV capture card.
The offer is reserved for every first and new hybrid event confirmed for the month (minimum 100 room nights) at Hôtel Hermitage Monte-Carlo, Hôtel de Paris Monte-Carlo, Monte-Carlo Beach or Monte-Carlo Bay Hotel & Resort for any stays from 1 October 2020 to 21 June 2021.
For more information on how to host your next hybrid event in Monaco or to take advantage of this offer, contact:
Juliette Cairo
j.cairo@sbm.mc
+37798061740
www.montecarlomeeting.com