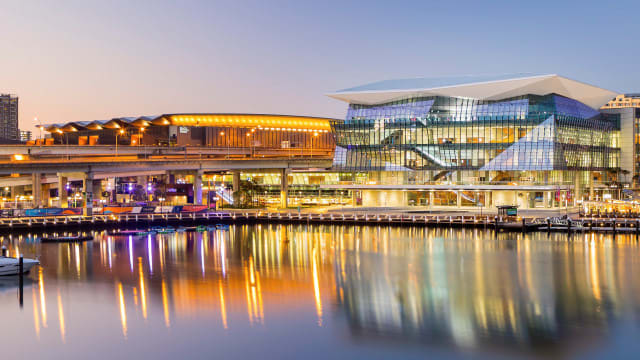 Destinations
Mapping ICC Sydney's sustainable future
Sydney's state-of-the-art event complex has launched an innovative interactive mapping tool that fits within its mission to have a positive social impact on the city and community it services.
This article is produced in partnership with ICC Sydney.
Sydney is one of the planet's premier travel destinations, so it's no surprise that the city's International Convention Centre Sydney (ICC Sydney) is a world class venue.
Located on Sydney's famous harbourside, ICC Sydney is a multi-purpose convention, exhibition and entertainment venue powered by state-of-the-art technology and in-house products and services.
It has added to its roster of innovative digital assets with the launch of its Interactive Venue Map. Available in one easily accessible location, the map allows event planners and visitors to experience the venue before stepping through its doors.
The tool demonstrates that ICC Sydney has innovation built into its DNA, and it is innovation that drives its commitment to place sustainability and meaningful social impact at its core.
Innovate to impress
"The map brings the venue's spaces to life," says Geoff Donaghy, ICC Sydney CEO & Group Director – Convention Centres, ASM Global (APAC).
To streamline event planning it includes interactive 3D floor plans, 360/VR imagery and video, as well as room and capacity information. Once downloaded, it guarantees a seamless offline user experience, using the latest Microsoft web-based technology.
"It's been built with future-proofing in mind," says Donaghy. "It is a fully customisable, scalable tool built into ICC Sydney's current infrastructure and developed by the in-house team, which allows for quick builds on advancements and new features."
The launch of the map is part of a suite of in-house products and services that are taking ICC Sydney to the next level. A website refresh has implemented new organiser tools, while in August, the venue's audio-visual equipment inventory was rocket-boosted with a A$1.53m upgrade.
"We are driven to make constant improvements, expanding our raft of in-house products and services to deliver ever enhanced events that place the experience of delegates and clients first," says Donaghy. "It builds their trust and confidence to come back time and time again."
Creating a sustainable future
It's not only in the audio-visual world where ICC Sydney is innovating. Opened in December 2016, the convention centre is also a culinary mecca, and its 'Connect Outdoors' programme allows visitors to network in the open air while enjoying sustainably sourced food and a wine list that is curated entirely from local New South Wales vineyards.
"Our 2023 Menu Collection has sustainability at its core," says Donaghy. "We continue to drive sustainability best practice through our approach to our culinary service. This year, our six core menus have undergone a detailed carbon footprint calculation analysis, meaning all low-carbon menu options are now denoted for easy selection, giving event organisers the ability to make more sustainable choices."
Sustainability isn't just a box-ticking exercise for ICC Sydney. The venue is a signatory of the Joint Meetings Industry Council's Net Zero Carbon Events initiative which steers the global events industry towards the common goal of achieving Net Zero Carbon by 2050. Among other initiatives, ICC Sydney piloted a real-time reporting system to deliver pre-event consultation and post-event reporting of the carbon footprint of specific events. At the same time, it helps clients and staff monitor waste to meet landfill diversion targets and provide waste footprint data.
Placing community first
ICC Sydney is dedicated to helping event organisers make a positive impact across the Sydney community and has formalised this process in its Legacy Program.
"Our Legacy Program enriches the experiences of attendees while helping our clients reach their corporate social responsibility goals by connecting attendees with Sydney's abundance of intellectual, social and cultural capital," says Donaghy. "The Legacy Program spans five key streams: First Nations, Environmental Sustainability, Innovators and Entrepreneurs, Generation Next, and Creative Industries."
From respecting and celebrating the culture of Australia's First Nations by committing to its second Reconciliation Action Plan and offering networking connections to local First Nations businesses, to partnering with not-for-profit Science for Wildlife to help protect koalas, which are now listed as endangered species, ICC Sydney is constantly broadening its Legacy Program for the greater good.
Simply, community is at the heart of everything ICC Sydney does, says Donaghy. "Seeking ways to continually work with our strong network of community partners and charity organisations, we enable clients and delegates to form meaningful relationships with members of its local community and enrich the experiences of delegates while adding to the vibrancy of Sydney."
Learn why clients and delegates are loving ICC Sydney and explore the new mapping tool today.